Four Thieves – A whole lot of fun!
Four Thieves is like no pub you have seen before! It's unlike anything we have seen before, we'll say that much! If you want fun on a Friday night head down to the Four Thieves pub as we can guarantee if you'll have fun! There is so much to do there besides drink copious amounts of alcohol. So much more, if you're a big kid, you'll love it. Ok I'll stop hyping it up now and actually tell you why we think that it's so good. It's impressed us. Can you tell?
This pub has a lot of games inside it, there's a whole room dedicated to it! There's Moonshine Racing which is remote controlled car racing, Virtual Reality Booths, Mini-Golf and Retro Arcade games! The beers that the guys sell here are all brewed from their own on-site brewery. Great food available, lots of different events on weekly, it's no surprise that the pub picked up a best pub nomination from Time Out just two weeks after opening!
Food
The guys over at Four Thieves have created great dishes taking influence from great British pub food and also the vibrant street food scene made with seasonal, fresh locally sourced ingredients! It's so good it'll make you want to stop gaming to grab a bite to eat.
Here's a bit more about those games we were telling you about:
Moonshine Raceway
The Moonshine Raceway is an intense RC car race against 10 other players, in a game that's described as the hottest "true to life motorsport experience"
VR
The VR venue at Four Thieves is the UK's only dedicated virtual reality installation, available to the public! There has a range of different games available to you whilst at your time at the pub.
Brookhaven Experiement
In this game you step into a deserted town square, at night and a lone. Fight a swap of Zombies armed with just a pistol and a flashlight. You can even change the theme with this one, ask the guys there to be put into the storm drains, or the reservoir.
Longbow
This game is a classic! It's a simple protect your castle with a bow and arrow game. Shoot hoards of enemies as they attack your castle with your trusty bow and arrow.
Slingshot
Your tasked with making sure that a giant is fully functional. You're the technition and it's your job to make sure it works. The twist. The way you check that it works is by firing bowling balls at towering stacks of crates in the warehouse.
Plonk Golf
Plonk Golf is a crazy golf game in the middle of a pub that's dark, but it's filled with a lot of colour to keep things crazy. (Alongside the obvious when it comes to crazy golf) The crazy golf does cost £6 a game, no pre-booking though, just turn up and get swinging.
Lady Chastity's Reserve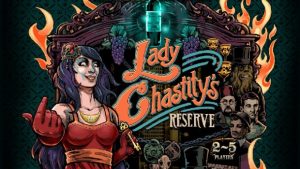 Solve the sordid secrets of Lady Chastity's vineyard in time to win her fabled bottle of aphrodisiac wine, but hurry, she doesn't suffer idiots lightly. This new immersive gaming experience promises to be an entertaining and exciting challenge for you and your friends.
The game has been described as 'the next generation of the 'escape room' format, offering surprising challenges throughout, while involving a 'Punchdrunk' twist with a comedic tale of mystery. This immersive story plunges players into the action, much like a dark 'Secret Cinema'. Lady Chastity's Reserve is proud to be dubbed as 'the Crystal Maze on crystal meth'.
Events
Four Thieves hosts different events each week, so there's always something on for you to check them out! They host the very best comedians and even take part in an you-have-to-see-it-to-believe-it quiz hosted by Boogaloo Stu!
Brewery
So, the guys over at Four Thieves brew their own beer, a whole 40 casks! That's 1440 pints! So therefore there's a steady flow of craft ale at the Four Thieves Pub. The Four Thieves has its own Keg pale ale and their own brewer fresh lager – a Czech style pilsner, served straight into the glass in the bar.
To attend Four Thieves please click here!
To listen to the guys chatting about this please click here!
http://wp.freedomofcreation.co.uk/howtokillanhour/wp-content/uploads/sites/65/2018/04/Four-Thiees-1.jpeg
1707
2560
billywright
http://wp.freedomofcreation.co.uk/howtokillanhour/wp-content/uploads/sites/65/2017/09/htkah-web-logo-2017.png
billywright
2018-04-04 00:00:11
2018-04-04 10:51:12
Four Thieves – A whole lot of fun!