Britain's Biggest Bandwidth Hogs
So how has the UK spent lockdown? It seems as though Britain has hit the sofa to stream more content than ever before! Official figures from the ONS highlight how much bandwidth Britain has used in comparison to 2015.
The ONS Study found that the most popular activity was to stream video content. The survey determined that it took up 2 hours and 53 minutes each day. USwitch also discovered that the UK Broadband usage had increased by almost a third overall (29%). That's A LOT of bandwidth usage!
However, a recent poll by YouGov discovered that 35% of broadband users in the UK have slower than normal speeds during lockdown! So the question is, how much bandwidth is the UK using and how is it affecting the quality of our connections?
Revealing the UK's Top Broadband Issues
During the lockdown there has been an increase in the usage of UK broadband connections. Which will in effect take up a lot of bandwidth. 1 in 5 households (21%) have suffered with dropped connections. Including buffering or slow connections.
So therefore our friends over at USwitch took to Reddit to research:
What the most common complaints were when it comes to broadband connections

How often the UK searches Google for a solution to these issues

Where in the country suffers the most with internet problems
Technical complaints toppled the list of broadband issues that people had. While Broadband speed was the top issue affecting those in Norwich. Googling for a speedy solution more than anywhere else in the UK. Improving latency was the top issue in Cambridge. As they were fed up with having to wait for their connections to respond.
USwitch discovered a number of customer service related complaints such as Switch Broadband Provider and Cancel Broadband was the most prevalent in Glasgow!
Top 10 Bandwidth Hungry Apps Revealed
Bandwidth is a hot commodity and a lot of your apps take up a lot of it! Netflix even applied restrictions on streaming quality to reduce the amount of bandwidth used in order to help video run smoothly. USwitch discovered that Netflix used around 1GB of bandwidth data at standard definition, per hour!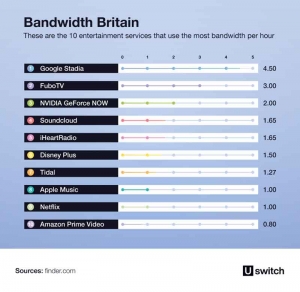 Furthermore Google Stadia and NVIDIA's GeForce NOW used LOADS of bandwidth! With Google Stadia raking in 4.5gb of bandwidth per hour!
What is cloud gaming and why does it use so much bandwidth?
Cloud gaming requires gamers to play games which are streamed via the cloud. This is done via a data centre which provides the computing power. Every single thing a gamer does is communicated between them and the data center. Therefore this is why so much bandwidth is required and used during play.
Where do the UK's Biggest Bandwidth Users Live?
The study by USwitch discovered that Southampton was the location that saw the biggest surge in broadband usage. Jumping 49% to 44 hours 36mins a week during lockdown. While which area in the UK uses the most bandwidth hungry apps?
Our study named Southampton as the UK location experiencing the biggest surge in broadband use – jumping 49% to 44 hours and 36 minutes a week during lockdown, but which area in the UK is using the most bandwidth-hungry apps?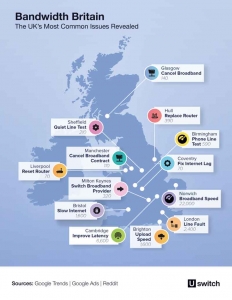 The UK's Most Used Apps During Lockdown
The average household has 8 devices which connect to the internet. USwitch discovered how much bandwidth do our most used apps eat up per hour?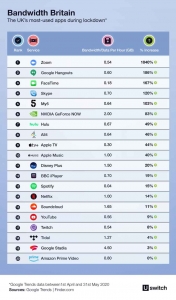 Revealed: The Winners and Losers of Lockdown Entertainment
Video Calls Winner — Zoom
Video calling has a had a HUGE surge in popularity. 2/3's of consumers 68% have said that they used the tech since the lockdown began. With Zoom being the biggest app with the highest search increase in the UK.
Plus it only uses 0.54gb's per hour. Making it one of the least bandwidth hungry video calling apps. With Google Hangouts using the most at 0.70gb's
Films and Box Sets Winner — Hulu
Suprisingly Hulu is the most popular video streaming service. 49% of searches for it since the lockdown. While Hulu isn't available in the UK yet, it seems many could still access the content. Apple TV was a close second with 44% of people tuning in. Suprisingly Disney+ and Netflix were much further down the list! As they only had a third more searches than usual.
Amazon Prime hits bottom spot with 0.1% increase in searches. Maybe this is because many of us have those services anyway? Or maybe we've watched everything and are looking for new sources.
Catch-up TV Winner — My5
My5 tops the list when it comes to streaming catch up tv! With 100% more people searching for the service than before lockdown. Coming in 2nd was All4 with 46% more searches and BBC iPlayer had 19% more.
Music Streaming Winner — Apple Music
Apple Music had a 40% more increase in searches. The streaming quality could have knocked Spotify off the top spot. Streaming Spotify has 0.04gbs of data per hour of usage. With Apple Music uses 1gb of data as it's a higher standard.
(USwitch)
Keep up to date with everything How To Kill An Hour by signing up to our newsletter by clicking here!
Let us know what you think of the show by clicking here!
Click here to subscribe to our YouTube Channel to see more amazing ways to kill time!
Follow us on Twitch by clicking here!
http://wp.freedomofcreation.co.uk/howtokillanhour/wp-content/uploads/sites/65/2020/06/bandwidth-britain.jpg
582
1200
billywright
http://wp.freedomofcreation.co.uk/howtokillanhour/wp-content/uploads/sites/65/2017/09/htkah-web-logo-2017.png
billywright
2020-06-16 15:42:23
2020-06-30 15:19:46
Britain's Biggest Bandwidth Hogs