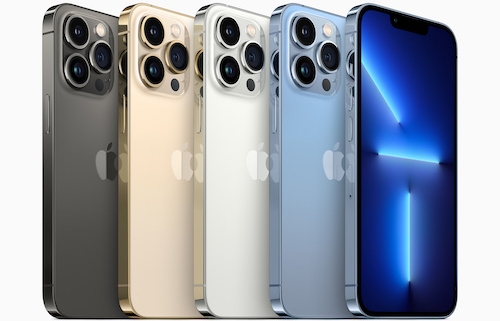 California Streaming: Everything Apple Announced
Apple announced loads at their California Streaming event yesterday, so let's start off from the top:
California Streaming: Apple Fitness+
Guided Meditation
Apple Fitnees+ is getting Guided Meditation. Building on the popularity of Mindful Cooldowns in Fitness+, Guided Meditation helps users develop a regular meditation routine. Therefore helping to improve their sense of well-being. Users can select from different themes such as Purpose, Kindness, Gratitude, Awareness, Creativity, Wisdom, Calm, Focus, and Resilience. There will be a video experience alongside the Fitness+ trainers. While each practice can be 5, 10 or 20 minutes long.
Audio Meditation
Furthermore to the video experience, same meditations will be available in audio form on the Mindfulness app on the Apple Watch. With Watch OS8, Breathe app becomes the Mindfulness app. Featuring an enhanced Breathe experience. A new session called Reflect and Fitness+ Guided Meditations. Users will be able to track their meditation while moving in the workout app on the Apple Watch while doing their meditation. Allowing you to meditate while walking, hiking or stretching.
For those just getting started, a new Meditation for Beginners programme will help users understand the fundamentals before diving into the studio sessions.
Pilates
Pilates will now be added to Fitness+ as a new low-impact workout type. Providing users with more options to improve their strength and flexibility. While most Fitness+ Pilates workouts can be done on a mat, many others also incorporate the use of a resistance band. Pilate workouts can be 10, 20 or 30 minutes long.
(Apple)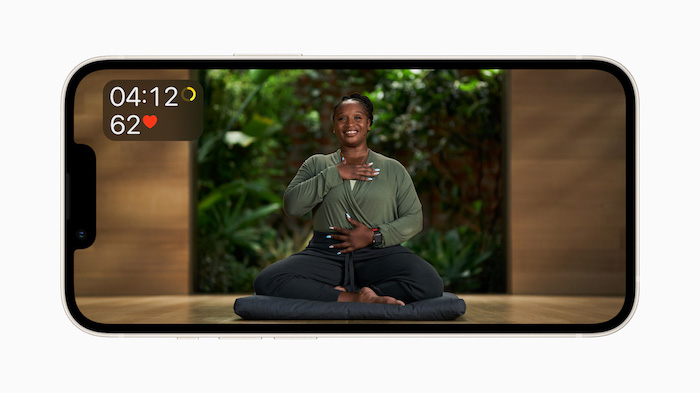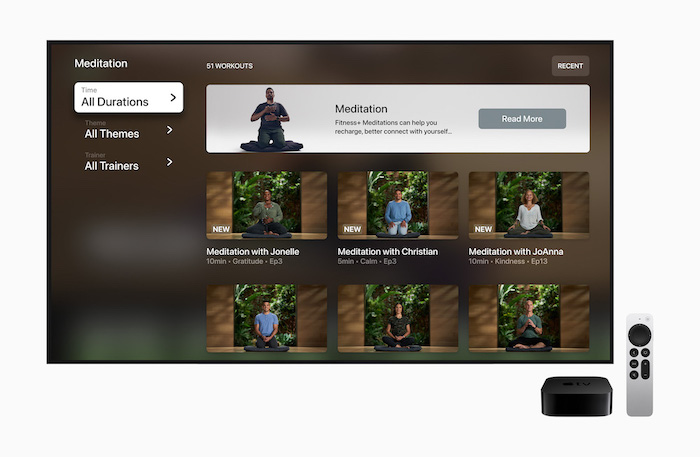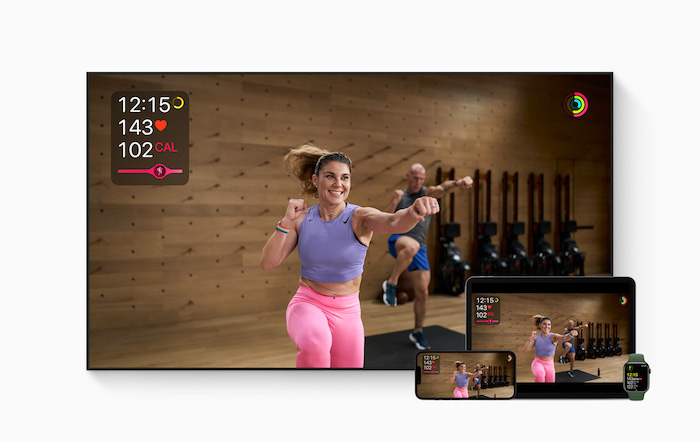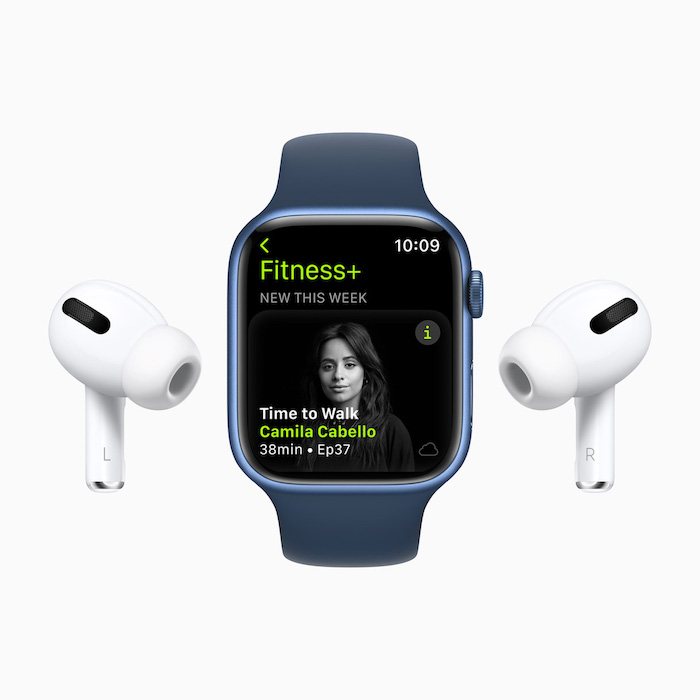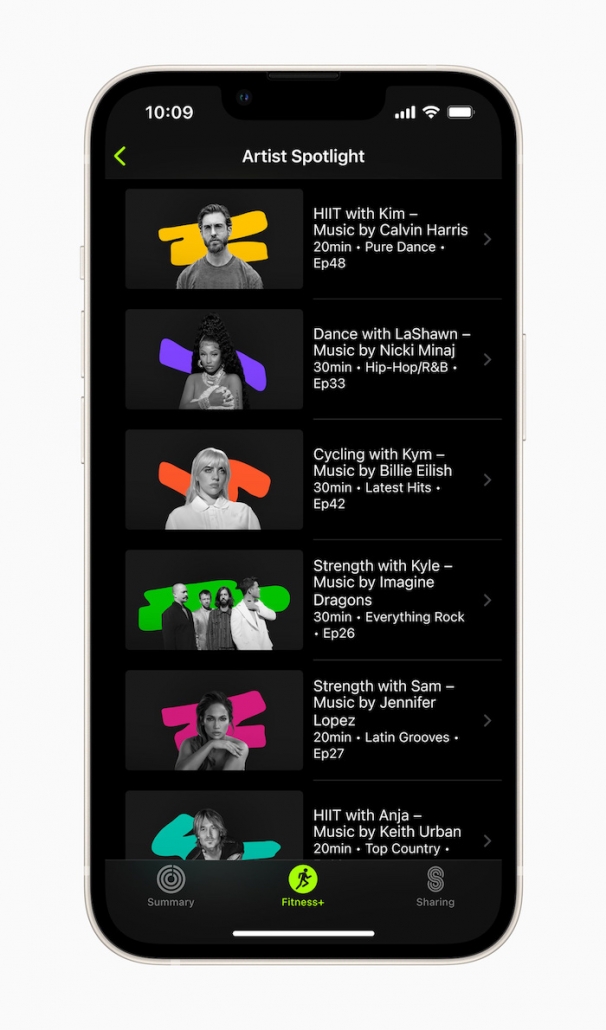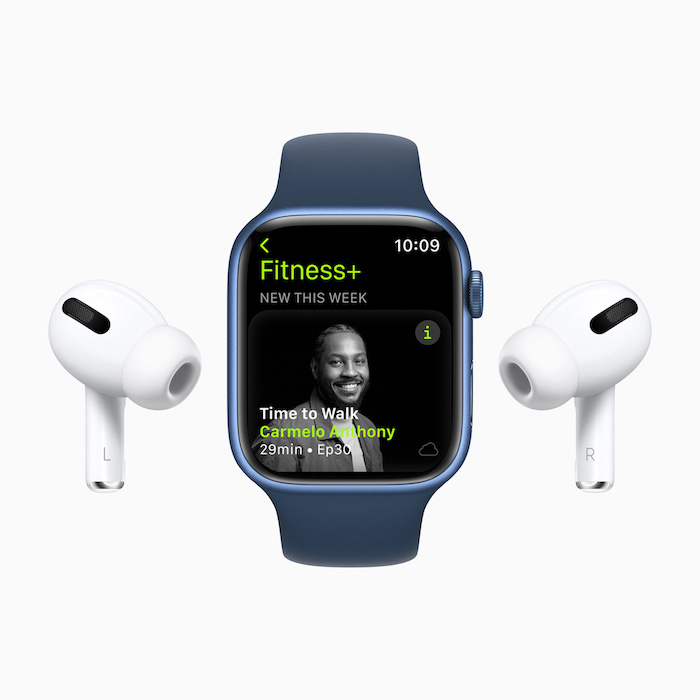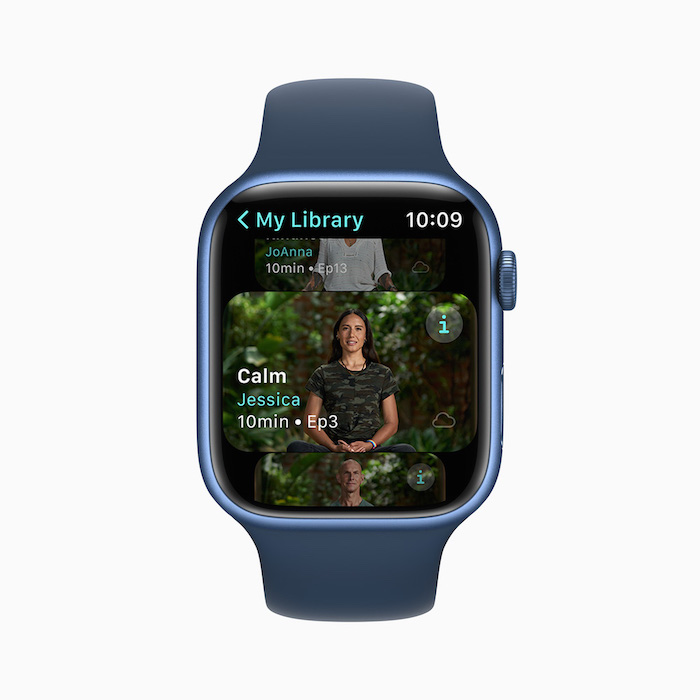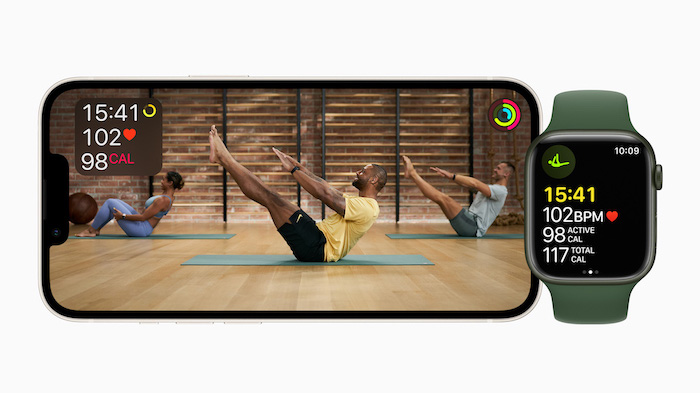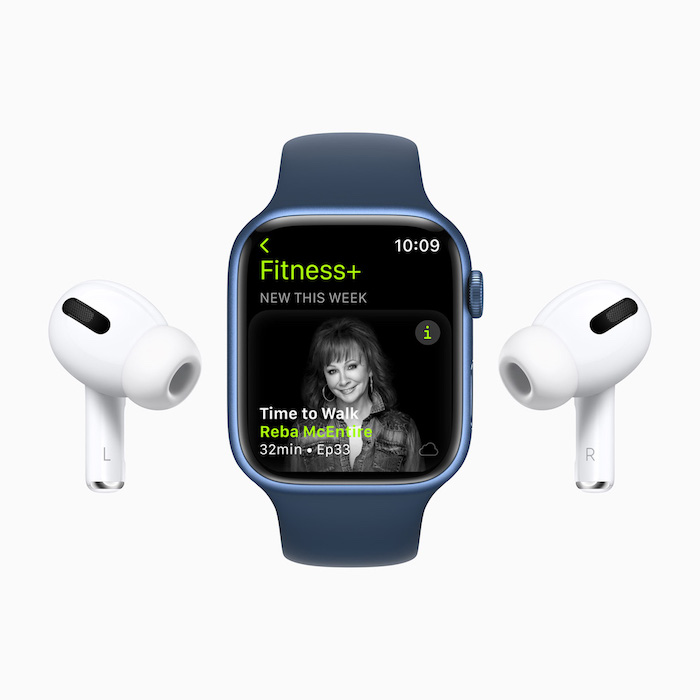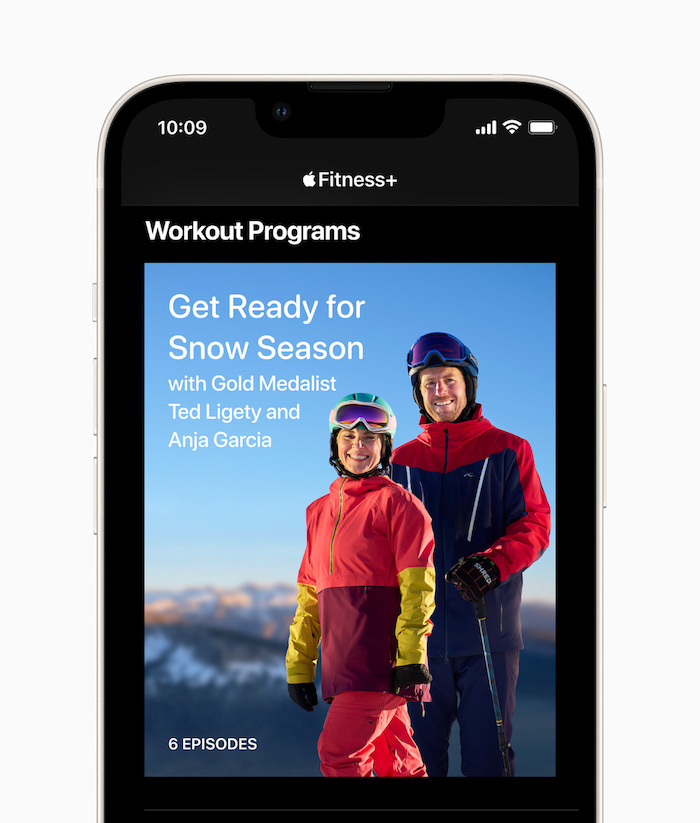 California Streaming: iPad Upgrades
The 10.2-inch iPad is Apple's most popular iPad and now it comes with A13 Bionic, Centre Stage, True Tone, and more storage.
The 9th generation iPad now has a powerful A13 Bionic chip, making it super fast and capable. A 10.2″ display with True Tone, a new 12MP Ultra Wide camera with Centre Stage, support for the 1st Generation Apple Pencil and Smart Keyboard and twice the storage options. It is available to order today and will be available on Friday September 24th at £319.
A13 Bionic
The new iPad comes with the A13 Bionic, making it 20% perform better than previous. Making it 3x as faster than the best selling Chromebook and up to 6x faster than the best selling Android tablet. Allowing for seamless transition between apps and games. The Neural Engine in A13 Bionic also powers the machine learning capabilities including Live Text in iPadOS 15.
Front Camera
Center Stage comes to the iPad, thanks to the new 12MP Ultra Wide front camera and Neural Engine. As users move around Centre Stage will automatically pan to keep them in view. If others join in the camera detects them too and smoothly zooms out to keep them in the conversation.
Display
True Tone comes to the iPad for the first time. A new upgraded ambient light sensor enables True Tone. Adjusting the screen content to the colour temperature of the room. Making images more natural and provides for a better viewing experience.
Storage
Storage has also been upgraded and begins at 64gb, while going all the way up to 256gb for those looking for more.
(Apple)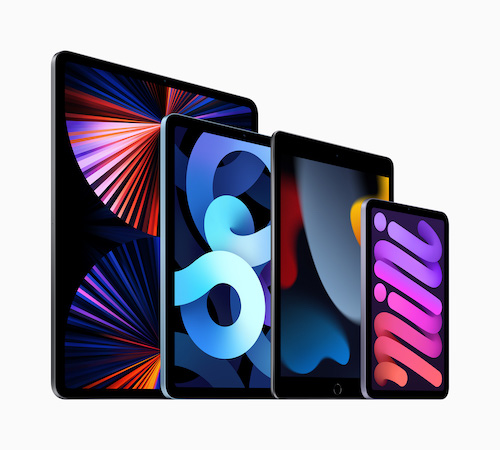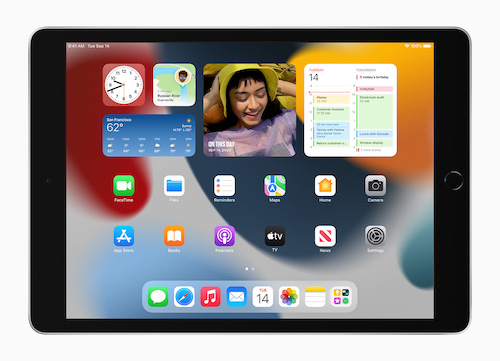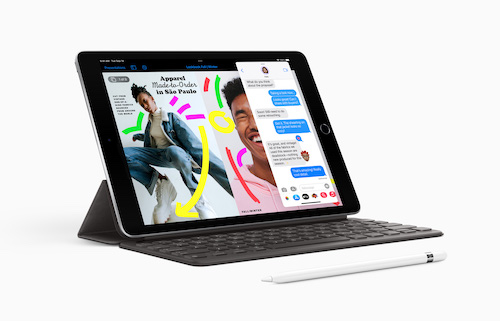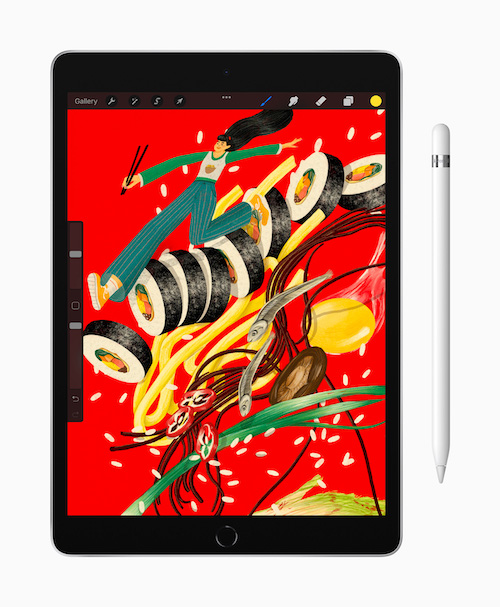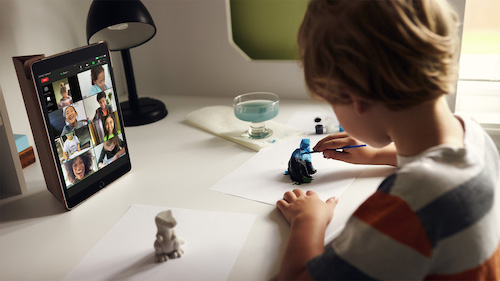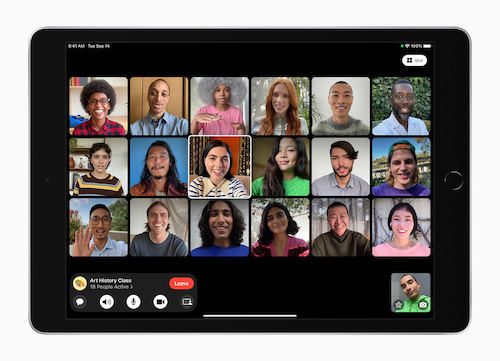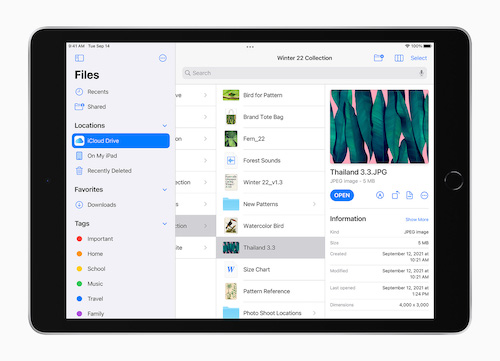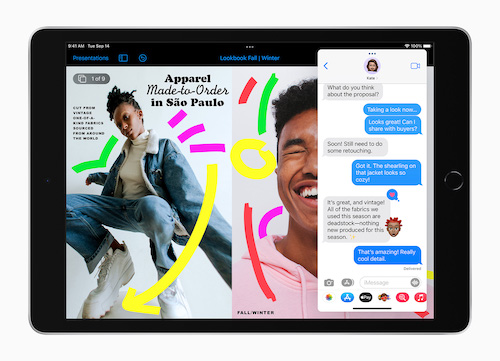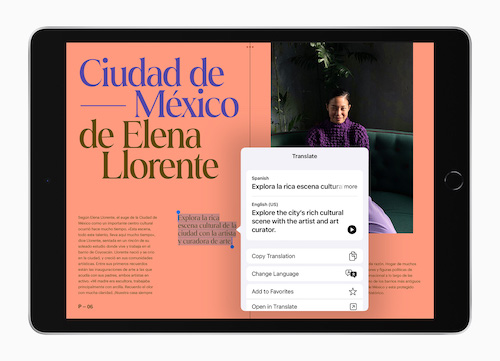 California Streaming: iPad Mini
Apple have redesigned the iPad mini. It now has a full screen 8.3 inch Liquid Retina display and comes in 4 finishes. It also has the new A15 Bionic Chip, and delivers up to 80% new faster performance. USB C allows for faster connectivity, cellular models bring 5g, new advanced cameras, Centre Stage and support for the 2nd generation Apple Pencil. New iPad mini is available to order today and will be in stores September 24th.
New Display
The new iPad mini comes in Pink, Starlight, Purple and Space Grey. Features a full screen 8.3″ Liquid Retina display with narrow borders whilst remaining mini. It has 500 nits of brightness, a P3 wide colour gamut, anti-reflective screen coating, True Tone and full lamination. Landscape stereo speakers combined with the new display makes it great for viewing videos and movies.
The new screen display is enabled by moving the Touch ID to the top button of the iPad mini. iPad mini now supports Apple Pencil 2nd gen too.
A15 Bionic
The new A15 Bionic Chip allows for an all-day battery life. The 6-core CPU delivers a 40% upgrade in performance, 5 Core GPU delivers an 80% increase in graphics performance compared to previous generations. It can play games effortlessly and switch between apps seamlessly.
Advanced machine learning functions are powered by a 16 core Neural Engine and new ML accerlators in the CPU. Helping to deliver 2x faster ML tasks than previous generations. Combined with the CPU and GPU, the Neural Engine enables apps to deliver next level experiences such as image recognition and natural language learning. Such as Live Text, which uses on-device intelligence to recognise text in photos. Which can also be translated into 7 different languages.
Centre Stage
Centre Stage comes to iPad mini, so users can enjoy more engaging video calls. The upgraded Ultra Wide front camera with a new 12MP sensor and a much larger field of view. The camera will automatically pan the camera to keep viewers in view. While if others join in the camera will zoom out to keep them in too.
The back camera now features a 12MP sensor with a Focus Pixels and a larger aperture to capture sharp, vivid photos. The back camera will also feature a True Tone flash, perfect for capturing images in low light. The A15 Bionic will allow for remarkably natural-looking photos with Smart HDR.
5G and USB C
5G is now on iPad mini, allowing you to reach up to 3.5Gbps in ideal conditions. Users can now stay connected wherever they are. iPad mini also has support for Gigabit LTE and eSIM, iPad mini offers incredible flexibility when users need to get connected. Wi-Fi 6 ensures even faster Wi-Fi connections as well.
iPad mini now features a USB-C port for up to 5Gbps data transfer, which is 10x faster than the previous generation. USB-Connectivity allows for connection to a vast ecosystem of USB-C accessories including cameras and external storage and displays up to 4K.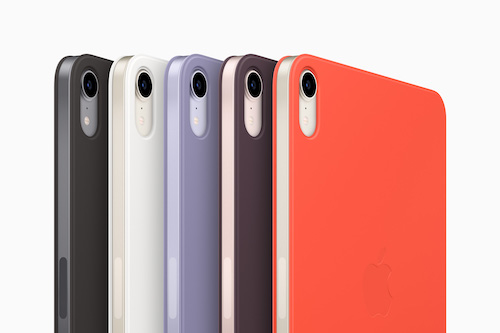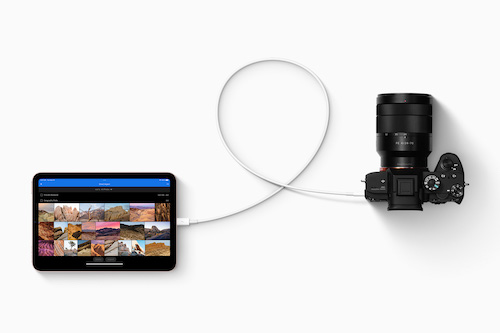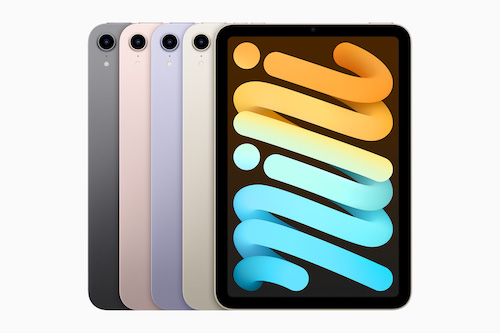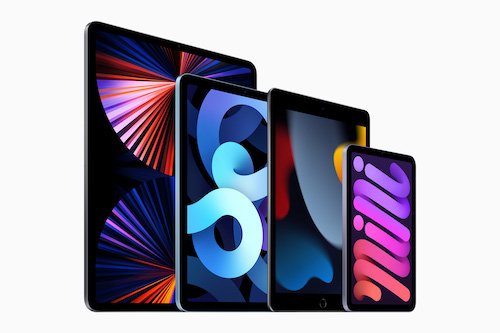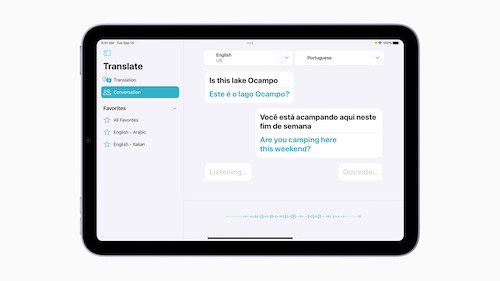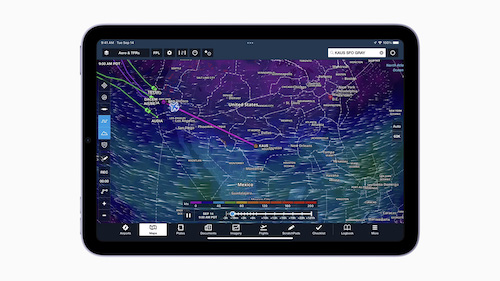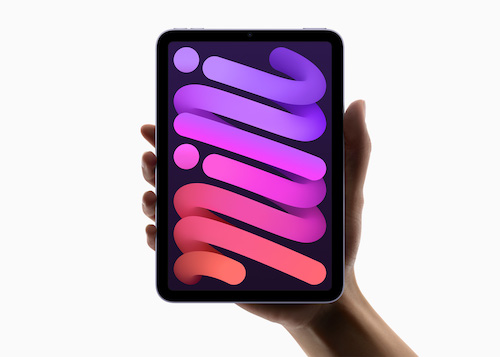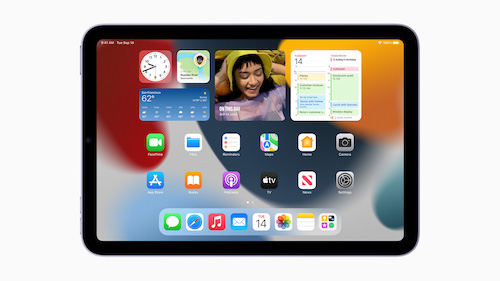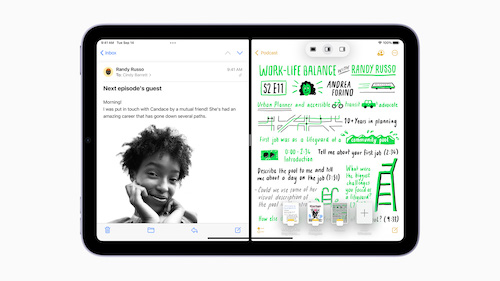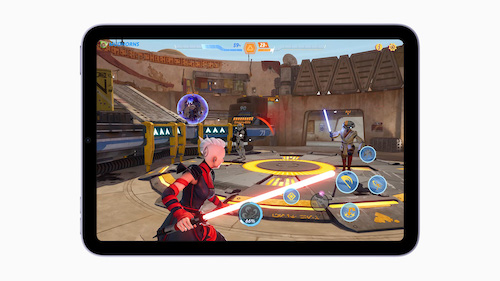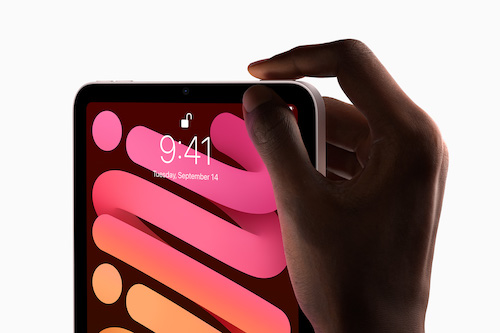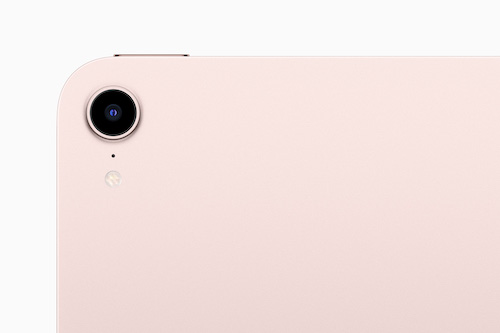 California Streaming: Apple Watch Series 7
Apple Watch Series 7 has a reengineered Always-On Retina display with a larger screen area, thinner borders making it the largest and most advanced display. Narrower borders on the display maximise the screen area, without touching the dimensions of the watch. It has softer and more rounded corners. The display now has a unique refractive edge that makes full screen watch fasces and apps. Making it appear to seamlessly connect with the curvature of the case. You can also read more on the larger display and has two unique watch faces that makes use of the new display. Contour and Modular Duo. The watch can now charge 33% faster.
It also has a durability upgrade with a more crack resistance front crystal, IPX certification for resistance to dust and a WR50 water resistance rating. The entire Apple Watch Series 7 lineup will be available later this autumn.
Design
The display is 20% larger and thinner borders at just 1.7mm, 40% smaller than that on Series 6. An innovative design maximises the screen area whilst minimally changing the dimensions of the watch itself. The always on display is also now up to 70% brighter indoors than the Apple Watch Series 6. Making it easier to see without having to raise the wrist.
The UI has also been optimised to take advantage of the shape and size of the new display. You can now have two larger font sizes and a new QWERTY keyboard. Which can be tapped or swiped with QuickPath, allowing users to slide a finger to type. It will also use on device machine learning to anticipate the next word based on context.
Durability
Apple Watch Series 7 features a redesigned front crystal. 50% thicker than that of Apple Watch Series 6, making it more crack resistant without compromising optical clarity. It is also IP6X dust-resistant, making it more durable in environments such as the beach or the desert. Also keeping the WR50 water resistance.
Charging
Apple Watch Series 7 has an 18 hour battery life on a single charge and a 33% faster charging compared to Apple Watch Series 6. All through a new charging architecture and Magnetic Fast Charger USB-C Cable.
(Apple)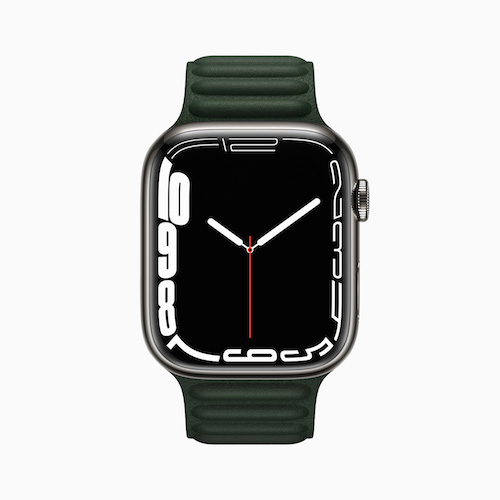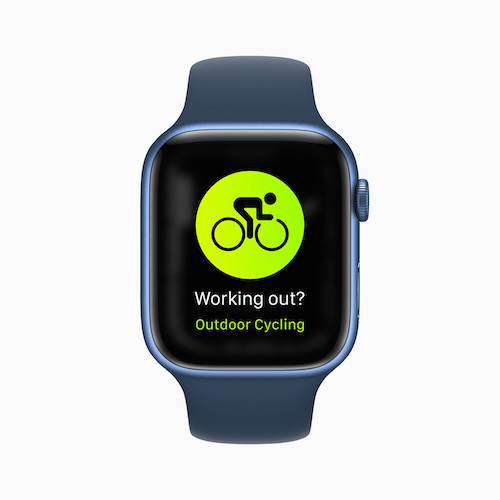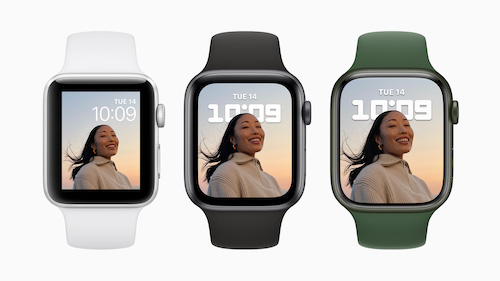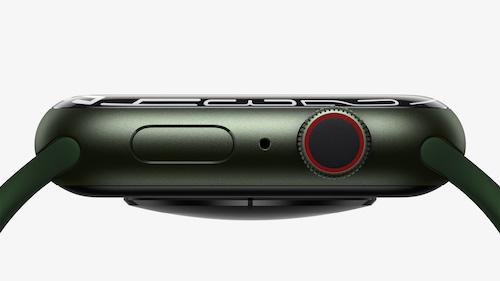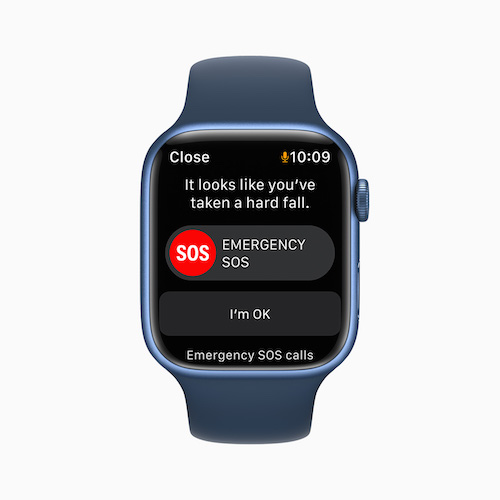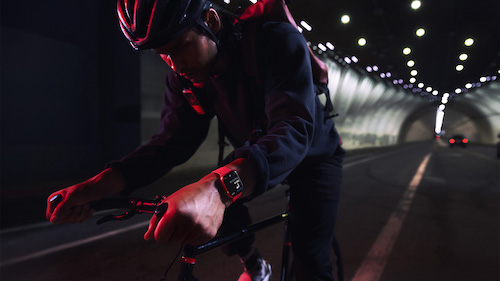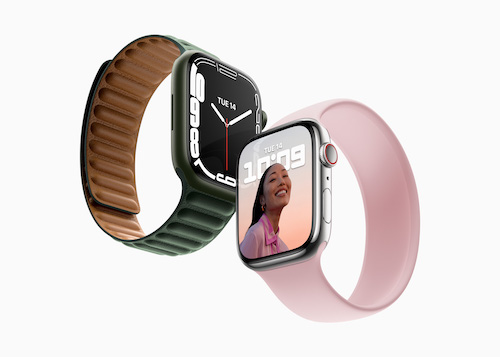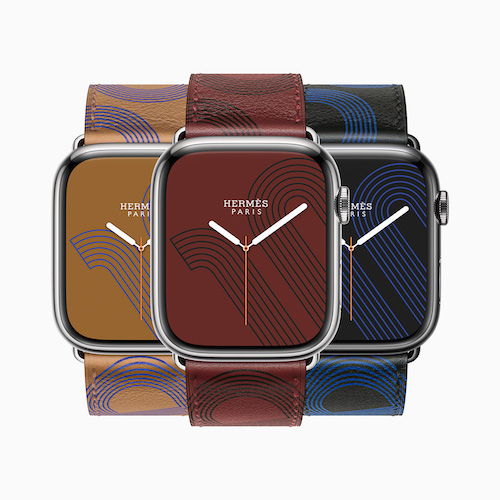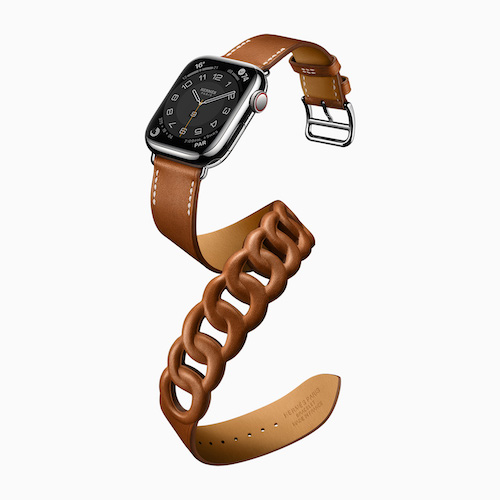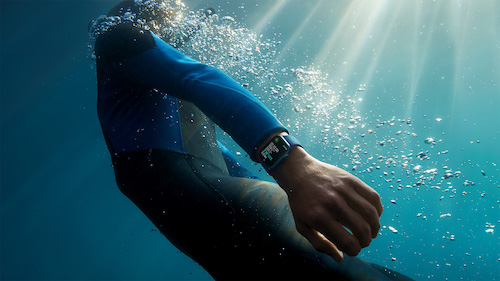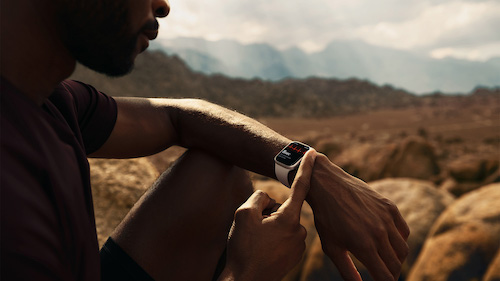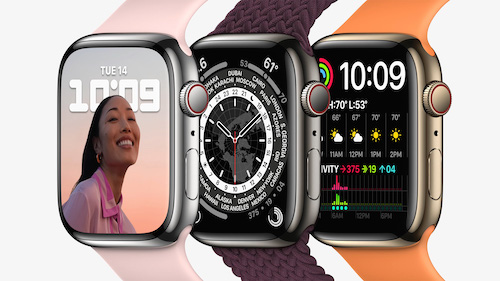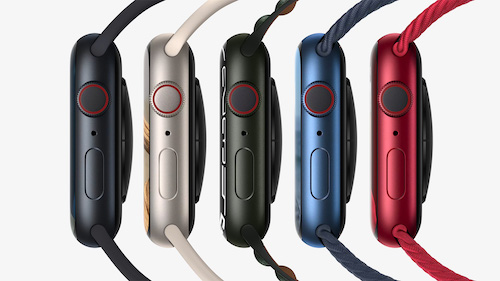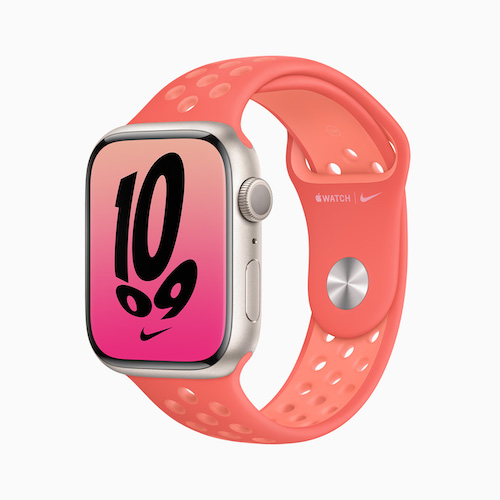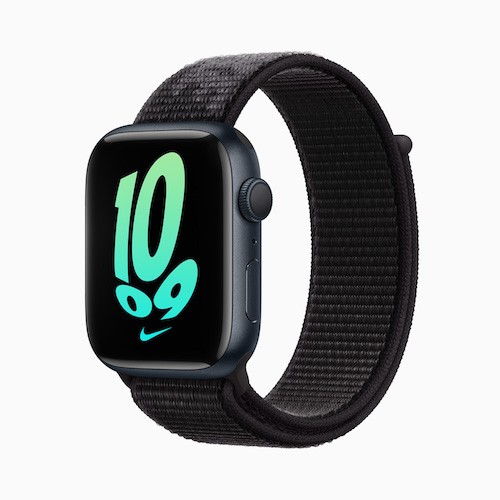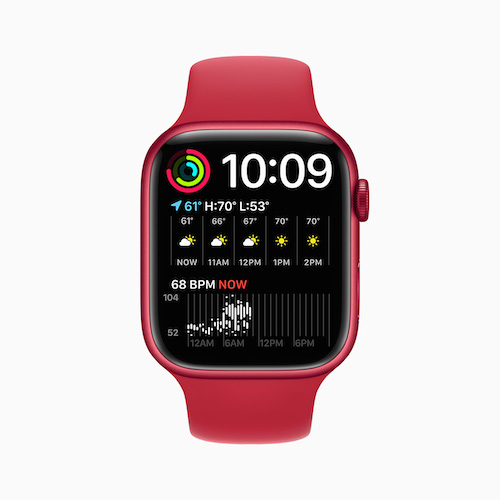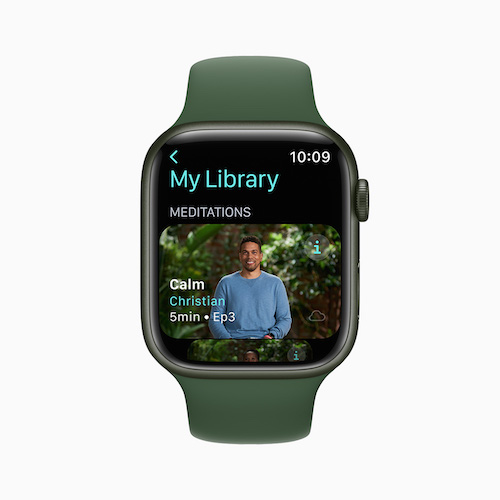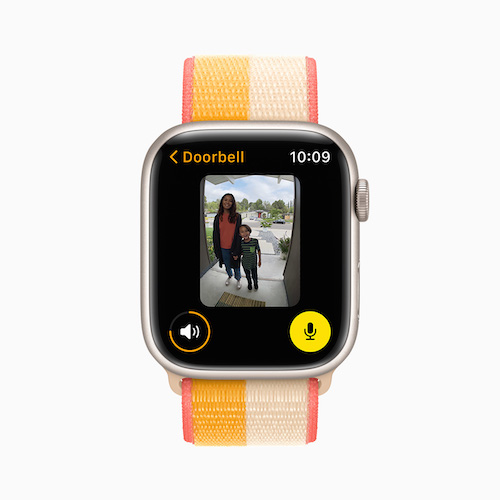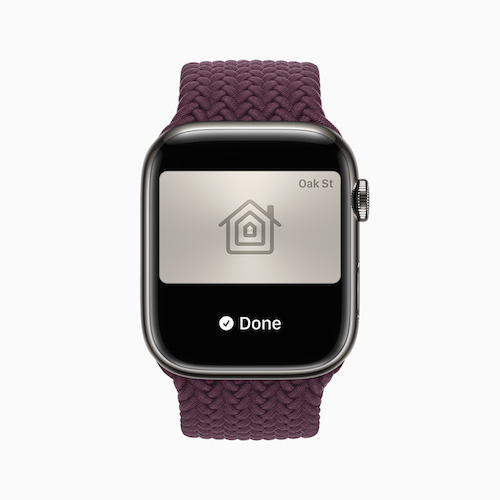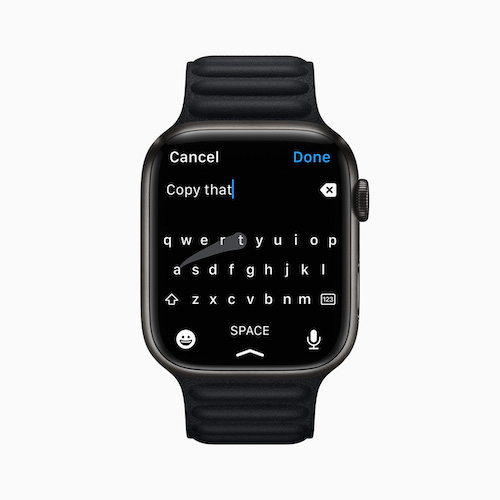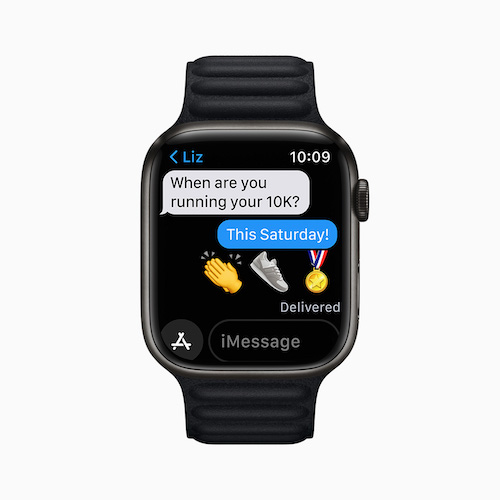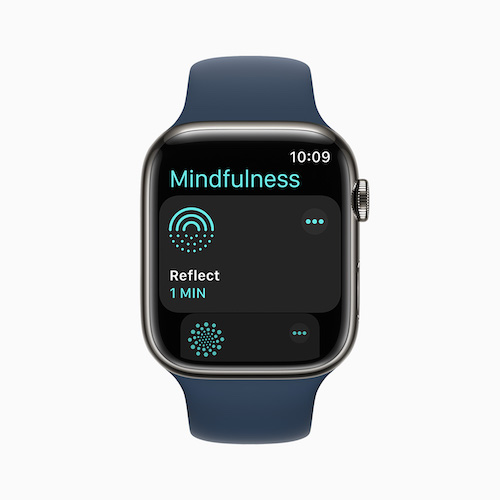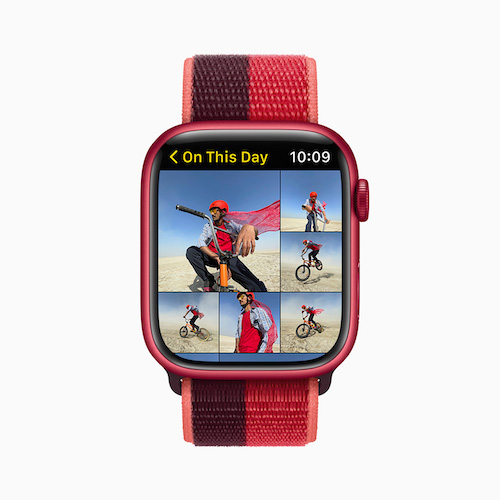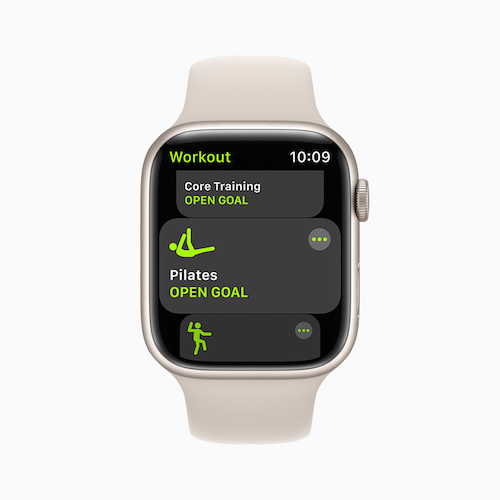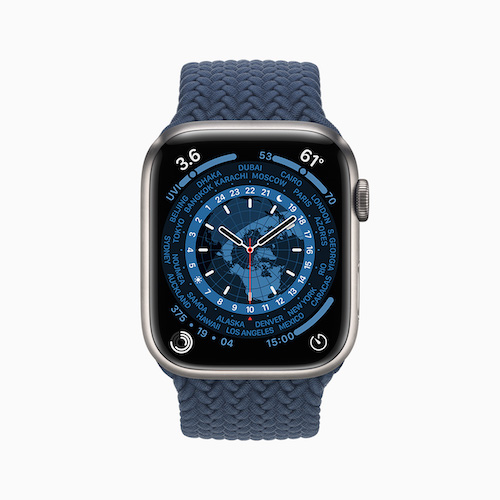 California Streaming: iPhone 13 and iPhone 13 Mini
iPhone 13 and iPhone 13 mini the next generations of smartphones have been announced. There is a beautiful design with sleek flat edges. Both models comes with a brand new advanced dual camera system ever on iPhone. With a new wide camera with bigger pixels and sensor shift image stabilisation. Allowing for improvements in low light photos and videos. New personalisation with the camera with Photographic Styles and Cinematic mode. A15 Bionic also allows for a longer battery life, brighter Super Retina XDR display, new durable Ceramic Shield front cover, double entry level storage at 128gb and IP68 rating for water resistance.
iPhone 13 and iPhone 13 mini will be available in Pink, Blue, Midnight, Starlight, and (PRODUCT)RED,1 with pre-orders beginning Friday, September 17, and availability beginning Friday, September 24.
Design
Both the iPhone 13 and iPhone 13 mini have amazing Ceramic Shield exclusive to iPhone and tougher than any other smartphone glass. Both of the 6.1inch and 5.4inch displays are safe. They also have IP68 water resistance rating and are designed to protect from spills and common liquids. A new redesigned rear camera with diagonally arranged lenses enables the advance dual camera system. A redesigned TrueDepth camera system is smaller while still packing the same tech as before, but it's smaller. Allowing Face ID but offering more display area.
Super Retina XDR OLED
The Super Retina XDR OLED display has been improved to deliver a 28% increase in max outdoor brightness at 800 nits, higher peak brightness for HDR content like photos and videos at 1200 nits.
Battery has been improved thanks to the A15 Bionic. More efficient components, a larger battery, and power optimisations. iPhone 13 will deliver an all-day battery, offering up to 2 1/2 more hours in a day than iPhone 12. While iPhone 13 mini will provide up to 1 1/2 more hours in a day than iPhone 12 mini.
Camera
Cameras on the iPhone and iPhone 13 mini have a massive upgrade. There's a new Wide camera with 1.7 µm pixels, combined with the biggest sensor ever in an iPhone dual-camera system. It will allow for 47% more light for less noise and brighter results. Sensor-shift OIS, the same tech introduced in iPhone 12 Pro Max, also comes to the Wide Camera. Even in the iPhone 13 mini. Stabilises the sensor instead of the lens so shots are more steady. While the custom -designed Ultra Wide camera with a new sensor captures images with more detail in the dark areas of photos and videos with less noise.
Cinematography
Apple done an extensive study of cinematography and the powerful use of rack focus, Cinematic mode on iPhone records videos of people, pets, and objects with a beautiful depth effect with automatic focus changes, so anyone can capture cinema-style moments, even if they aren't a professional filmmaker.
While you can also adjust the focus during and after capture. Changing the level of the bokeh in the photos app and iMovie for iOS. While this adjustment will also soon come to iMovie for MacOS and Final Cut Pro. Cinematic mode records in Dolby Vision HDR. With both models offering HDR video recording with Dolby Vision. Support for 4K up to 60fps on all cameras.
A faster Neural Engine in A15 Bionic, new image signal processor and advancements in computational photography power all-new features on iPhone 13 and iPhone 13 mini.
Photography Styles
Photographic Styles allows for users to bring their own personal photo style to every image. Preset and customised preferences work across scenes and subjects, more than just a filter. Intelligently applying the right adjustments to different parts of the photo. While ensuring important parts are preserved, such as a persons skin tone.
The dual camera system and  power of computational photography support Smart HDR 4, now with improved colour, contrast, and lighting for each subject in a group photo, including in challenging conditions, making images more true to life, as well as improved Night mode. And the TrueDepth camera supports all the amazing new camera features, including Cinematic mode, Photographic Styles, Smart HDR 4, and more.
A15 Bionic
A15 Bionic is much faster than the competition delivering a much improved performance and power efficiency making everything fluid in iPhone 13. The 6-Core CPU has 2 high performance cores and 4 high efficiency cores and is up to 50% faster than the competition. While the new 4-core GPU is up to 30% faster than the competition. Allowing for more lifelike visuals and improved lighting effects in graphics intensive games.
The new 16-core Neural Engine is capable of faster machine learning for features such as the Live Text in Camera in iOS15.
5G
5G is also on the new iPhone 13 transforming the way users share, connect and enjoy content.
Users can experience higher-quality video streaming on their favourite platforms, more competitive gameplay in multi-player games, faster download and upload speeds, and so much more.
(Apple)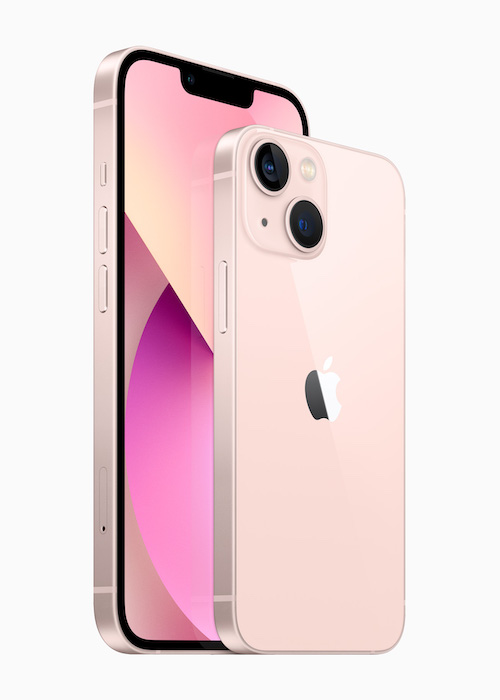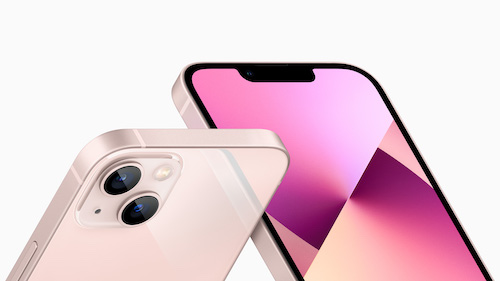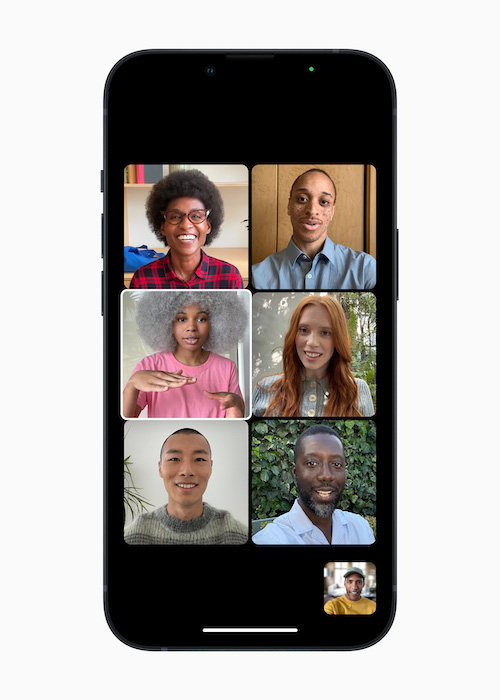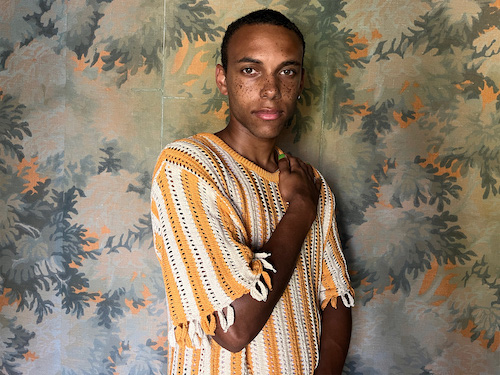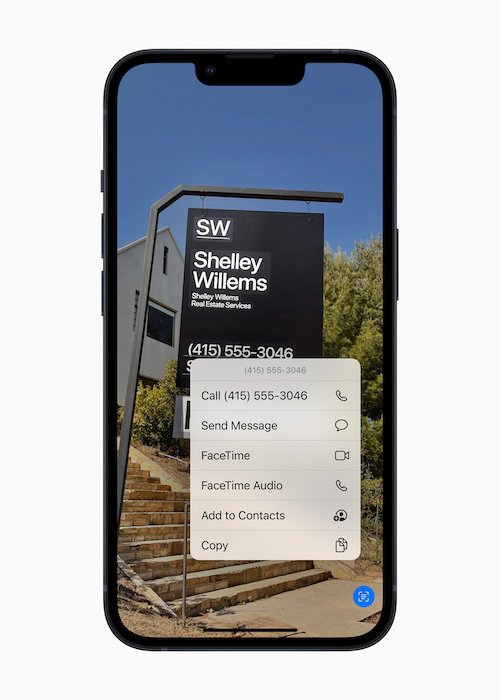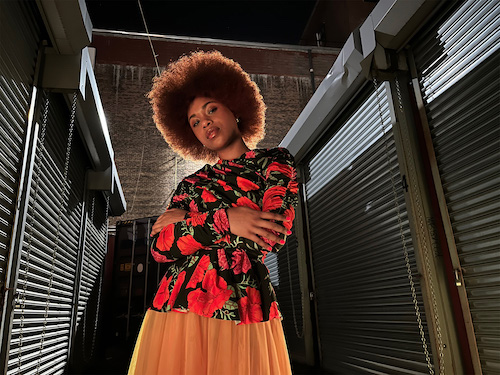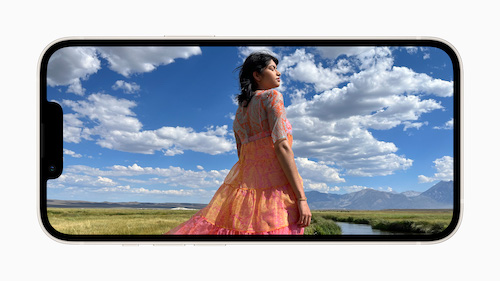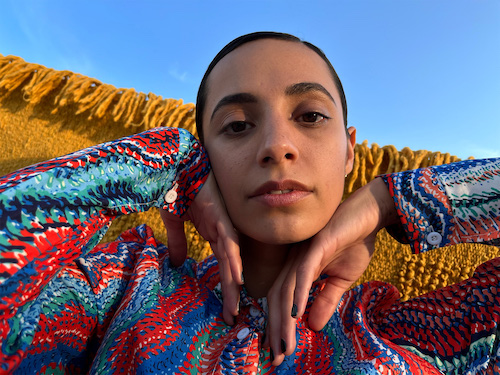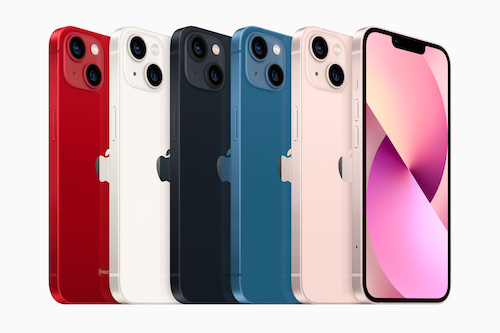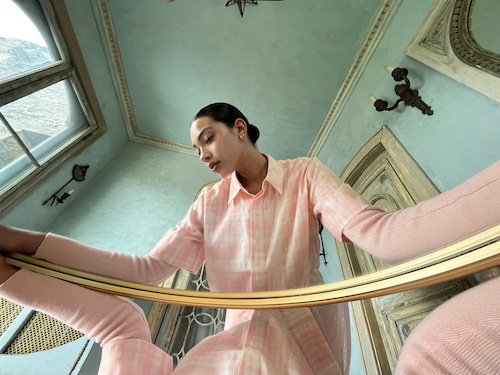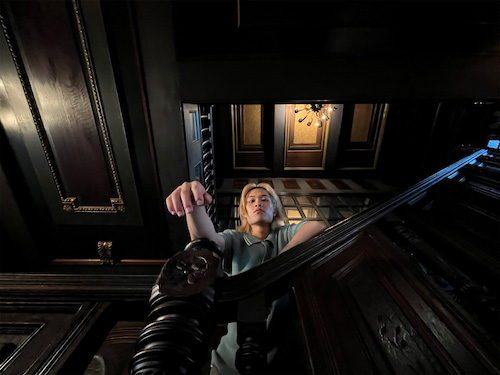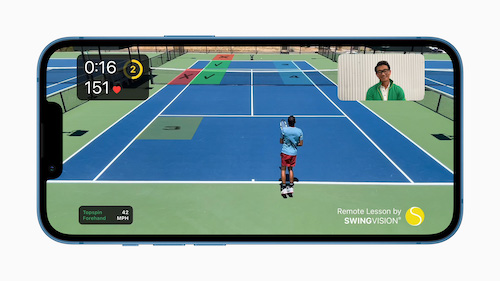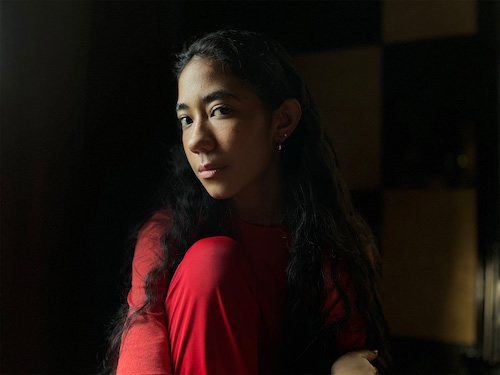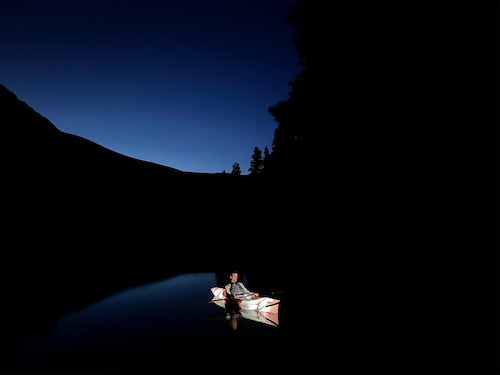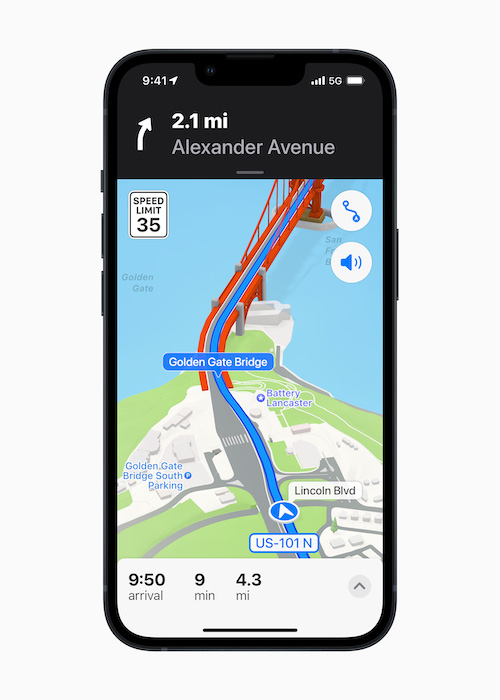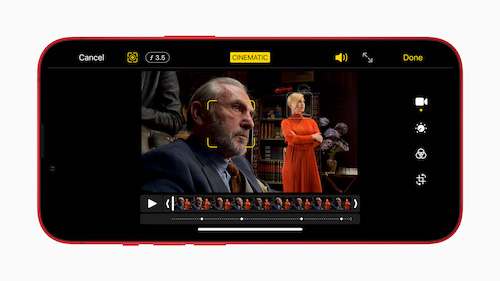 California Streaming: iPhone 13 Pro and iPhone 13 Pro Max
Apple have announced a brand new set of their top of their line smartphones. The iPhone 13 Pro and iPhone 13 Pro Max.
Both models feature the all new Super Retina XDR Display with ProMotion, featuring adaptive refresh rate of up to 120Hz. Pro camera system has brand new Ultra Wide, Wide and Telephoto cameras that capture amazing photos and videos. All powered by the amazing A15 Bionic. With macro photography coming to the iPhone for the first time on the Ultra Wide camera and up to 2.2x improved low-light performance on the new Wide camera.
Photography
Computational photography features such as Photographic Styles personalise the look of images in the camera app. With both models now having Night mode on all cameras. Video takes a huge leap with Cinematic mode for beautiful depth of field transitions, macro video, Time-lapse and slow mo and better low-light performance.
Both models offer end to end pro workflows in Dolby Vision and ProRes. iPhone and iPhone 13 Pro Max also have 5G. There are also big improvements to the battery life and a new max storage to 1TB and the Ceramic Shield front cover.
Phone 13 Pro and iPhone 13 Pro Max will be available in four stunning finishes, including Graphite, Gold, Silver, and the all-new Sierra Blue. Pre-orders begin Friday, September 17, with availability beginning Friday, September 24.
Cameras
There is new sensors and lenses for all 3 rear cameras, powered by the new image processor in the A15 Bionic for improved noise reduction and tone mapping. The all-new Wide camera has a larger sensor with 1.9 µm pixels. For far less noise and faster shutter speeds needed across lighting conditions.
Coupled with the larger ƒ/1.5 aperture, the Wide camera on iPhone 13 Pro and iPhone 13 Pro Max offers a massive improvement in low-light situations, up to 2.2x when compared to iPhone 12 Pro, and nearly 1.5x when compared to iPhone 12 Pro Max. Sensor-shift optical image stabilisation (OIS) — unique to iPhone. Is available on both models, stabilising the sensor instead of the lens, so images are smooth and video is steady, even when the user is not.
Ultra Wide
New Ultra Wide camera features a wider  ƒ/1.8 aperture and a new autofocus system, bringing a 92 percent improvement for low-light environments, producing images that are brighter and sharper.
The new lens design has autofocus capability for the first time on the Ultra Wide on iPhone. While the software on iPhone allows for macro photography. Users can capture sharp, stunning images, magnifying subjects with a minimum focus distance of 2cm. You can also use macro to video including Slow-Mo and Time-Lapse. The Telephoto camera is now 77m, allowing users to get closer to the subjects while recording video. You can also achieve even more classically framed portraits, offering 3x optical zoom for a total 6x optical zoom range on the camera system.
Photography Styles
A faster Neural Engine in A15 Bionic, new ISP, and advancements in computational photography power the all-new camera features on iPhone 13 Pro and iPhone 13 Pro Max. Photographic Styles allows users to bring their personal photo preferences to every image.
Preset and customised preferences work across scenes and subjects, and unlike a filter, intelligently apply the right adjustments to different parts of the photo to ensure the important elements, like skin tones, are preserved.
Night Mode comes to all cameras on iPhone 13 and iPhone 13 Pro Max, with Smart HDR 4, users can expect improved colour, contrast and lighting for subjects. Even in group shots or challenging lighting situations. iPhone 13 Pro and iPhone 13 Pro Max also has the same features you all love such as Deep Fusion, Apple ProRAW, and Portrait mode with Portrait Lighting.
Video
There is a brand new Cinematic mode on iPhone allow for a beautiful depth effect with automatic focus changes. Therefore allowing for cinematic style content creation. Focus can also be changed during and after the capture on Photos and iMovie on iOS. Coming soon to iMac on MacOS and Final Cut Pro. Enabled by A15 Bionic and advanced machine learning algorithms, Cinematic mode records in Dolby Vision HDR.
Separate to the iPhone 13, the iPhone 13 Pro / Pro Max can shoot in ProRes an advanced video codec used for commercials, films and TV broadcasts. Offering higher colour fidelity and less compression. Helped by the new camera hardware, advanced video encoders and decoders and the A15 Bionic and flash storage pipeline. iPhone is the only smartphone in the world to provide an end-to-end workflow — capture, edit, and share in Dolby Vision or ProRes.
Super Retina XDR
iPhone 13 Pro and iPhone 13 Pro Max has a Super Retina XDR with ProMotion, supporting an adaptive refresh rate from 10Hz to 120Hz. Allowing users to have fast frame rates when users need it. Intelligently preserving battery life when they don't. Making everything feel more responsive as a result.
While the display is the brightest ever at up to 25% higher max outdoor brightness at 1000nits. Allowing users to experience amazing resolution, colour, and contrast whether casually scrolling through the web or watching HDR videos.
Redesign
The new Pro lineup has a new premium flat-edge design, crafted with surgical grade stainless steel band. The finish is resistant to abrasion and corrosion with a textured matte glass back. Both models are protected by the Ceramic Shield front cover, exclusive to iPhone. Which is tougher than any other smartphone glass, offering great durability and drop performance. The screen also has a 20% smaller area to house the TrueDepth camera system, allowing for more screen real estate.
Battery life is much improved, iPhone 13 Pro will last up to 1 1/2 hours longer than iPhone 12. While iPhone 13 Pro Max will last up to 2 1/2 hours longer than the iPhone 12 Pro Max.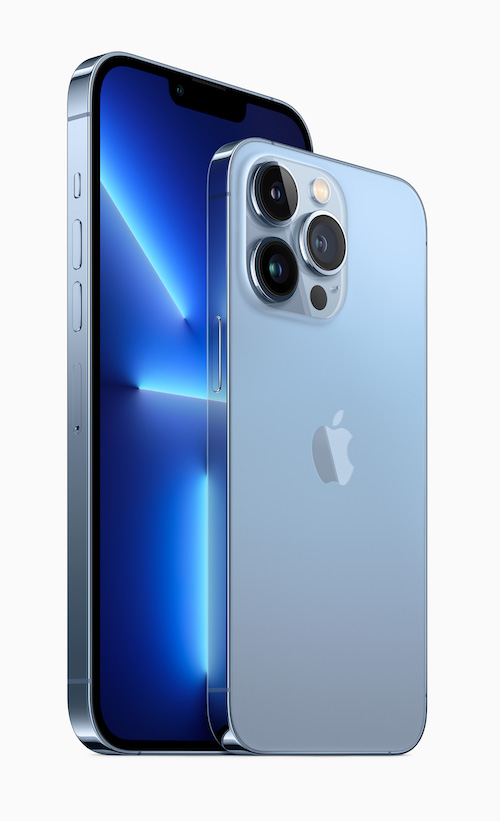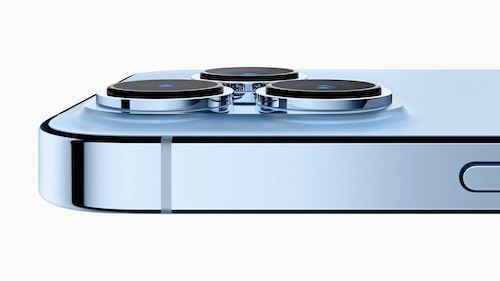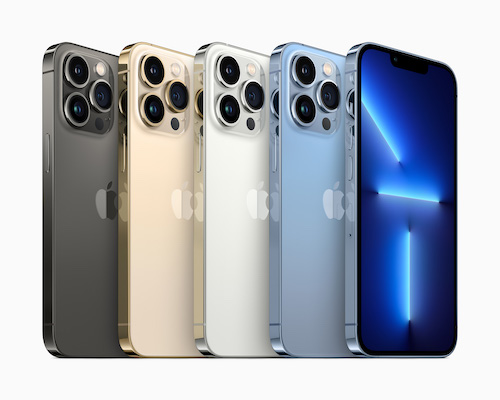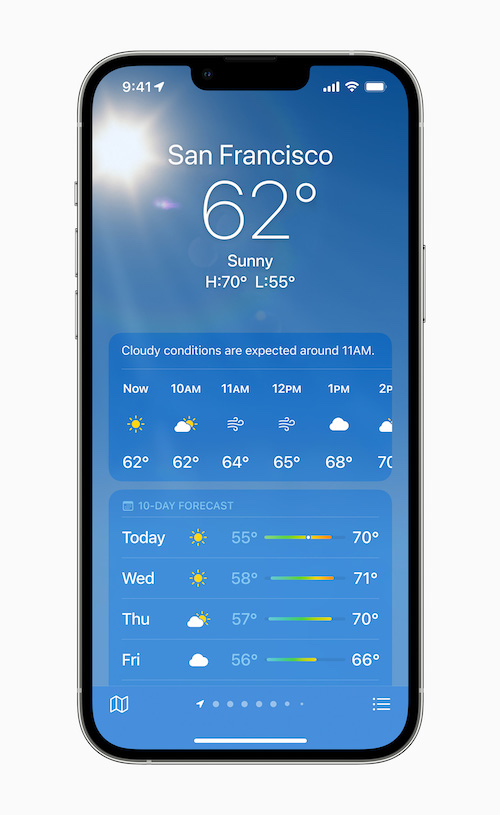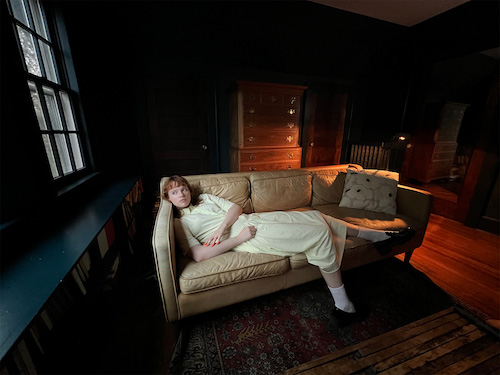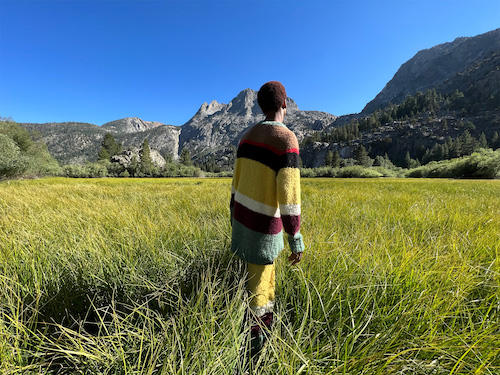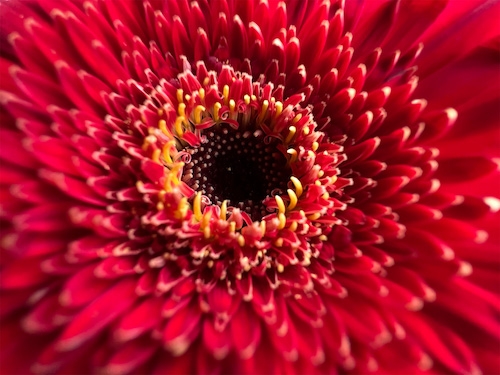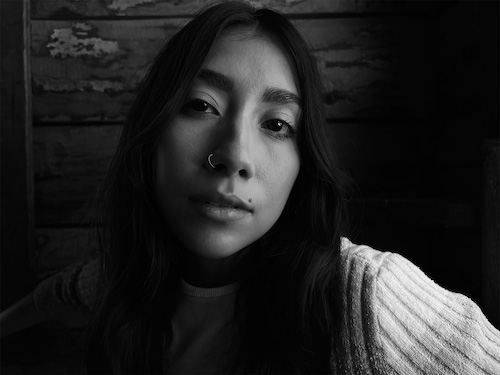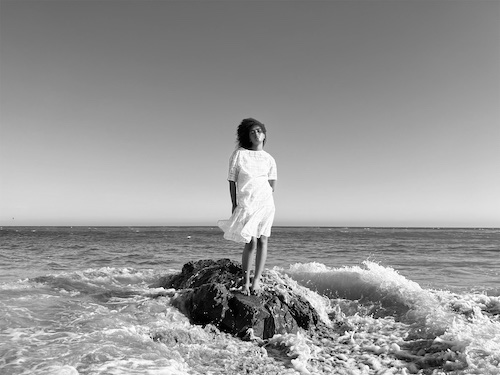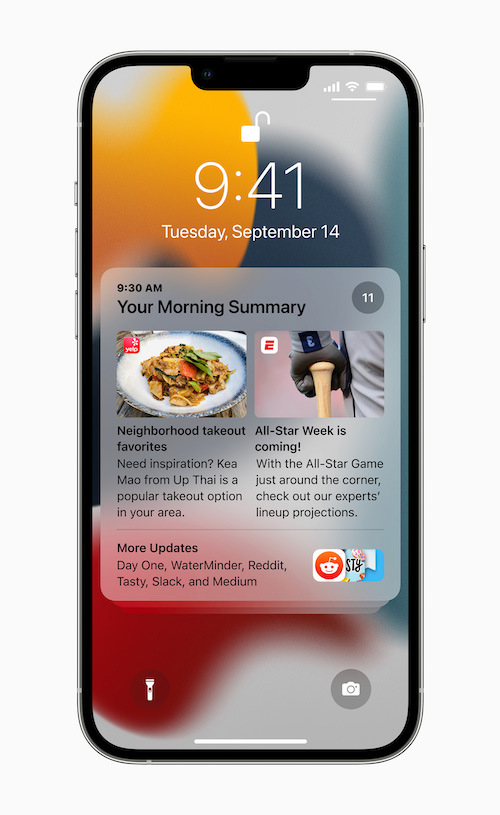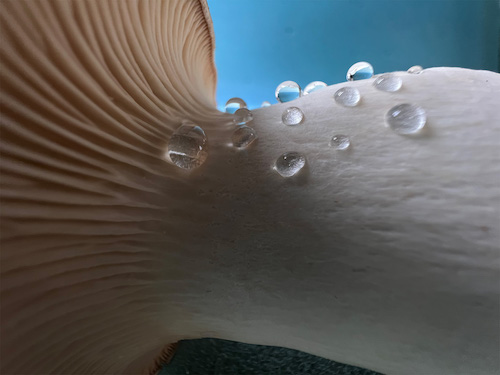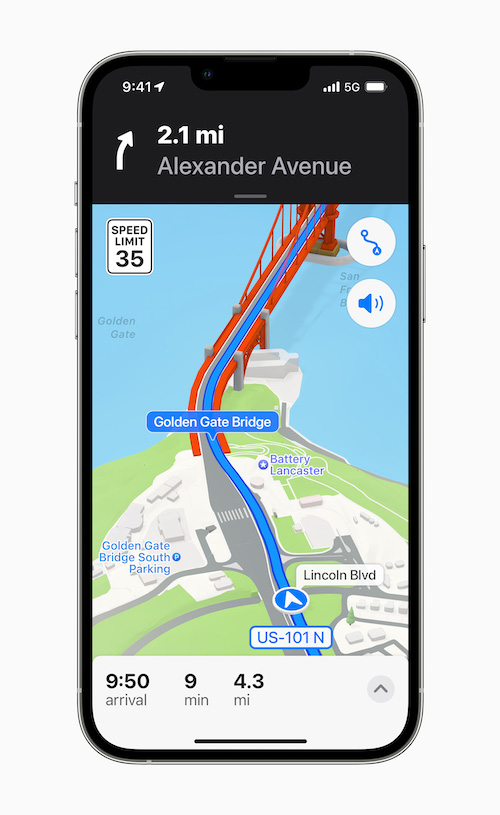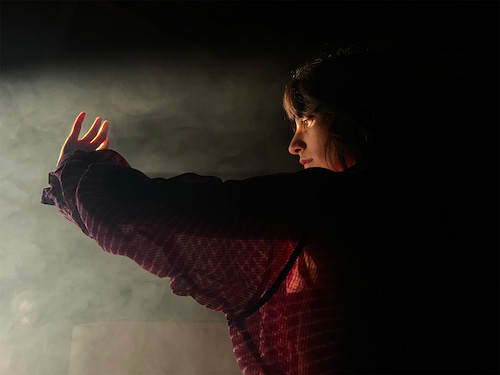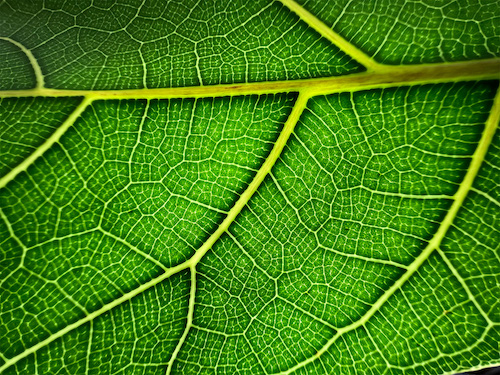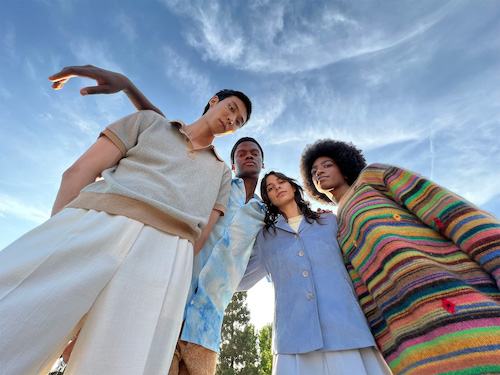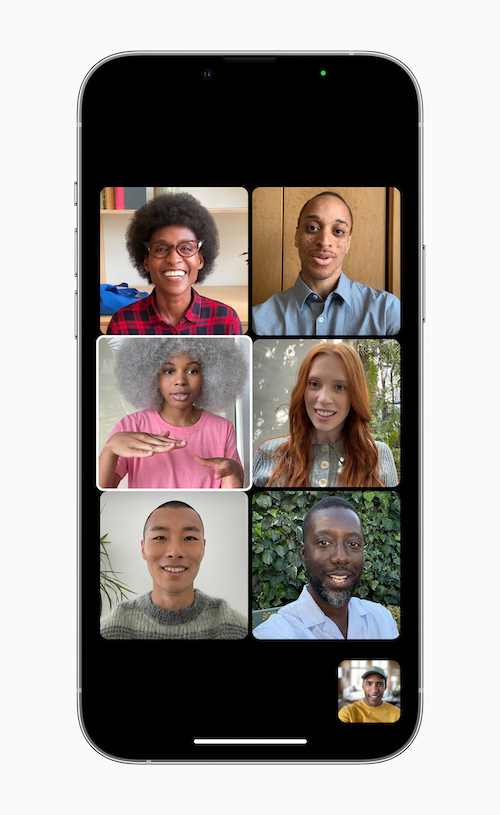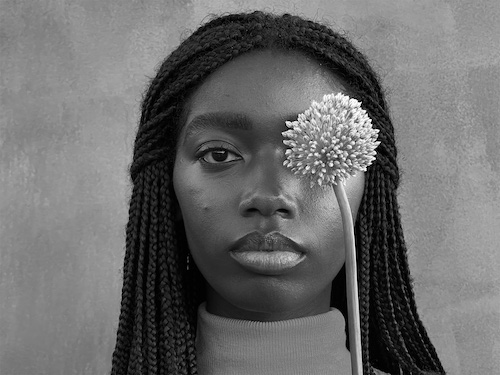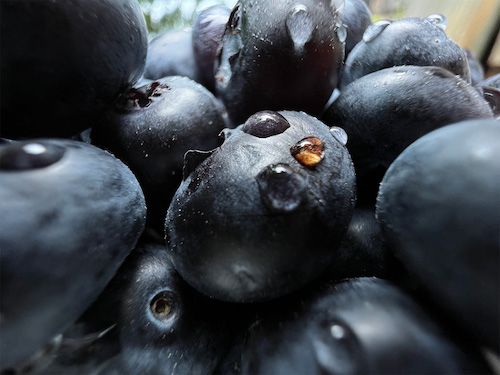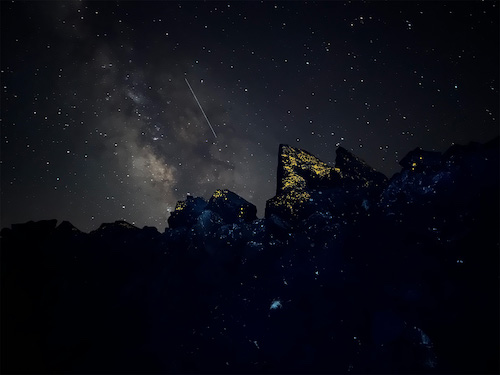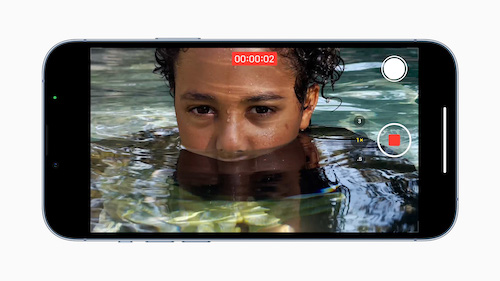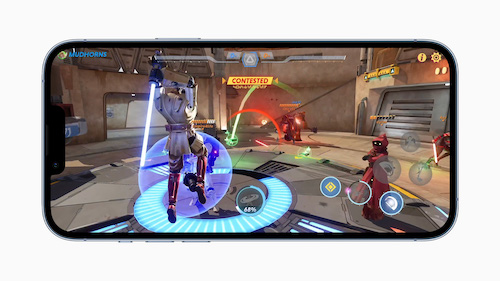 So, keep up to date with everything How To Kill An Hour by signing up to our newsletter by clicking here!
Also, let us know what you think of the show by clicking here!
Click here to subscribe to our YouTube Channel to see more amazing ways to kill time!
While you are there, follow us on Twitch by clicking here!
http://wp.freedomhost.uk/howtokillanhour/wp-content/uploads/sites/65/2021/09/Apple_iPhone-13-Pro_Colors_GEO_09142021.jpg
400
500
billywright
http://wp.freedomofcreation.co.uk/howtokillanhour/wp-content/uploads/sites/65/2017/09/htkah-web-logo-2017.png
billywright
2021-09-15 19:41:52
2021-09-15 19:43:33
California Streaming: Everything Apple Announced