Philips Hue, Elgato Gifted Us A New Studio!
New Year – New Studio which has been gifted from Philips Hue / Elgato! They have been able to make our studio look better and make it much more functional too! All with lots of different content creator focused products! Check them out below!
Hue Centris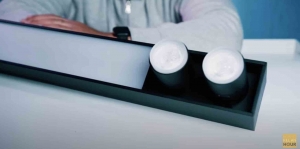 Lighting a lot of the room is the Hue Centris. This light from Philips Hue is designed to illuminate the room while offering accent lighting. The Centris ceiling sport light will create a unique atmosphere. You can set each light to a different colour or set the while fixture to a soft warm white. Lots of options!
Each light, including the main light, can be tuned to any colour. Making it easy to transform any room. 350-degree and up-and-down rotation of each spot light lets you position however you want. The light has up to 4,200 lumen and wireless dimming capabilities. So, the Centris can light up the entire room with colourful light or dim down to low, relaxing tones. (Purchase – Affiliate Link)
Hue Light Strip 4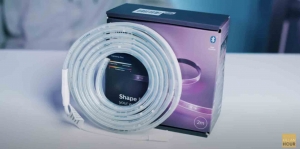 The Philips Hue Strip Lights make it even easier to customise your living space and light and mood in any chosen area. They can bring amazing light to any area of your home. Mainly thanks to the flexible nature of the Philips Hue Strip Lights. Even combine them with a Hue Bridge to unlock the full suite of smart lighting features.
They can be bent, curved and even cut to size. The Philips Hue Strip Lights really are the best for personal lighting. Tuck them behind bookshelves and tables. They will immediately transform any decor of any room. Surround yourself with a warm glowing light to create a relaxing area in any room for example. For safety use them to illuminate hallways to help you get around in low light situations.
Use the Hue App or other smart accessories to control them. By using either one of the Hue Apps.  Use a hardware based solution such as the Hue dimmer switch or the motion sensor. Even use your voice by using voice commands by pairing them with home assistants. Such as Amazon Alexa, Apple HomeKit and Google Assistant.
Cut them down or extend the Philips Hue Strip Lights to up to 10M with connectors and stick them to any solid surface.
Hue HDMI Sync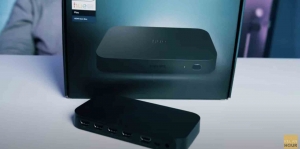 With this fancy piece of kit, (trust us it's amazing! We love it!) you are able to sync Philips Hue Lights with the Sync Box and it will mimic the lights that are on screen on to the wall behind the television. Furthermore you're able to attach up to 4 HDMI devices, so you could attach a SKY/Virgin Box, a Game Console or an Apple TV (For Music/Games/Tv) all at once! Though only one device can be used at any one time.
Ease of use
The Philips Hue Play HDMI Sync does require the Hue Bridge and Hue Colour lights to work, but once you got those it's good to go! Plus it's super easy to set up, we set ours up in 5mins! Even personalise your experience with the Sync Box App!
Things such as explosions were mimicked on the wall behind us. Even the intensity of said explosions were mimicked on the wall behind our TV. That certainly adds to the immersion of the content that we're viewing. It felt like we were 'there'!
However, if you aren't too keen on the intense nature that may occur (all dependent on what you see on screen of course) you can select a subtle mode from within the Sync Box App to tone down the lights.
Hue Play Bars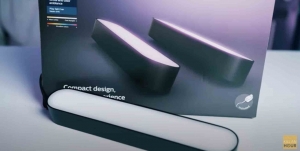 The Philips Hue Play Light Bar is designed to give you dynamic surround lighting in your entertainment rooms. Or help you build a battle station which amplifies with every in game effect that you do. Not into games or films? Well you can create a colours cape which perfectly matches your mood and home interior.
All of this is controlled via the Hue app, your voice or smart accessories. Such as the Hue app or the Hue Bluetooth app. As you can help control settings, routines and much more.
Other hardware is also available to control them such as the Hue dimmer switch, motion sensor and other accessories. Use your voice too!
Set Up
For smaller TV sets and media units, place them vertically and point them towards the wall for an incredibly immersive effect. Furthermore lay them horizontally next to your monitor and enable Hue Sync for PC to get light that reacts to your computer screen. Place them around your TV and set them to your favourite scene to set the mood during films. Go one step further and pair them with a Hue Sync Box to have them react to what's on screen! While you can place them horizontally and cast them down a hallway to create a warm effect.
Hue Smart Plug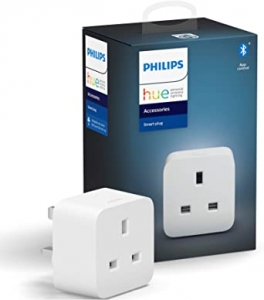 The Philips Hue Smart Plug is simply a plug.  But it's a smart plug. It can turn any light, even one where you can't place a Hue bulb. Into a smart light! Therefore allowing you to control it via the Hue app or voice. While you can use Bluetooth for instant light control. Connect it to the Hue Bridge to unlock more features. Also the Philips Hue Smart Plug was designed to blend into any environment. It's small, white and has a very subtle design. Allowing you to add any light into your Hue system without any added wires or worry!
Elgato Key Light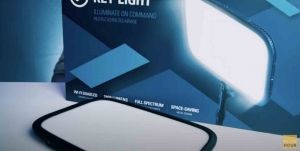 Elgato allowed us to use their amazing Key Lights! While conventional lighting can be large and cumbersome, the Key Light sits perfect within your set up. It is build from solid metal and is streamlined to take up as less space as possible. It doesn't touch the floor and can stand flush against the wall. Clamp the pole mount to your desk. Or ceiling in our case. Set it to the right height and you're good to go.
Better yet while soft boxes get hot, the Key Light doesn't. It stays at a impressively low heat. Despite it's 280o-lumen output. There are 160 premium OSRAM LEDs to give you extra-bright illumination. While you can also can dim them down to a subtle glow. There is a colour temperature range of 2900 to 7000 K produces hues from arctic blue through sunset amber. Furthermore there is a silky-smooth opal glass face. This guarantees balanced, glare-free diffusion at the perfect beam angle.
Control the Key Lights with the built in Wifi which you can connect to via your PC, Mac or smartphone. Even connect the Key Light to the Stream Deck and adjust things like Power, brightness, colour temperature and more. Straight from the stream deck!
Key Light is a powerful light and has space saving features, app control and are incredibly adjustable. Perfect for the content creator.
Elgato Stream Deck XL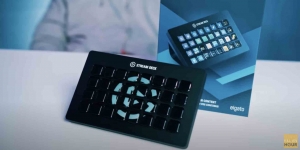 Thanks to the Stream Deck XL we get tons of customisation options in the studio. Thanks to integrations!
The Stream Deck XL is a 8×4 grid of 32 LCD keys. With each sporting crisp resolution and fluid playback. They're easily customisable and can be done so with static or dynamic icons. There is one-touch tactile control. Instant visual feedback to confirm every command.
There's loads you can do with it. Such as start streaming. Adjust audio levels, adjust your mic, mute your mic, tweak the lighting, switch cameras, apply lower thirds, trigger videos, images gifs. So many options! Open up YouTube or Spotify. Options are endless!
Elgato Game Capture, OBS, Streamlabs, Twitch, YouTube, Twitter, and more, all work with it. Stream Deck XL Intergrates your tools and detects your scenes, media and audio sources. Directly orchestrate your stream on the fly. Even engage your social networks a the perfect moment.
Furthermore you can launch apps and websites, open folders, access pre-composed texts. Also even streamline your video editing, graphic design, or audio production workflow
Personalising Stream Deck XL is very simple too. Drag and drop actions onto keys, and assign ready-made icons or use your own. 32 keys not enough? Turn those keys into folders to amass as many actions as you want
Easily create your own icons with Key Creator.
For bonus patron only episodes of How To Kill An Hour, ad-free content and more sign up to our Patreon here
Keep up to date with everything How To Kill An Hour by signing up to our newsletter by clicking here!
Let us know what you think of the show by clicking here!
Click here to subscribe to our YouTube Channel to see more amazing ways to kill time!
Follow us on Twitch by clicking here!
http://wp.freedomhost.uk/howtokillanhour/wp-content/uploads/sites/65/2021/12/Youtube-EX1.jpg
1080
1920
billywright
http://wp.freedomofcreation.co.uk/howtokillanhour/wp-content/uploads/sites/65/2017/09/htkah-web-logo-2017.png
billywright
2021-12-20 17:57:14
2021-12-20 17:57:14
Philips Hue, Elgato Gifted Us A New Studio!