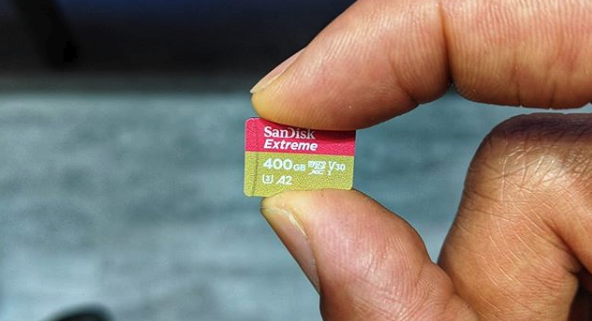 Sandisk 400gb microSD Card
Marcus has been at Mobile World Congress in Barcelona this week and he has seen a range of different weird and wonderful mobile technology. But one thing that has really caught his eye is the Sandisk 400gb microSD Card. Yes you read that right, a whopping 400gb microSD card! We remember floppy disks that could hold 4mb, so 400gb is very very impressive for us!
So what do you get for your £199 400gb MicroSD card? Well you get 100Mb/s a second data transfer. That's SUPER quick! Data transfers that quick equate to a total of 1200 photos in a minute!! 400gb will also allow you to hold 960 albums approximately. Hold a total of 7200 photos and 1920 mins Full HD video.
If you have a MIL Camera and/or android smartphone or tablets take microSD cards, you're able to load apps a lot faster due to the A1 rated performance.
Your super small and super light microSD card also comes with a SD card converter, making it less easy to lose it! At £200 and 5g it's super easy to lose but super heavy on the bank balance!
BUT!
Sandisk have made sure that their Sandisk 400gb microSD card is protected! This card is very durable it is waterproof, X-ray proof, shock-proof and temperature-proof!
This is a great buy and even at £200 it is pricey, but, it's not even £1 a gig, if someone said to you it would cost 50p per gigabyte of storage. In this day and age you'd rip their arm off! It's just as it's so small of a device we think it's expensive. But for the drone users out there and the action cam users, 400gb on such a small device is very very enticing for them. After all it's one less thing to carry around.
To listen to the guys chatting about this please click here!
To purchase your own 400gb microSD card please click here!
http://wp.freedomofcreation.co.uk/howtokillanhour/wp-content/uploads/sites/65/2018/02/Screen-Shot-2018-02-28-at-18.50.32.png
590
592
billywright
http://wp.freedomofcreation.co.uk/howtokillanhour/wp-content/uploads/sites/65/2017/09/htkah-web-logo-2017.png
billywright
2018-02-28 19:39:27
2018-02-28 21:07:20
Sandisk 400gb microSD Card