After uploading her DNA to GEDmatch, Christine Marie Salley was matched with the genetic profile of an unknown murder victim from the 1980s.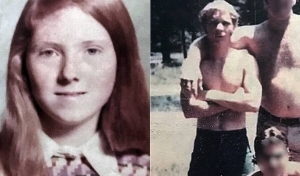 Pamela Dianne Duffey (left) and William Everette Lane (right) were around 21 and 20 years old when they were killed.
Lets roll back the clocks to 1980 when an archaeologist in Ludlow, California, discovered a shallow grave in the vast Mojave Desert. It contained the nude bodies of a man and woman. Who had both been beaten and then shot to death, but a lack of IDs at the scene left their murders unsolved for decades. Until now. But how was this soled 40 years later? Well The 40-year-old cold case was finally cracked when a Virginia woman uploaded her DNA to a genetic testing site. To help locate her biological mother. Her DNA was then matched with a sample from the unidentified woman found in the desert. 
DNA Matches
The saga began in 2018 when Christine Marie Salley began searching for her biological parents. The Virginia native had always known she was adopted, and that year, she hired a private investigator. According to ABC News, the investigator first found adoption paperwork that identified Salley's biological mother as Pamela Dianne Duffey. When the investigator then uploaded Salley's DNA to GEDmatch in December 2020.
GEDmatch is a website for genetic genealogy research. Anyone can upload their DNA file, analyse results, and compare DNA shared with others and it's free. They have a database of about 1.5 million people. So, when Christine's investigator uploaded her details to GED Match, it suggested that there was a parent-child relationship between Salley and an unidentified DNA sample of a woman, that was uploaded by authorities on the case in Ludlow. It appeared as though that woman was none other than Salley's mother, Pamela Dianne Duffey.
San Bernardino County investigators then heard of the successful DNA match, and they realised their 40-year cold case just might be coming to an end. Salley consequently provided the San Bernardino investigators with what she believed to be her mother's name and another DNA sample, which the California Department of Justice positively matched only to Duffey. The records showed that Duffey was just about 21 years old when she was killed.
Identification
So this lined up who the female victim was, but what about the male victim? Well, Salley was also able to help identify the unknown male victim. She remembered that her biological mother had been friends with a man who Duffey called "Digger Lane" before she vanished. Salley also knew that Lane was a Virginian convict. Who planned a cross-country hitchhike with her mother after serving his time.While that nickname didn't match any records, investigators did find a William Everette Lane with similar credentials and a Jacksonville, Florida, address. 
His relatives were subsequently tracked down. They voluntarily supplied authorities with DNA samples that matched those of the murdered man in the desert. Lane was then determined to be around 20 years old when he was killed. All investigators needed now was to identify the killer. Which at the start of this story was a near impossible task. But as it turned out, they already had a suspect in mind. While the evidence discovered during the start of this story could only help.
Solving The Case?
The San Bernardino Sheriff's Office had long suspected that a now-68-year-old convict named Howard Neal might be the culprit. In part because he had been in the same region where Duffey and Lane were killed. Who curiously moved to Mississippi right after. Imprisoned since 1982. Neal was convicted of raping and then murdering his 13-year-old niece and her 12-year-old friend, as well as killing his own brother. Neal was initially sentenced to death for those crimes, but an IQ test that suggested he was mentally challenged changed his sentence to three life terms in prison, instead. 
Events that unfolded
Investigators managed to interview Neal about the Ludlow murders in 2017. During which the culprit said that he picked up the couple while they were hitchhiking on a freeway. Howard Neal has been imprisoned since 1982 for the murder of his brother, niece, and her friend. He then brought the two to his residence, where San Bernardino investigators say he "became involved in an argument with the male" and "felt the male would probably kill him if he did not kill him first." 
Tragically, Neal also revealed that the woman he killed that day said she had a daughter. Strengthening the belief that she was Salley's mother, Duffey. Investigators believe that Neal shot Lane to death first and then raped Duffey before killing her as well. The young couple was then transported to a remote section of the Mojave Desert off Highway 66 and left unidentified for nearly half a century. The sheriff's department said they are currently in the process of returning the remains of Duffey and Lane to their respective families. Wow…DNA evidence is powerful stuff!
Keep up to date with everything How To Kill An Hour by signing up to our newsletter by clicking here!
Let us know what you think of the show by clicking here!
Click here to subscribe to our YouTube Channel to see more amazing ways to kill time!
Follow us on Twitch by clicking here!
http://wp.freedomofcreation.co.uk/howtokillanhour/wp-content/uploads/sites/65/2021/06/pamela-dianne-duffey-and-william-everette-lane.jpg
527
900
billywright
http://wp.freedomofcreation.co.uk/howtokillanhour/wp-content/uploads/sites/65/2017/09/htkah-web-logo-2017.png
billywright
2021-06-22 15:11:09
2021-06-22 15:11:32
Virginia Woman Using Online DNA Service To Find Biological Mother Accidentally Cracks 40-Year-Old Double Murder