Posts
http://wp.freedomhost.uk/howtokillanhour/wp-content/uploads/sites/65/2018/04/IMG_0099.jpg
4000
6000
billywright
http://wp.freedomofcreation.co.uk/howtokillanhour/wp-content/uploads/sites/65/2017/09/htkah-web-logo-2017.png
billywright
2018-04-12 00:00:23
2018-07-18 19:49:07
Episode 274 Remel London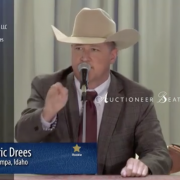 First of all. This is AMAZING! Auctioneer Beats are back on Instagram and we couldn't be happier! Don't know what Auctioneer Beats are? Well you're about to find out something super super cool & if you love music, you'll love this! Plus it combines two things you didn't think could be merged together. But as they say, accidental inventions are the best inventions! (Cookies one of them!)
So, Auctioneer Beats, takes livestock auctioneers (you know those guys who talk really really fast and no-one can understand them) and puts a beat underneath it. The result? Your next favorite rap artists.
Auctioneer Beats first started on Vine and has since made the transition over to Instagram. Consequently, showcasing the best there is in the underground scene of Livestock country twang x hip hop cross over you never knew existed.
Auctioneer Beats: Instagram
The crazy Instagram account has grown to over 40 thousand followers with just over 40 posts. That's 1K followers per Instagram post! We don't know about you, but we're super impressed that this account exists. We didn't even know you could transform country patter into rough, urban sounding hip hop and it sound GOOD!
You know what this reminds us all of? The fact that the internet is a very cool place, full of intelligent people. Where their creative limits have no bounds, who knows we may have the next country x rap album on the horizon! All courtesy of a very popular Instagram account!
So, do we have any rapping country music fans as followers? If you do send us your very own Auctioneer Beats hip hop track! We're @howtokillanhour on all social platforms!
You can follow Auctioneer Beats on Instagram by clicking here!
Keep up to date with everything How To Kill An Hour by joining up to our newsletter by clicking here!
Listen to the latest podcast (EP274) by clicking here!
http://wp.freedomhost.uk/howtokillanhour/wp-content/uploads/sites/65/2018/04/Screen-Shot-2018-04-09-at-23.42.42.png
668
1186
billywright
http://wp.freedomofcreation.co.uk/howtokillanhour/wp-content/uploads/sites/65/2017/09/htkah-web-logo-2017.png
billywright
2018-04-12 00:00:21
2018-04-10 10:30:07
Auctioneer Beats: Music Creativity 100