Posts
http://wp.freedomofcreation.co.uk/howtokillanhour/wp-content/uploads/sites/65/2019/02/Jon-Bentley-Youtube-Thumbnail-Template.jpg
1080
1920
billywright
http://wp.freedomofcreation.co.uk/howtokillanhour/wp-content/uploads/sites/65/2017/09/htkah-web-logo-2017.png
billywright
2019-02-06 00:00:23
2019-02-13 08:14:33
Episode 313 Jon Bentley of The Gadget Show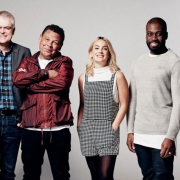 So, The Gadget Show is all about, you guessed it, Gadgets! It's weekly on Channel 5. Furthermore, the show, which is broadcast on Channel 5, is currently presented by Craig Charles, Ortis Deley, Jon Bentley and Georgie Barrat. 
The show is 60 minutes long and features discussions and reviews on the latest pieces of technology such as films, cameras, video games, gadgets and gizmos, vehicles, future tech, cinema you name it The Gadget Show covers it!
Guinness World Records
While the show focuses on gadgets. The show is also responsible for a lot of tech related Guinness World Records as well!  Below are all the records they've completed:
Set the fastest speed reached by a slot car racer achieved by Dallas Campbell while filming for The Gadget Show.
The fastest speed reached by an internal combustion powered radio-controlled model car. It is 137.86 km/h (85.66 mph), controlled by Jason Bradbury. On the set of The Gadget Show in Stratford-upon-Avon, UK, on 29 October 2008.
Fastest speed in a water jet–powered car is 26.8 km/h (16.65 mph) and was achieved by Jason Bradbury (UK) on the set of The Gadget Show at Wattisham Airfield, Ipswich, UK, on 15 March 2010.
The largest game of Tetris measured at 105.79 m² and was played on The Gadget Show in Birmingham, UK on 15 September 2010.
The heaviest machine moved using a brain control interface weighs 56.2 tonnes (61.95 tons), as demonstrated on the set of The Gadget Show, Studley (UK) on 17 March 2011
The fastest speed attained on a jet-powered street luge is 115.83 mph (186.41 km/h). This was achieved by Jason Bradbury (UK) on the set of The Gadget Show's 200th episode. 
The longest loop-de-loop performed by a radio-controlled car at a diameter of 2.3 m.
While, The Gadget Show is also famous for it's HUGE competitions. Consequently featuring a huge amount of tech gadgets that viewers can win! Seriously there is a LOT of prizes to be won on the show! So, viewers may need storage to keep it all!
(Wiki)
Listen to the guys chatting about this on the podcast by clicking here!
So, keep up to date with everything How To Kill An Hour by signing up to our newsletter by clicking here!
Also, let us know what you think of the show by clicking here!
Click here to subscribe to our YouTube Channel to see more amazing ways to kill time!
http://wp.freedomofcreation.co.uk/howtokillanhour/wp-content/uploads/sites/65/2018/10/Untitl1111ed-1.jpg
820
1660
billywright
http://wp.freedomofcreation.co.uk/howtokillanhour/wp-content/uploads/sites/65/2017/09/htkah-web-logo-2017.png
billywright
2018-10-25 00:00:51
2018-10-30 10:17:29
The Gadget Show Series 28