Posts
http://wp.freedomofcreation.co.uk/howtokillanhour/wp-content/uploads/sites/65/2018/07/Windows10.jpg
3000
3000
billywright
http://wp.freedomofcreation.co.uk/howtokillanhour/wp-content/uploads/sites/65/2017/09/htkah-web-logo-2017.png
billywright
2018-07-27 00:00:40
2018-08-23 13:19:47
Episode 290 Microsoft Windows 10 Update!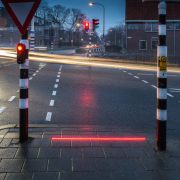 Ever almost been ran over when not checking the road whilst on your smartphone? Well for the clumsy and daredevils out there a pilot project in Bodegraven,Holland is trialing a system called +Lightlines which fit snuggly in between the cracks in the paving bricks of a pavement/road.
It's basically a bright laser strip which is coloured either red (stop) or (green) so your candy crush marathon can continue whilst you do less important things like looking out for your life.
At the moment they are only covering one intersection near some schools, but they'll become widely available if it catches on. It all seems kinda cool to us but the Dutch Road Safety organisation WN stating that these devices "reward bad behaviour"
http://wp.freedomofcreation.co.uk/howtokillanhour/wp-content/uploads/sites/65/2017/02/lightline.jpeg
1067
1600
billywright
http://wp.freedomofcreation.co.uk/howtokillanhour/wp-content/uploads/sites/65/2017/09/htkah-web-logo-2017.png
billywright
2018-05-29 00:00:42
2018-05-30 08:43:52
Lightline