Posts
http://wp.freedomofcreation.co.uk/howtokillanhour/wp-content/uploads/sites/65/2019/02/IMG_8904-HowToKillAnHour.jpg
1336
2324
billywright
http://wp.freedomofcreation.co.uk/howtokillanhour/wp-content/uploads/sites/65/2017/09/htkah-web-logo-2017.png
billywright
2019-02-22 10:14:27
2019-06-17 22:52:41
Episode 316 Rick Edwards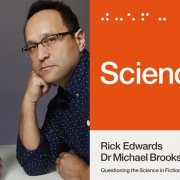 We recently had Rick Edwards on the show and had a wonderful time chatting to him about all things science, Fatbergs and hunting for treasure in rivers. Most notably we discussed his Science podcast that he presents alongside Dr Michael Brooks: Science(ish). Science(ish) is all about discussing the science in popular culture.
What are the episodes about?
In the podcast that we had with Rick we discussed recent Science(ish) shows such as discussing what would happen if there were Nuclear Warfare. Dr Michael Brooks' revelation that the best way to figure out humanity. It would be to place loads of babies on a desert island and do experiments on them. How plants defend themselves against caterpillars. Plus Rick informed us about a special that was once shelved, it was due to be released on Valentines Day. To find out exactly what the special was, listen to Rick's show with us! Furthermore Marcus found out during his chat with Rick that they're doing an episode on Wolverine soon! In this EP, Rick discusses with Dr Michael Brooks about regeneration, much like Wolverine! Also we touched on genetic mutation and how people may be able to mutate gene's in the future to design their children!
Science
We had a great time chatting to Rick about his podcast Science(ish) and book of the same name. It is very apparent that Rick is very passionate about Science. Yet, the things he spoke about whilst with us, were made very simple for us to understand. This is what Science(ish) is all about, talking about Science in a cool, entertaining and interesting way. So, therefore, even if you're not a fan of Science, you may have had some Science discussions with your mates without even knowing about it as Rick stated in the podcast!
Science is not as dull as many Tv shows and text books may lead you to believe. While Science(ish) is the cool cousin of that. You will want to delve into things with your friends about many of the subjects that Edwards and Brooks discuss on Science(ish). Therefore we feel that it will open your eyes to the things! Such as how exciting and exhilarating Science can be, more specifically the future of the world.
Science(ish) is a very cool podcast and we highly recommend that you check out Rick's podcast, you can listen to Science(ish) by clicking here!
Listen to Rick Edwards on How To Kill An Hour by clicking here!
Also, keep up to date with everything How To Kill An Hour by signing up to our newsletter by clicking here!
So, let us know what you think of the show by clicking here!
Click here to subscribe to our YouTube Channel to see more amazing ways to kill time!
Also, follow us on Twitch by clicking here!
http://wp.freedomofcreation.co.uk/howtokillanhour/wp-content/uploads/sites/65/2019/02/Scienceish-Website.jpg
820
1660
billywright
http://wp.freedomofcreation.co.uk/howtokillanhour/wp-content/uploads/sites/65/2017/09/htkah-web-logo-2017.png
billywright
2019-02-21 00:00:48
2019-06-17 22:52:49
Science(ish)