CES 2020 is upon us and there's some pretty interesting pieces of tech being shown off. We took a look at some of them and picked out 8 of our favourites!
Moxie Alexa Shower Head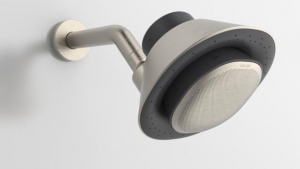 Bathroom specialist Kohler are showing off it's Moxie shower head. This isn't just any shower head it's an Alexa enabled speaker and microphone. Listen to your favourite music and podcasts simply by asking it. Plus it's smart enough to hear your voice over the sound of the water. It may get a few odd looks, but this piece of tech is simply bringing the shower radio to 2020!
Taint Plaster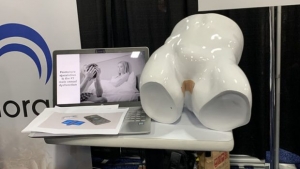 CES 2020 is getting more adult and allowing risque tech into the show floor. This year includes a taint plaster from Morari Medical. It's designed to go onto the taint are of a man. A man who is experiencing premature ejaculation issues. It's an early prototype designed to tackle men who have this problem. It's discreet and unrecognisable so no worries there. It works by "inhibiting the nerves of the penis, thereby delaying an ejaculation."
Charmin
Charmin are having some interesting tech ideas at this year's CES 2020!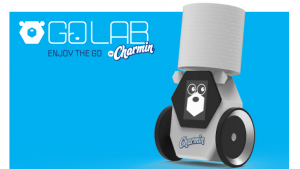 First up is the Rollbot from Charmin, a robot toilet roll holder. The little robot which you can summon to you using bluetooth, it uses infrared sensors to help navigate it's way to you.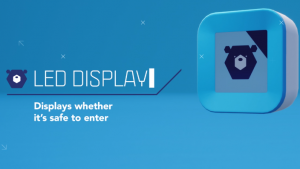 The SmellSense is even better. Say someone in the house has dropped a deuce in the toilet before you go in there to clean your teeth in the morning. Well this nifty product uses an electronic sensor which detects the carbon dioxide and hydrogen sulphide found in the air after we take a dump.  It will then notify users via a Go/No Go display. Charmin, saving noses a day at a time.
Smartypans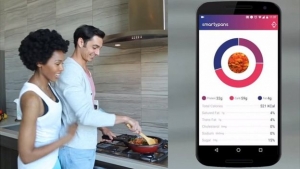 This one from CES 2020 is for all you cooking fans out there! The Smartypans will check the weight and temperature of ingredients. Before guiding you through whatever you are cooking via it's app. How cool is that! This is how smart tech should be used!
Inirv Smart Cooker Knobs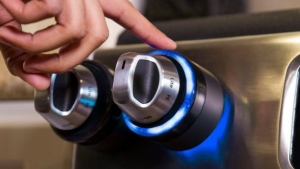 The Inirv Smart Cooker Knobs which are being shown off at CES 2020 this year look really cool! Inirv are hoping that you'll swap out your dumb cooker knobs for their smart ones. They let owners turn up the heat via voice command. While also automatically turning off the stove if it is left unattended for too long. No more worrying when you go out!
PantryOn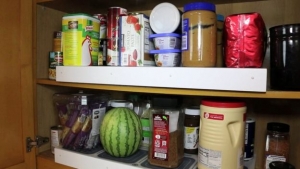 The PantryOn is a piece of smart tech that aims to make grocery shopping a little bit easier. Especially for the busy family! It's aim is to automate food shopping lists via smart shelves. As they will monitor when a family's favourite groceries run low. While this looks cool, current prototypes look a bit bulky. Which means there's less storage space. Also, we have a question, what if you just forget to put the groceries on the shelf?
Bright Lock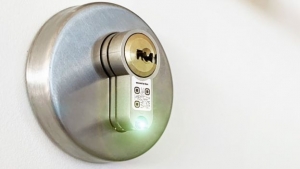 The Bright Lock will unlock your front door by detecting a pattern of light pulses. These lightpulses will be fired from your smartphone's flash. The idea for this interesting piece of tech? Well you can easily share the light based code with other people. So friends, family or tradesmen who are working on your home may need temporary access. So you share your lightcode with them!
TowNew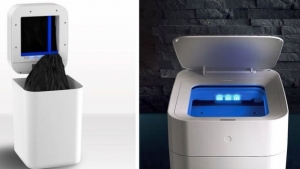 This nifty little device will alleviate the trouble of tieing up bin bags. No more heaving at the smell when tieing them up before throwing them outside in the outside bin.  The smart bin will self seal the sacks at the touch of a button! However you'll need to buy the manufacturers own bin liners. We think that's a perfect trade off if you ask us!
The bin self-seals sacks at the touch of a button, but requires you to be locked into buying the manufacturer's bin liner refills.
Keep up to date with everything How To Kill An Hour by signing up to our newsletter by clicking here!
Let us know what you think of the show by clicking here!
Click here to subscribe to our YouTube Channel to see more amazing ways to kill time!
Follow us on Twitch by clicking here!
Marcus Bronzy
http://wp.freedomhost.uk/howtokillanhour/wp-content/uploads/sites/65/2020/01/CES-2020.jpg
820
1660
marcusbronzy
http://wp.freedomofcreation.co.uk/howtokillanhour/wp-content/uploads/sites/65/2017/09/htkah-web-logo-2017.png
marcusbronzy
2020-01-08 19:27:19
2020-01-15 09:21:34
8 Interesting Pieces of Tech from CES 2020