The ultimate Mother's Day Gift Guide sure to please all Mother's this Mother's Day. From Homemade Gin Kits to powerful pocket sized projectors ,you are sure the find the perfect gift here!
1) Cranes Liqueur £15.00 (for 35cl) from Cranes
Treat your mum to a cheeky tipple this March with the deliciously smooth and fruity taste of the Cranes Liqueur, made from the finest cranberries and fused with fresh blood oranges. To be enjoyed separately or as the perfect addition to a favourite cocktail recipe. Turn the classic Belllini on its head by simply adding 20ml of Cranes Liqueur into your chosen glass, then top up with 100ml prosecco. It couldn't be easier!
2) Chambong Toasting Flute Currently £27.49 (£39.99 full price) from The Fowndry
The Chambong is a delightfully naughty way of downing a glass of champagne or fizz. If you mum loves a good glass of prosecco, this is the gift for her. It's a unique bit of fun for the more outgoing mum. They are made from high quality glass so they can be enjoyed again and again in a classy, exciting way. The Chambong comes in a 2 pack and is best enjoyed with friends.
3) Aiptek i70 £238.02 from Amazon
If you have a little more money to spend, then why not enjoy a movie night in with the Aiptek i70. It's the perfect set up, all you need is the popcorn, a glass of vino and your movie choice. This purchase will last a lifetime, is ultra-lightweight and compact for movies anytime, anyplace.  Don't underestimate the capabilities of this Pico Projector, it presents stunning and high end imagery with rich colour and sound, that will certainly have you creating that cinema like atmosphere, perfect for the whole family.
4) Flic Wireless Smart Button £31.99 from The Fowndry
Flic Wireless Smart Button can remotely control all sorts of functions on your smart devices. Like the small, squidgy conductor of your smart device orchestra, this clever little nubbin can be programmed to instantly trigger a tonne of features on your smart devices. Picture this… You walk through your front door and, with one press of a Flic Wireless Smart Button on the wall, you dim the (smart) lights, nudge the (smart) thermostat up a few degrees and hit play on your (smart) music player.
But this customisable remote control button is more than just a smart home control device. Always losing your mobile phone in the house? Set a Flic Button to make it ring. Out walking alone? Carry it as an emergency distress button, or use it to instantly ping your location to a friend, fire up your GPS, or speed dial a cab company. Maybe order pizza. Or map your run when burning off those calories. In fact you don't necessarily even need your phone… with Flic you can post instantly to Twitter or Facebook!
5) Penclic KB3 Mini Keyboard £79.99 from Penclic
For all those workaholic mum's we have the perfect gift for them. Nothing shows how much you care then with the stylish yet functional mini keyboard, compatible with both iOS and Android devices via Bluetooth. The Penclic keyboard is Bluetooth, but gives you the option to switch to a corded connection, oozing sleekness and sophistication with every click. For the super stylish mum's, keep an eye out for the release of the new rose gold, silver and regular gold designs.
6) The Homemade Gin Kit £44.99 from The Fowndry
If your mum enjoys Gin, but just buying a bottle doesn't look so great, give this homemade kit a try. It supplies all the tools needed to great a unique blend, all you need to do is add Vodka and in 36 hours you have a delicious Gin you can be proud of.
7) Citrus Zinger Gift Pack £20 from Root7
Don't worry if your mum isn't much of a drinker, you can always give her a fruity treat with this Citrus Zinger Gift Pack. Turn the bottle upside down and chose your attachment, whether you want to add lemon, orange, kiwi or cucumber, simply add your fruit to the bottom and fill the top with water. It's a perfectly healthy infusion of zesty fruit.
8) Boost Oxygen Beauty £14.99-£24.99 from Boost Oxygen
Many of our mums love a new beauty product, and what's better than one that prevents pre-mature ageing and wrinkles? Boost Oxygen Beauty has an aroma of Pink Grapefruit and Frankincense mixed with 98% pure oxygen to help reduce stress, tiredness and help skin to look youthful.
9) Corkcicle Canteen £20 from Root7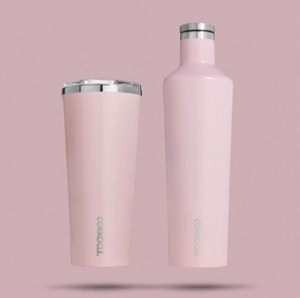 If your mum loves a hot cuppa tea or a cold glass of wine, then this Corkcircle Canteen is a must-have. It's made from triple insulated stainless steel, to keep your hot drinks warm for up to 12 hours and cold drinks chilled for 25. You can also pick it up in a range of unique colours from bright pinks, to pastel peaches and the eye catching turquoise. With so many colours and finishes, there bound to be one your mum will love.
10) Corkcicle Classic £15 from Root7
Is your mum a wine lover? Then she'll hate the taste of a warm rose, white or red wine. The innovative Corckicle Classic makes sure your favourite wine is always the best temperature to enjoy it. Simply place the Corkcicle in the freezer for 2 hours, pop into the wine bottle, and enjoy chilled wine without diluting it! This handy device can also bring a warm red wine down to room temperature, what more could you ask for?
11) SunnyCam Active £119.99 from SunnyCam
If you're looking for a bit of fun while keeping fit, the SunnyCam Active allows you to record through professional and stylish eyewear. Using HD camera technology, you can record life as you see it! The camera is built in-between the eyes and features a wide perspective inside a slimline frame. See something amazing while hiking or mountain biking? Make sure you have it recorded to watch again and again!
12) Coffee Gator Pour Over Coffee Maker 400ml/3-Cup £29.97 from Coffee Gator
ENJOY YOUR COFFEE AT ITS BEST with the NEW Pour Over Coffee Pot from Coffee Gator. The pour over method highlights every delicious note and aroma, allowing you to drink great coffee and become a cooler person! It's fast, easy and impresses everyone.
13) Klhip Nail File £32.99 from The Fowndry
This unique nail file is the perfect gift for mums on the go, mums always breaking their nails or mums who just love to have good looking nails. The Klhip nail file is made from Pyrenees mountain stone and will genuinely last a lifetime. It leaves your nails super smooth and comes in a handy leather sleeve, so it fits nicely in any handbag!
14) The Delicake Traditional Round Master £30.76 from Delicake
Designed to shape your delicious desserts, this innovative product is lightweight and contains three sections to help you easily create a non-bake dessert of your choice, using only one piece of cakeware. This all-in-one solution saves you time and effort in the kitchen, so you can spend more time enjoying your creation and less time slaving away.  The Delicake Master has been designed in three sections to allow you to prepare, set and serve all-in-one. Sections include the base, a sleeve and a lid, created from high impact food grade clear acrylic, so you can control every step and make sure it's perfect.
15) Minipresso Portable Espresso Maker £47.99 from The Fowndry
Minipresso is a compact, hand-powered portable espresso maker for coffee lovers on the move.
If you're choosy about your coffee, even halfway up a mountain, sling a Minipresso in your knapsack. Styled like a piece of camera equipment, but lighter than any lens, Minipresso is a portable coffee machine for hand-pumping the perfect espresso.
Freshly brewed, steaming hot, full-bodied, frothy-topped espresso shots from little more than hot water, ground beans (or Nespresso capsules) and the power of your own hands. No batteries, cables or snooty barista.
http://wp.freedomofcreation.co.uk/howtokillanhour/wp-content/uploads/sites/65/2017/03/TW90aGVyJ3MgRGF5IE11c3QgSGF2ZXMuanBn.jpeg
1181
2480
billywright
http://wp.freedomofcreation.co.uk/howtokillanhour/wp-content/uploads/sites/65/2017/09/htkah-web-logo-2017.png
billywright
2017-03-19 00:00:17
2020-03-24 20:34:56
14 Great Mother's Day Gifts