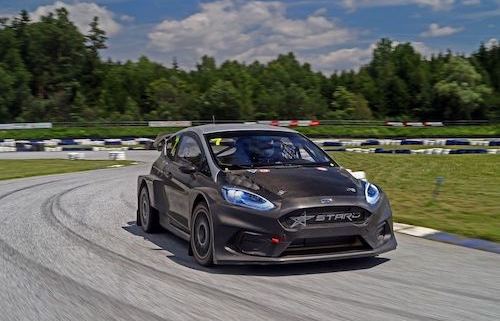 Goodwood: The electrical cars of Goodwood.
NEW POWER GENERATION: MUSTANG MACH-E 1400, PUMA ST, STARD FIESTA STAR AT GOODWOOD 
We recently headed over to Goodwood Festival of Speed to check out some amazing vehicle machinery from Ford! They recently demonstrated their latest car prowess to a global virtual audience. Highlighting the potential of their newest production and prototype vehicles. Including debuts for the Mustang Mach-E 1400 and the Ford Puma ST!
"This is a really exciting time for Ford Performance. We are exploring how electrification can bring a whole new level of fun with projects like Mustang Mach-E 1400, and at the same time we are delivering for new customers with Puma ST the accessible, everyday performance that is the core of what we do," Stefan Muenzinger, Ford Performance manager, Europe. 
Mustang Mach-E 1400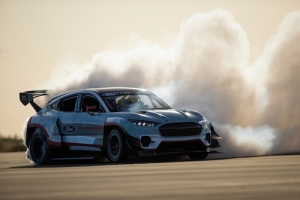 The Mustang Mach – E delivers a targeted peak power of more than 1,400 PS! Therefore embodying the extremes of an all electric performance vehicle. It was recently shown off for the first time at the Goodwood Circuit in Chichester, UK. Demonstrated perfectly by Vaughn Gittin JR. The RTR Vehicles founder, motorsports champion and all round professional fun-haver!
The Mustang Mach-E 1400 is the ultimate example of the type of power that an all electric powertrain vehicle can create. This super powerful vehicle is the result of 10,000 hours of collaboration by both the Ford Performance team and the RTR Vehicles team. While the Mustang Mach-E 1400 is aimed at bridging the gap between what an electric vehicle can do and what customers tend to believe it can do. Especially after seeing the drifting capabilities of the prototype model that was driven by Vaughn Gittin Jr!
Mustang Mach-E 1400 uses 7 motors to deliver 1,419 PS, with a single driveshaft connecting them to differentials that have a huge range of adjustability to set the car up for everything from drifting to high-speed track racing.
Rear-Wheel drive, all wheel drive and even front wheel drive configurations are all possible on this vehicle. While the power delivery can be split evenly between both the front and rear of the vehicle. Also the power can be completely at one side or the other side of the vehicle! Downforce is targeted at more than 1,000 kg at 257 km/h (160 mph).
"Getting behind the wheel of this car has completely changed my perspective on what power and torque can be,"

"This experience is like nothing you've ever imagined, except for maybe a magnetic roller coaster." Vaughn Gittin Jr
Ford Puma ST
The amazing Ford Puma ST is the first Ford Performance SUV in Europe. It is enhanced with sophisiticated Sports Technologies too. A unique in segment limited slip differential (LSD) option, a patented force vectoring springs and selectable Drive Modes from Eco to Track.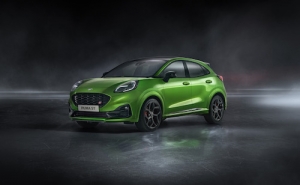 The Puma ST is as capable on a track as it is on the road and raises the bar for compact SUV driving whilst delivering the best in class uncompromised load space.
The engine is 200 PS 1.5L EcoBoost Engine and delivers 0-62mph in a ridiculous 6.7 seconds. Whilst it also comes with a performance-optimised chassis which features a rear twistbeam with 50 per cent more torsional stiffness than the standard Puma, 25 per cent faster steering and brake diameters increased by up to 17 per cent. Specially-developed Michelin Pilot Sport 4S tyres also help deliver an agile driving experience.
The Puma ST comes in Mean Green and also comes with performance body styling and optimised aerodynamics including a Ford Performance embossed splitter to increase front end downforce by 80%, which leads to greater stability and traction.
Whilst the Ford Puma ST has incredible performance credentials! The ST Variant continues to deliver practicality, such as the Ford MegaBox storage solution beneath the boot floor.
"Our number one priority was that the Puma ST had to be as exhilarating and capable as every ST model, without sacrificing any of Puma's practicality," Muenzinger
Fiesta ERX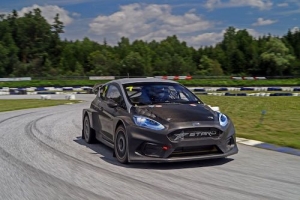 There was more than just 1 electric car shown off at Goodwood. The STARD Ford Fiesta ERX was also on show. Helping to demonstrate the potential of an all electric propulsion vehicle across a range of motorsport disciplines.
The Fiesta ERX is a fully electric rally car! It's based on the Fiesta ST and was developed my rally and racing specialists STARD, to meet FIA World Rallycross Championship's Projekt ERX regulations.
It is a technological beast with 3 electric motors prododucing more than 600 PS and more than 1,000 Nm of torque combined. This is all sent to the wheels via a 4 wheel drive system and 2-speed transmissions at each axle for a 0-62mph acceleration speed of an astonishing 1.8 seconds! Whilst the top speed is 149mph, the vehicle complies with world RX regulations. The Fiesta ERX is available to buy in race-ready form.
Three electric motors produce more than 600 PS and more than 1,000 Nm of torque combined. Sent to the wheels via a four-wheel drive system and two-speed transmissions at each axle for 0‑100 km/h (0-62 mph) acceleration in an astonishing 1.8 seconds, and a top speed of 240 km/h (149 mph). Complying with World RX regulations, the Fiesta ERX is available to buy in race-ready form.
Ford GT
Finally, the legendary Ford GT supercar returns to Goodwood. Helping to deliver high speeed excitement in the Michelin Supercar run. It was driven by former Ford GR Le Mans 24 Hours Racer Richard Westbrook. (That's Marcus as in the picture!)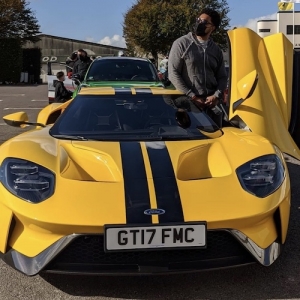 The road-going Ford GT features a lightweight carbon fibre and aluminium chassis, carbon fibre body panels. With active aerodynamics and a twin-turbocharged V6 EcoBoost engine! Which delivers 655 PS and 750 Nm of torque for a top speed of 347 km/h (216 mph).
(Ford)
So, keep up to date with everything How To Kill An Hour by signing up to our newsletter by clicking here!
Also, let us know what you think of the show by clicking here!
Click here to subscribe to our YouTube Channel to see more amazing ways to kill time!
Furthermore, follow us on Twitch by clicking here!
http://wp.freedomofcreation.co.uk/howtokillanhour/wp-content/uploads/sites/65/2020/10/STARD_FORD_FIESTA_ERX.jpg
333
500
billywright
http://wp.freedomofcreation.co.uk/howtokillanhour/wp-content/uploads/sites/65/2017/09/htkah-web-logo-2017.png
billywright
2020-10-21 15:30:23
2020-10-21 15:33:13
Goodwood: The electrical cars of Goodwood.