Google Home Hub: Incredible Home Assistant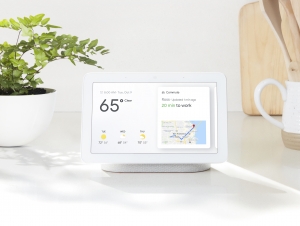 The Google Home Hub brings all the cool stuff about Google Home and repackages it into a small yet very powerful device with a 7″ display to help you get even more from Google Home. The Google Home Hub brings visual help to all the questions that you ask it. Use your voice to help set reminders and control a vast array of smart devices. However, with this particular device you get a visual aid, for example, see asking Google "How to tie a bow tie' will present you with a helpful YouTube video, alongside a plethora of other YouTube videos available. YouTube you see on any other device is the same YouTube on Google Home Hub!
The device is incredibly well built, it is compact and can fit anywhere in the house and does not look out of place. Either in the kitchen, the bedroom or the living room! Google Home Hub has an inbuilt Ambient EQ Light Sensor too, so will adjust the screen to the colours and lighting in it's environment. Therefore photos on the Google Home Hub will blend into the home decor!
Features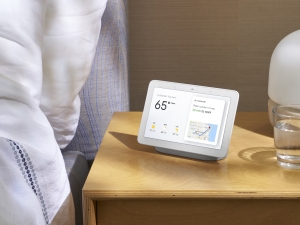 The device will show you a whole range of things, such as YouTube videos, Google Calendar so you can see what you have planned or Google Maps so you can see what your commute is like! Ask Google what the weather is like and get a visual aid, ask Google for recipes and be shown a step by step guide in either text or video form!
Photos
Google photos look beautiful on the Home Hub and you can use your voice to pull down the images from Google photos to be displayed on the gorgeous screen. Even set the screen to display your most favoured images when the Home Hub is not in use as a screen saver! Machine Learning will pull down the best photos too, therefore avoiding any duplicates or blurry images.Google Home Hub can also show shared Google Photo albums automatically on the device of the person you're sharing them with, therefore avoiding any upload hassles!
Smart Home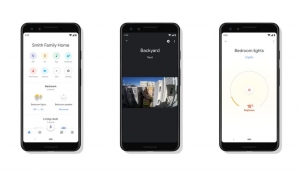 The device is also a very powerful smart home hub, consequently easily connecting to the hundreds of smart devices already available. Such as lights, thermostats or security cameras. Control it all via the Google Home App on your smart device, no need to be next to the Google Home Hub to manage all of your devices. Even manage them away from the home! So you can monitor and manage devices easily—including compatible lights, cameras, TVs, speakers you are always in control of your home! (Android / iOS)
Kitchen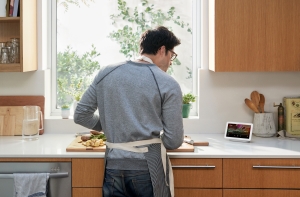 One popular feature is the that the Google Home Hub can help you in the Kitchen! As Google Assistant can understand conversational speech, simply ask the device to convert various measurements and it will tell you! Completely hands free and at a glance! If you're not too sure when reading a step by step guide on how to cook a particular recipe, simply ask! For example, "Hey Google, show me how to dice an onion" will show you a video on how to dice an onion!
Google Home Hub works with other 'Made by Google' devices too, such as Chromecast, Nest Doorbells, Nest Thermostats, Google Home Speakers. Furthermore Spotify works on Google Home Hub too!
(Google Press Release)
For more information on how Google's Home Hub can help you at Christmas please click here!
Available in four colours from the Google Store—Chalk, Charcoal, Aqua, and Sand, Google Home Hub is £139 and available from the ​​Google Store​​!
Keep up to date with everything How To Kill An Hour by signing up to our newsletter by clicking here!
Let us know what you think of the show by clicking here!
Furthermore, click here to subscribe to our YouTube Channel to see more amazing ways to kill time!
Also, follow us on Twitch by clicking here!
http://wp.freedomhost.uk/howtokillanhour/wp-content/uploads/sites/65/2018/12/Google-Home1-1.jpg
820
1660
billywright
http://wp.freedomofcreation.co.uk/howtokillanhour/wp-content/uploads/sites/65/2017/09/htkah-web-logo-2017.png
billywright
2018-12-14 10:32:39
2018-12-15 08:54:36
Google Home Hub: Incredible Home Assistant