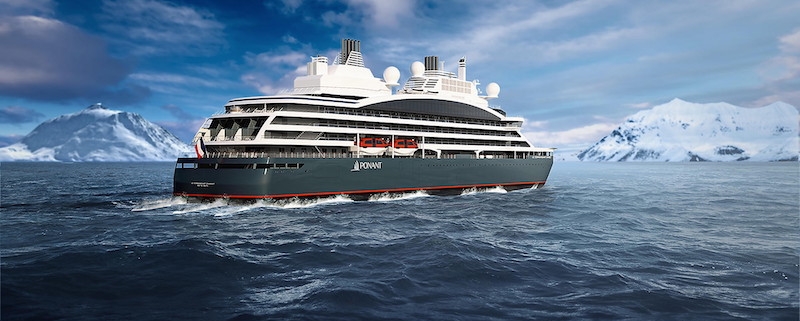 Le Commandant Charcot: The worlds most high tech ship?
PONANT have launched it's very first high polar exploration cruise ship, the Le Commandant Charcot. There was an inauguration ceremony which took place in Le Havre. The same place where famous French explorer, Jean-Baptiste Charcot left from.
The Le Commandant Charcot is the 13th ship in PONANT's fleet. It was launched during a very emotional ceremony attended by Anne Manipound-Charcot. The explorer's great-grand-daughter, Hervé Gastinel, PONANT's CEO and Captains Etienne Garcia and Patrick Marchesseau.
"The boldness of this project is not just about taking passengers to the far corners of the Arctic and the Antarctic, it is about doing it safely and following the same values and principles of seamanship that move us. Our values are first about respect for nature – this nature that is so dear to us, all the more knowing how much we owe the oceans and the fragile eco-systems we travel. Polar regions in particular deserve the highest respect and attention. We are committed to this mission every day and today ever more," Hervé Gastinel, PONANT's CEO.

Star Studded Voyage – Le Commandant Charcot
After a musical prelude from violinist Namanja Radulovic and pianist Laure Favre-Kahn, bagpipes. Other traditional Breton instruments of le Bagad de Lann-Bihoue resonated under the Normand sky off the Etretat cliffs. The Chef Alain Ducasse, the architect Jean-Michel Wilmotte. Also the director Luc Jacquet, the designer Jean-Philippe Nuel were among the guests alongside other partners of the company. Including Vard shipyard, Stirling Design International and Aker Arctic. Also among the guests were Olivier Poivre d'Arvor, French Ambassador for the Poles. Also Jérôme Chappellaz, Director of the Paul Emile Victor Institute were in attendance.
About Le Commandant Charcot
The Le Commandant Charcot is a very high tech cruise ship. It has been eco-designed and is at the cutting edge of technology. While it has been stated that the Le Commandant Charcot is the most ground-breaking ship in the PONANT Fleet. As it has a hybrid electric Liquid Natural Gas (LNG) propulsion system. While this major innovation is impressive, it is aligned with the commitment of the company to have sustainable tourism.
The Le Commandant Charcot is a Polar Class PC2 ship and was designed with the highest attention to detail in terms of safety, comfort and respect for the environment. While still maintaining the ability to sail and explore the extreme far reached territories. Such as the Arctic and Antarctic in complete self-sufficiency. Certified Cleanship by Bureau Veritas, Le Commandant Charcot displays the latest green technologies onboard including waste recycling and sewage management.
Entertainment on Le Commandant Charcot
Le Commandant Charcot has 123 cabins, the innovative ship can carry up to 245 guests. Can reach polar destinations such as the geographic North Pole, the Weddell sea, the Ross sea or the Pierre-1st island. The ship also has facilities and equipment for research. Helping to provide the scientific world with a platform for observation, research and analysis. To study the polar eco-systems!
For guests, there are a host of activities on offer. Such as citizen science, lectures by experts, kayaking, hovercraft, hiking, ice fishing and much more!
Maiden Voyages
There are totally new routes for the ship, with the pace governed solely by nature. There are a total of 10 sailings from April to September. With the aim to discover the world's most northern wilderness. The voyages are for the occasional explorer, it is accessible and exciting for those willing to come aboard. The most spectacular landscapes await them as well as the chance to meet Inuit people! Share their spring traditions. While there is a privilege to learn from nature whilst doing so.
Whilst aboard the Le Commandant Charcot guests will get a chance to open their eyes to the rich culture and wonders of the territories that the ship travels to. There is a new form of exploration which is described best as one of initation and emotion with a sharing of knowledge. Knowledge from 23 passionate experts about their subject. Glaciologists, ornithologists, biologists and geologists. Guests will discover the Arctic region through an original and authentic experience.
Green Technologies
The Le Commandant Charcot has loads of green technologies on it! As stated previously, the ship runs of LNG, the hybrid electric Liquid Natural Gas propulsion system. Which is fantastic for the environment. But it also has more green technologies. As it also has a waste water treatment system and 100% of waste is recycled on board and has a ban on all single use plastics.
ABOUT PONANT – Le Commandant Charcot
Founded in 1988 by officers from the French Merchant Navy, PONANT pioneered a new type of cruises, flying the French flag. With a unique approach about sea travel and a commitment to promote sustainable and responsible travel. To reach exceptional destinations on board beautifully designed cruise yachts where the art of living and high standard cuisine are equally important. This is the promise of a PONANT voyage, unique and authentic.
Destinations:
Below are some of the amazing destinations that you can attend while on the Le Commandant Charcot
The Geographic North Pole –
Who has not dreamed of going to the ends of the earth? PONANT invites guests to push the boundaries of navigation du ring exceptional cruises to the geographic North Pole. At 90° North, the geographic pole is a mythical point covered in pack ice all year round and 700km from any land surface, which only a chosen few have had the chance to reach. Departing from Spitsbergen, Le Commandant Charcot will be sailing amidst spectacular scenery, ideal for observing the rich diversity of wildlife, to the pack ice. A slow journey then begins into the very heart of this silent world of extreme cold to have the privilege of arriving at our planet's northernmost point.
Longyearbyen, Spitsbergen –
Aboard Le Commandant Charcot
16 days, 15 nights
3 sailings from July to August 2022
From £22,220 return flights from Paris included
The Northwest Passage 
For the first time, PONANT is offering a crossing to discover the remotest, most iconic navigable waterways in this legendary frozen landscape, only accessible with Le Commandant Charcot. This is an opportunity to relive the polar adventures led by explorers from the past into the heart of this vast labyrinth of ice-bound channels, exploring three main routes to cross the Northwest Passage.
Reykjavik – Nome
Aboard Le Commandant Charcot
25 days, 24 nights
7 September to ist October 2022
From £27,700
At the genesis of French polar expeditions
This highly original cruise will take guests in the wake of the great explorers who tried to a pp roach Greenland's eastern shores, a region that long remained isolated as it was so difficult to access. For the very first ti me, PO NANT proposes to explore Greenland in the spring, a season when there is still a thick layer of ice, yet nature relishes in the midnight sun. Guests on Le Commandant Charcot will have an opportunity to share in the Inuit people's spring traditions and explore the stil I pristine shores of Greenland's east coast, where French explorers of the past including Jean-Baptiste Charcot, Jules de Blosseville and Paul-Emile Victor once trod.
Reykjavik- Reykjavik
Aboard Le Commandant Charcot
11 days, 10 nights
30 April to 10 May 2022
From £8,910
Discovering the Northeast Greenland National Park
On Le Commandant Charcot, it is possible to sail along one of the most difficult regions to access in the Far North: Greenland's northeast coast. The itinerary on th is cruise offers guests an experience of a lifetime in the heart of the world's largest nationa I park and a UN ESCO Biosphere Reserve: no trace of human life just alpine scenery as far as the eye can see and glaciers of extraordinary colours. In spring, the still solid and powerful pack ice holds sway over visitors who venture on to it. It is the ideal time to observe the wildlife that has made the Arctic their home. Here, the bears are kings.
Reykjavik- Reykjavik
Aboard Le Commandant Charcot
13 days, 12 nights
So, for bonus patron only episodes of How To Kill An Hour, ad-free content and more sign up to our Patreon here
While you are there, keep up to date with everything How To Kill An Hour by signing up to our newsletter by clicking here!
Also, let us know what you think of the show by clicking here!
Click here to subscribe to our YouTube Channel to see more amazing ways to kill time!
Furthermore, follow us on Twitch by clicking here!
http://wp.freedomhost.uk/howtokillanhour/wp-content/uploads/sites/65/2021/10/luxury-ship-le-commandant-charcot-leads-you-on-the-ultimate-polar-expedition-160196_1.jpg
450
800
billywright
http://wp.freedomofcreation.co.uk/howtokillanhour/wp-content/uploads/sites/65/2017/09/htkah-web-logo-2017.png
billywright
2021-10-19 17:45:43
2021-11-23 15:04:26
Le Commandant Charcot: The worlds most high tech ship?