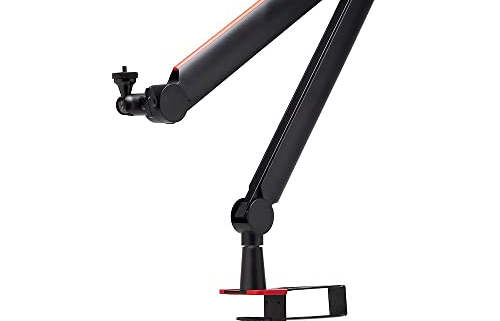 Joby Wavo Boom Arm – all that and a drink holder!
Unleash Your Creativity with the Joby Wavo Boom Arm
If you're a content creator, podcaster, or video enthusiast, you know that high-quality audio is a crucial component of your work. One of the most effective ways to elevate your audio game is by investing in the Joby Wavo Boom Arm. This versatile and innovative piece of equipment not only enhances your audio recording capabilities but also makes your workspace more efficient.
The Joby Wavo Boom Arm: A Revolution in Audio Recording
The Joby Wavo Boom Arm is a cutting-edge, all-in-one solution for audio enthusiasts and professionals. Its design is a testament to Joby's commitment to delivering innovative and user-friendly products. By visiting the Joby website, you can explore the features and specifications in detail.
Key Features:
A Drinks holder: in short why has this not been done before! Yes Joby!
A Headphone holder!: We love tech that is user friendly…of course we want to hang up our cans too!
Premium Build Quality: The Wavo Boom Arm is built with durability in mind, ensuring that it will stand the test of time. Its high-quality materials and construction make it a reliable addition to your workspace.
360-Degree Rotation: This boom arm offers a full range of motion with a 360-degree rotation. This flexibility allows you to position your microphone precisely where you need it, whether you're recording a podcast, streaming, or conducting video conferences.
Enhanced Cable Management: Tired of tangled cables cluttering your workspace? The Joby Wavo Boom Arm features an integrated cable management system, keeping your setup clean and professional.
Easy Installation: Setting up the Wavo Boom Arm is a breeze. It comes with a versatile mounting system that can be securely attached to your desk or studio setup in minutes.
Universal Compatibility: Whether you're using a USB microphone, XLR microphone, or any other type of microphone, the Wavo Boom Arm is compatible with a wide range of microphones, ensuring that it will fit seamlessly into your existing setup.
Enhanced Sound Quality: The shock mount included with the Wavo Boom Arm effectively minimizes vibrations and handling noise, providing you with pristine audio quality.
Sleek Aesthetics: Beyond its functionality, the Wavo Boom Arm's sleek and modern design will add a touch of sophistication to your workspace.
Why Choose the Joby Wavo Boom Arm?
Investing in the Joby Wavo Boom Arm means investing in your audio quality and productivity. It simplifies your setup and allows you to focus on what truly matters – your content. Say goodbye to cluttered cables and subpar microphone positioning. With the Wavo Boom Arm, you can achieve professional sound quality effortlessly.
Get Started with Joby Wavo Boom Arm
Ready to transform your audio recording experience? Head over to the Joby website to learn more about the Wavo Boom Arm and explore additional products that can complement your creative endeavors. Unlock the full potential of your audio setup and elevate your content creation with this revolutionary boom arm.
In conclusion, the Joby Wavo Boom Arm is a game-changer for audio enthusiasts and content creators alike. Its innovative features, durable construction, and ease of use make it a must-have for anyone looking to improve their audio recording setup. To listen to us talk about this on episode 17 of the How To Kill An Hour Podcast, visit this link: How To Kill An Hour Podcast.
http://wp.freedomhost.uk/howtokillanhour/wp-content/uploads/sites/65/2023/10/Wavo-Boom-arm-JOby.jpg
500
500
marcusbronzy
http://wp.freedomofcreation.co.uk/howtokillanhour/wp-content/uploads/sites/65/2017/09/htkah-web-logo-2017.png
marcusbronzy
2023-10-19 18:47:36
2023-10-21 22:23:38
Joby Wavo Boom Arm – all that and a drink holder!