We recently went to LA with Ford to check out the all new Mustang Mach-E and it is fantastic! It comes with two battery pack sizes, three power outputs, the Mach-E can come in either rear-wheel drive or a all-wheel drive and the first edition series will be available in limited numbers and will be unique! Furthermore there will be two optional technology packs and comes in eight different exterior launch colours. Plus not only that, but an all high-performance GT version will also be available at a later date! While the All-New Mustang Mach-E will only be available to purchase online at the Ford online marketplace.
First Edition…what is it?
The first edition versions will be fully equipped with all options and have the following features (they're pretty cool!)
AWD
337 PS
99 kWh battery
Available in three exterior colours including one exclusive First Edition colour (Grabber Blue Metallic)
Body styling kit with body-colour detailing
Unique First Edition scuff plates
SENSICO seat covers with red or blue stitching (depending on exterior colour)
Full-length panorama roof
Technology Pack +
Specifications
Powertrain, Performance, and Key Dimensions
Vehicle range (km) WLTP estimated

Acceleration 0-100 km/h (seconds)

1993 2111 2086 2218 2218+
*Battery packs come with an 8-year/160,000 km warranty.
Exterior Colours Availability
Absolute Black
Iconic Silver
Rapid Red
Star White
Infinite Blue
Space White
Carbonised Grey
Grabber Blue Metallic (exclusive for First Edition)
Note: Exclusive First Edition vehicles will only be available in three colours: Rapid Red, Carbonised Grey, and Grabber Blue (exclusive for First Edition). After all First Edition vehicles have been sold, Grabber Blue Metallic will no longer be available. Grabber Blue Metallic First Editions come with exclusive blue interior stitching, and Rapid Red and Carbonized Grey come with red interior stitching.
Ford Mach-E Technology
As you'd expect the Ford Mach-E comes equipped with a TON of tech…customers can choose between the following two optional technology packs:
Technology Pack
10-speaker B&O Sound System
Hands-free tailgate
Traffic Sign Recognition
Advanced Active Park Assist with 360° Camera  Active Drive Assist with Lane Centring
Technology Pack +
(this includes Technology Pack content plus these additional features):
Eight-way power memory front seats with advanced memory (standard on AWD)
Perforated SENSICO premium feel comfort seats with coloured stitching
Power-foldable door mirrors with puddle lights (standard on AWD)
Full-length panorama roof
New Technologies
The All-New Mustang Mach-E will be available with the following new technologies:
15.5-inch touchscreen and 10.2-inch Full Digital Cluster –New to the segment these technologies will provide a premium HMI experience
One-pedal drive –One-pedal drive accelerates the vehicle and utilises regenerative charging to slow the vehicle to a standstill if required
Front Trunk –Offering 100 litres of stowage space, it is waterproof and fully washable similar to the new Ford Puma MegaBox
Phone as a Key –The user's mobile phone replaces a conventional key fob, enabling drivers to unlock the car as they approach the vehicle without any action required
Key fob-free entry and ignition –A key-pad in the B-pillar allows the car to be unlocked using a personalised code. With a different personalised code entered on the HMI screen, the vehicle can even be started
Passenger doors can be opened using a push button. This will unlock the vehicle, inform the customer about the status through a green lit lock sign on the B-pillar, and will enable the customer to pull the door open.
Over-the-air updates –Software updates can be received over-the-air and vehicle data can be transmitted to the cloud (within the boundaries of local data protection regulations)


Advanced Connectivity Features

FordPass Connect
Ford SYNC 4 with Connected Navigation and Natural Voice Control
Stolen Vehicle Alert/Tracking/Immobilisation
Local Hazard Information
AppLink Remote Control
Wireless integration of Android Auto and Apple CarPlay
Smart Home Integration (Alexa) – Smart devices that are connected to Amazon Alexa can be controlled from within the vehicle
Driver Assistance Technologies
A suite of advanced driver assistance technologies will be available on the All-New Mustang Mach-E:
Active Park Assist 2 with 360° Camera
Adaptive Cruise Control with Stop & Go, Speed Sign Recognition and Lane Centring
Auto High Beam
Blind Spot Information System
Cross Traffic Alert With Active Braking
Driver Alert
Evasive Steering Assist
Glare-free high beam
Intelligent Speed Limiter
Lane-Keeping System
Post-Collision Braking
Pre-Collision Assist with Pedestrian Detection
Rear-view camera
Reverse Brake Assist
Reverse Park Aid
Additional Features
Hands-free tailgate
Wireless charging pad
Features highlights by series
 AWD

(features additional to rear-wheel drive)

First

Edition

(features additional to AWD)

LED Mustang-inspired signature taillights

Adaptive LED Mustang- inspired signature headlights with glare-free high beam

Full-length panorama roof

10.2-inch Full Digital Cluster & 15.5-inch touchscreen

Eight-way power memory front seats

Contrast-coloured heated power-foldable door mirrors with puddle lights

10-speaker B&O Sound System

Adaptive Cruise Control with Stop & Go

Exclusive exterior colour options

Up to 150 kW DC high power charging

Dual-Motor All-Wheel Drive

Active Park Assist 2 with 360° Camera
Ford Mach-E Charging
Charging is a vital part of electric vehicles and the Ford Mustang Mach-E gives you everything you need to get up and running again. It will come with a Ford Home Charge Cable for AC charging at home, on holiday or even when visiting friends. By supplying you with a 2.3kW home socket cable.
You will also have a Public Charge Cable which will give access to public charge points with power up to 11kW. Furthermore it can be charged via high-power DC charges at a maximum of 150kW.
AC Home Charging
A home socket can be used to charge the vehicle using the Ford Home Charge Cable. You will also be given several adapters to use other power sockets such as a blue camping socket.
Ford Connected Wallbox Charging
If you order a Ford Connected Wallbox you'll be able to charge your car with up to 11 kW which will help to reduce charge times. Better yet it's incredible safe as the Ford Connected Wallbox has integrated fault protection and a variety of smart features.
DC Charging
The Mach-E can be charged up to 130kW for the 75kWh battery pack and up to 150kW for the 99 kWh battery back. Why's this important? Well you can add up to 93km with just 10mins of charge time. Also, you can charge your car up to 80% in 38mins approx with the 75kWh battery pack and 45mins for the 99kWh battery pack.
Ford are also founding members and shareholders in the IONITY consortium. They aim to build 400 high power charging stations in key European locations by the end of 2020. Helping to significantly reduce charge times for all electric vehicles!
Ford Mach-E and Mobile Apps
Ford have partnered up with NewMotion and by using connectivity with the FordPass Connect on-board modem, the FordPass app will highlight to their drivers public stations in Europe. You can see where they are, initiate and pay for charging services right within the app.
Furthermore drivers can monitor their vehicles charge status remotely. Furthermore by using the FordPass Power My Trip feature, you are able to plan a trip whilst considering the current charge state. If the vehicle requires charging you will be given charging points along the way which make it the most efficient trip for you as possible. Not only that the app will also highlight points of interest to help make the most of the time you have whilst it's charging!
Ford customers in Europe can push pre-planned routes from their phone to their vehicle over the air. Driving itineraries created elsewhere can be seamlessly downloaded to the vehicles sat nav. This means drivers can get in and set off on their chosen route!
Ford Mach-E Tech Specs Rundown….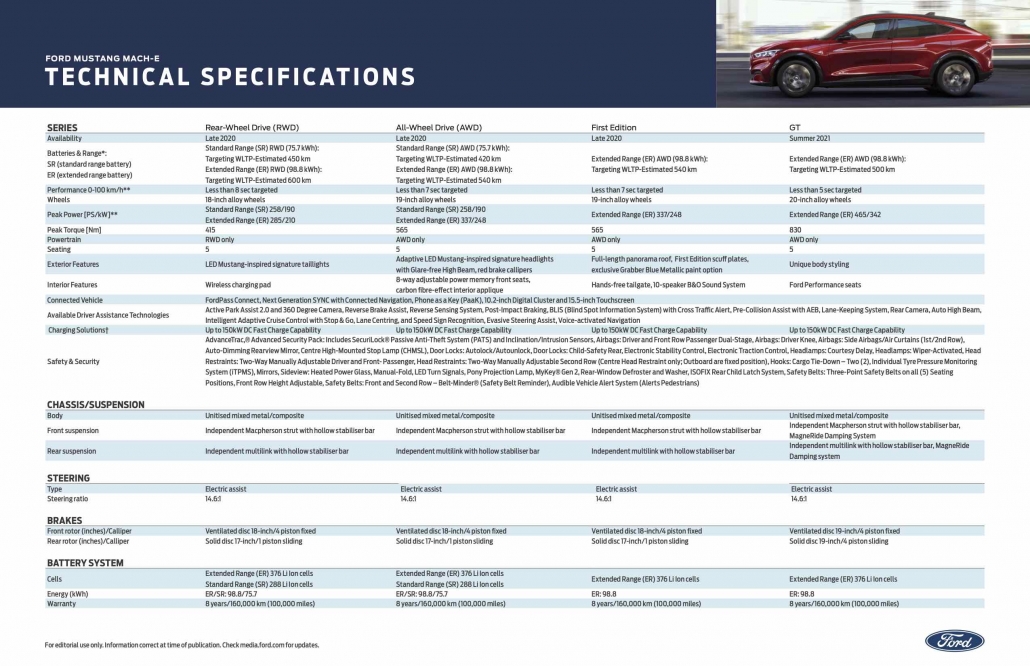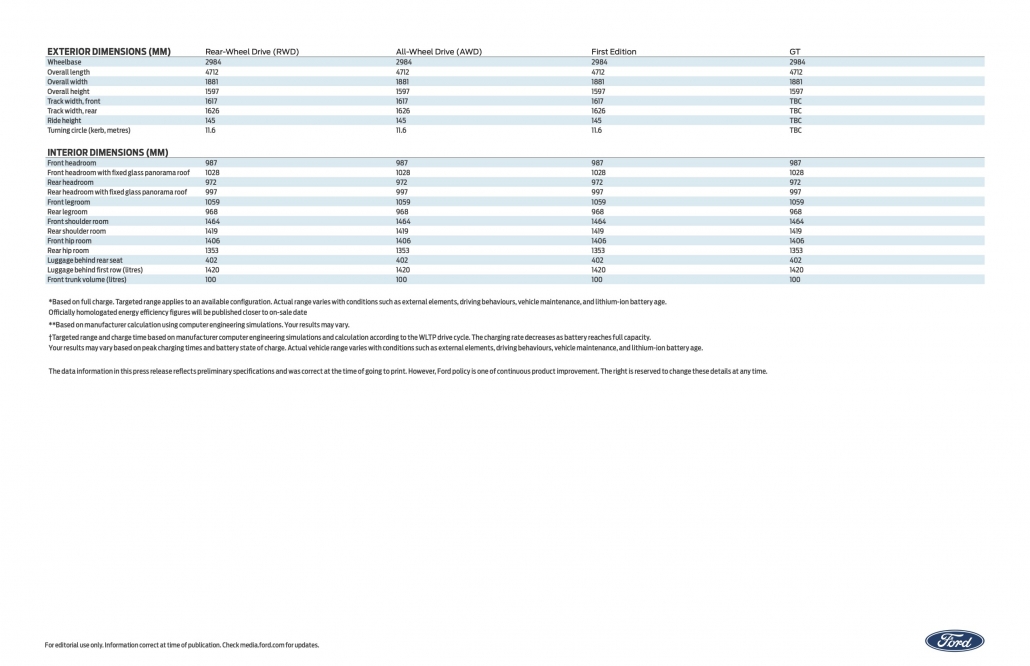 FAQ's From Ford
How much will it cost?
GERMANY: Prices will start from €46.900 for the RWD version, going up to €66.800 for the First Edition
UK: Prices will start from GBP 40.270 for the RWD version, going up to GBP 58.000 for the First Edition
NORWAY: Prices will start from NOR 412.000 for the RWD version, going up to NOR 589.000 for the First Edition
FRANCE: Prices will start from €48.990 for the RWD version, going up to €69.500 for the First Edition
NETHERLANDS: Prices will start from €48.425 for the RWD version, going up to €69.440 for the First Edition
[Note: Mach-E GT pricing not available until later]
When will it be in European dealerships?
It will be in selected European markets in the autumn next year. It will also be sold in North America and China.
When does the pre-ordering start?
The pre-ordering for European customers will start with the reveal event on November 18th for our priority markets Norway, Germany, UK, France, Netherlands and Switzerland.
Can people buy this car on the internet only – without going via a Ford dealer?
Mustang Mach-E is being sold using a new online purchasing process. Customers can choose to do this at home, or to go to a Ford dealer and run through the online process with dealer assistance. Delivery of the car will happen via a Ford dealership.
What version will be available – will you do AWD and FWD?
Customers can choose between AWD and RWD versions. No FWD.
The car looks big – what are the dimensions and the weight?
The car is 471 cm long, 188 cm wide, and the height is 160 cm. weight is between 1993 kg and 2218 kg, depending on battery size and whether it's AWD or RWD.
Will it be sold in all markets across Europe?
Yes, eventually. We have identified our top markets as Norway, Germany and UK as they have the highest demand. The other priority markets are France, Netherlands, and Switzerland. These are the markets with the largest existing customer acceptance for all-electric vehicles. Other European markets will follow soon after.
Will it be built off an existing or new platform?
The vehicle is built off an all-new all-electric architecture.
How many versions will you be offering customers, and will they all be available at launch?
Ford will offer six different models in Europe: RWD (two battery sizes, early 2021), AWD (two battery sizes, late 2020), First Edition (late 2020) and GT (2021).
Are there any differences between the US and European version of Mustang Mach-E?
Visually and technically the cars are identical. There are some minor differences due to legal requirements and in the marketing packages offered. Specifically:
Headlamp technology for Europe is different (includes glare free auto high beam), but this isnot visible. Indicators are also fitted to meet European requirements.
The Mach-E badges are different, as the "4" in Mach-E4 X is not used for Europeanvehicles. Instead European vehicle will get an AWD badge on the liftgate.
The US offers wheels with aero shields, which Europe doesn't offer. Non-aero shield wheeldesigns are otherwise identical.
US offers a black coloured roof, which Europe doesn't offer on base and AWD.
The US will offer a light interior and a black interior on Base and Premium. Europe onlyoffers the light headliner on Base (including a-pillar, rest of pillars is black) and black interioron AWD and First Edition.
The package tray is standard in Europe, in the US it's optional.
US vehicles will contain satellite radio, European versions will have DAB+.
What is the targeted maximum range in Europe?
We are targeting a range of up to 600 km (370 miles) under WLTP for Europe.
We recently attended the launch of the new Ford Mach-E. Here is some more info about it!

Posted by How To Kill an Hour on Sunday, 17 November 2019
Keep up to date with everything How To Kill An Hour by signing up to our newsletter by clicking here!
Let us know what you think of the show by clicking here!
Click here to subscribe to our YouTube Channel to see more amazing ways to kill time!
Follow us on Twitch by clicking here!
http://wp.freedomhost.uk/howtokillanhour/wp-content/uploads/sites/65/2019/11/Untitleed-1.jpg
820
1660
marcusbronzy
http://wp.freedomofcreation.co.uk/howtokillanhour/wp-content/uploads/sites/65/2017/09/htkah-web-logo-2017.png
marcusbronzy
2019-11-18 02:31:28
2021-03-02 15:27:45
The NEW Ford Mustang Mach-E