Samsung Galaxy S10, Fold and much more!
Samsung recently announced a bunch of new phones including a brand new foldable smartphone called the Galaxy Fold. We have a plethora of Samsung Galaxy S10 information to tell you all about, plus new wearables!
Samsung S10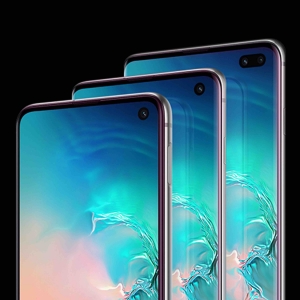 So, Samsung announced a total of 4 different variations of their flagship phone this year. The Samsung Galaxy S10, S10+, S10e and the S10 5G version.
The Samsung Galaxy S10 has an Infinity-O AMOLED display, which this time round has got rid of the notch and replaced it with a keyhole design. The only thing that's preventing the S10 to be fully screen is the camera and we're sure that at some point in the near future we will definitely see a full screen phone.
The Samsung Galaxy S10, has a 6.1″ display, the S10+ 6.4″, both are curved QUad HD+ screens and come with an inscreen fingerprint reader. Surprisingly the S10 5G version has an even bigger screen that the S10+ at 6.7″ Cameras are very impressive on the S10 too. Both the higher end models have a 12MP camera with variable aperture (f/1.5 and f/2.4), that's for the 'main' camera. There's three in total. The ultra wide camera is 16MP and has a f/2.2 aperture. The telephoto has a f/2.4 camera. The selfie camera is 10Mp. Field of view portrait style photo's are only possible on the larger end models, that being the S10+ and 5G version.
Both the Samsung Galaxy S10 and S10+ have 8GB RAM and 128GB of storage. However, if you're pockets are deep you can go to 12GB RAM and an INCREDIBLE 1TB of storage, and that's not including the optional microSD card slot for storage either! The high end 5G version is only available at 8GB RAM and no storage expansion. It's also a little thicker than the other models too. The 5G version also has the biggest battery out of them all, standing at a crazy 4,500mah battery.  S10 and S10+ will be available on March 8th, costing $900 and $1000.
Release for the Samsung Galaxy S10 5G for the UK is at the beholden of carriers in the UK adopting 5G. Furthermore the Samsung Galaxy S10's also have inductive charging on them so users can charge their Galaxy Buds, or Galaxy Watch Active on them. Even their phones. By simply placing the products on the rear of the devices.
The S10e is to rival the cheaper iPhone XR and as you'd expect, it's slightly less powerful than it's bigger brothers. There's 6GB of RAM and only 256GB of storage, however, you can add in storage via the microSD slot. The screen is also smaller at 5.8″ flat Full HD+ AMOLED display. No in-screen fingerprint reader either. There's a sensor on the side of the handset instead. Camera's are the same, yet, there's no telephoto or depth sensor on the front. March 8th is when you'll be hable to get your hands on it and at a lower price too at $750.
Galaxy Fold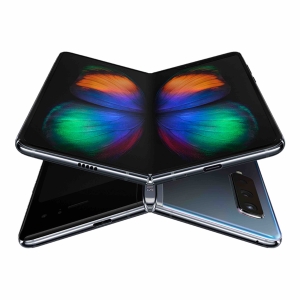 So, foldable phones are here and Samsung are the first to the punch with the Galaxy Fold. It's as you'd expect. EXPENSIVE! $1,980 to be exact.
The screen is 7.3″ when folded out and the screen on the front is 4.6″. You could argue that the screen on the front is the secondary screen. Especially as it's so small and designed just to show important information.Both screens are AMOLED, while the screen on the inside is described as Flex AMOLED.
It's when you open up the device is when you get much more detail. Therefore much more real estate to do whatever you want, even run up to 3 apps at once if you wish. Watch a video on YouTube, whilst sharing it on Twitter and talking about it on WhatsApp. The smaller screen for example can show you basic information on Google Maps on the front, however, open it up and you see much more of your route.
There's 12GB of RAM in this bad boy, 512GB of storage and a 4,380mAh battery to power it all. There's 3 rear cameras, 2 front cameras and a 10MP sensor on the cover, therefore you're never without a camera.
Galaxy Buds
As stated above the Galaxy Buds can be charged by placing them in their case and putting them on the rear of the Galaxy S10. They sell for $130 when they release on March 8th. However if you pre-order a Galaxy S10, you'll get a pair thrown in for free.
The buds have Ambient Sound mode, that will make the sound around you clearer. You can activate it by taping them, this is Quick Ambient Mode. They also have "adaptive dual microphones" this will help people who are at the other end of phone calls hear you clearer. Regardless of how noisy the environment you're in is. The way that this works is via the "inner mic" this will pick up your voice internally when in a busy environment. The Buds are able to sense your environment and will switch from the mic on the outside to the inside. Samsung have described the Galaxy Buds as use for both listening and talking.
They'll last 6hrs when listening to music on a single charge or 5hrs when talking. The case, which comes with the buds as standard, will provide an additional 7hrs of battery life if you run out of charge when out and about. You can also quick charge these. 15mins will give you 1.5hrs of charge.
(Engadget)
Galaxy Watch Active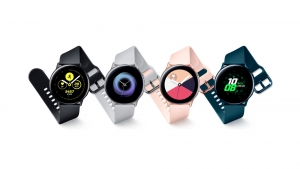 Samsung also showed off a brand new fitness first focused smartwatch. It has blood pressure monitoring, stress tracker, automatic workout detection. The stress tracker will give users breathing exercises to users when it feels as though it's user is overwhelmed. The Galaxy Watch Active is also smaller than the Galaxy Watch that is out now, additionally it's thinner too, making it mroe comfortable to wear. Not only in workouts but every day too. It's also out on March 8th alongside the S10 and sells for $199.
(Engadget)
Photos courtesy of Samsung
Listen to the guys chatting about this by clicking here!
Keep up to date with everything How To Kill An Hour by signing up to our newsletter by clicking here!
Let us know what you think of the show by clicking here!
Click here to subscribe to our YouTube Channel to see more amazing ways to kill time!
Follow us on Twitch by clicking here!
http://wp.freedomofcreation.co.uk/howtokillanhour/wp-content/uploads/sites/65/2019/02/The-Verge-Samsung.jpg
800
1200
billywright
http://wp.freedomofcreation.co.uk/howtokillanhour/wp-content/uploads/sites/65/2017/09/htkah-web-logo-2017.png
billywright
2019-02-27 00:00:48
2019-02-25 22:19:25
Samsung Galaxy S10, Fold and much more!