First of all, fitness has never been more important than ever now we're all in lockdown. So our good friends at Apple have curated a great collection of iPad/iPhone Apps to stay active during this time. Also, Apple Watch also is important during this time as it helps to keep us all meeting our daily goals.
Work Out at Home: 
"You'll find a great mix of body-weight exercises and workouts that require minimal equipment — with trainers to guide you through the routines. Get moving! Now you have no excuses." So, explore the full collection here.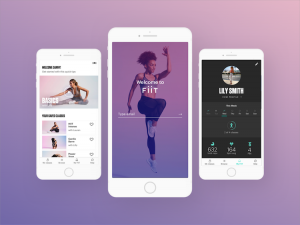 So Fiit, lets you take high quality workouts with leading personal trainers on your iPhone or iPad, with the option to connect to your TV. While there are hundreds of home workouts with top personal trainers, all in one place.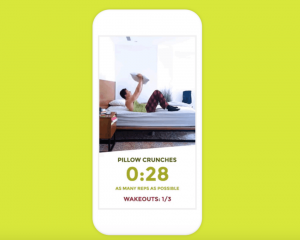 (Andres Canella) – So this was in the App of the Day & Best of 2017 selection: "Having trouble getting out of bed? Feeling lethargic? Furthermore are you stuck in your head? Wakeout's short, energizing workouts can give you the jolt you need."
App Store Editor's Choice: "Getting in shape can be a challenge, so making exercise fun and engaging is crucial to staying on the right track. This Nike fitness app features a polished collection of visual workouts, hosted by celebrity athletes like Serena Williams. It's equally effective at home or at the gym. While each lesson can be taken on its own, Nike Training Club also features month-long structured programs that'll help you achieve even better results." So, why not try the free fitness videos in categories like "Workouts in Small Spaces."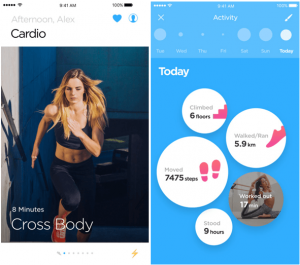 App Store Editor's Choice: "This Apple Design Award winner focuses on one thing—fitting short, achievable exercises into every week—and does it really well. The custom-shot videos are presented in a clean, thoughtful interface. So, this impressive fitness trainer really shines on Apple TV by creatively using Siri Remote to make workouts (almost) painless."
#1 Audio Fitness App & App Store Editor's Choice: "Let's say you're doing a treadmill exercise. You know, the kind where you occasionally change the speed and incline. Do you really need a video of someone telling you "it's time to go faster?" Nah. Aaptiv packs great audio-only classes for all those workouts that just don't make sense for video. Smart design, great music, and a huge library of classes make even the most hardcore exercises enjoyable."
Whatever your goal, age, sex or fitness level, this app puts the world's best trainers, chefs and well-being experts in the palm of your hand so you can get it done. And it's all tailored to you; your goal, fitness level and diet preferences. It's your PT, dietician, chef and wellness coach all in one.
Sweat to the free 7 minute workout or get beach body ready with unlimited access to Jillian Michaels Fitness award winning personalized health and fitness app with the most advanced dynamic workout planner along with diet plans, calorie counter, and weight loss programs in the Jillian Michaels Fitness Advanced Meal Planner System (AMP)!
Playbook is a mobile marketplace where your favorite trainers, social media influencers, and athletes share their real-time workouts. Each trainer/influencer/athlete has their own channel, which allows them to publish their workout programs directly to you in real-time. You only get their 10 latest workouts – it's always new, but also means you have to keep up!
Whether you exercise at home, head to the gym or are just getting started with a workout routine, Tone It Up is the fitness app for you. Tone It Up offers daily workout and customized workout programs built by top personal trainers for incredible results.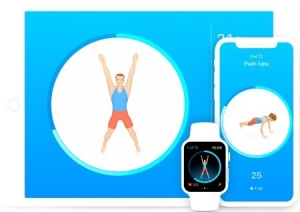 Getting fit has never been this easy – or this much fun. Seven's workouts are based on scientific studies to provide the maximum benefit in the shortest time possible. With personalized workout plans Seven also makes sure you get the most out of your training. Want to Get Fit, Lose Weight or Get Strong? Just set your goal and fitness level, and let Seven take care of the rest.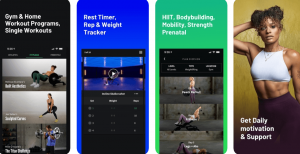 Get top-tier personal training for a fraction of the price with Fitplan. Work out one-on-one with professional athletes Alex Rodriguez, Christian McCaffrey and Ryan Lochte, celebrity trainers Melissa Alcantara, Corey Calliet and Mike O'Hearn, and fitness leaders Jen Selter, Michelle Lewin, Linn Löwes, Jeff Seid and more.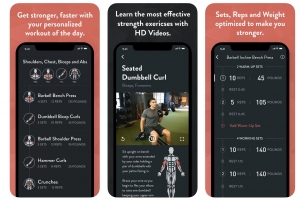 Get stronger, lose weight or gain muscle mass with Fitbod! When you hit your gym or living room, Fitbod's innovative training algorithm will guide you through the right sets, reps, and weight to reach your fitness goals.
Yoga
Yoga for Everybody: "Whether your headstand form is impeccable or you've never heard the word 'vinyasa' there's a yoga app to suit your needs. We've picked out a few of our favourites for all experience levels." Explore the full collection here.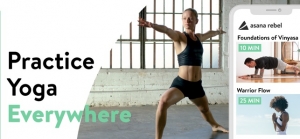 From losing weight to building strength, from high-intensity workouts to moving meditations: each piece of Asana Rebel is meant to fit every goal into your lifestyle.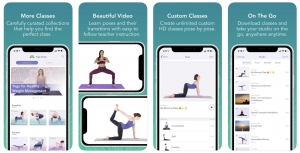 App of the Day & App Store Editor's Choice: "As anyone who has ever worn stretchy pants and nervously wandered into a studio can attest to, yoga involves countless poses across multiple skill levels—some of which can seem frighteningly out of reach. Fortunately, Yoga Studio covers the full gamut with 65 video classes that can be done from the comfort of home. There are general classes for beginners. Prenatal classes for expectant moms. Yoga classes for mental health, yoga classes set to hip-hop, and yoga classes specially designed to combat back pain. There's even a Desk Series you can do during a break at work."
App of the Day & App We Love: "Use your newfound body awareness and the Lotus app to create a practice just for you. Set parameters such as preferred style, duration, and level of expertise and the app will customize your sequence."
App Store Editor's Choice: "Yogi Sjana Elise Earp has a 12-week vinyasa-style program in Sweat. Subscribe for access to her class and other video workouts."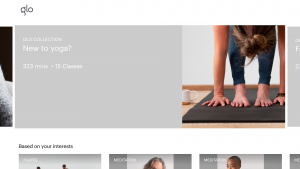 Glo is online yoga, Pilates, and meditation designed to help you feel better in body and mind. Practice at home or on the go with the world's best teachers. Yet, with classes for every life stage, level, and need, we'll help you create a practice that's uniquely your own.
Fitness Live Apps
Try Live Fitness Apps: "If you have some open floor space (and nonjudgmental roommates), you have everything you need to join these exercise classes, each with a live instructor to motivate you every step, stretch, and spin of the way." So why not, explore the full collection here.
Weights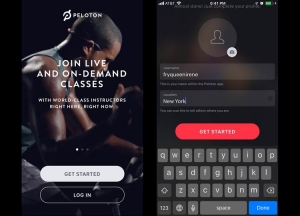 So, Transform your fitness routine at home, at the gym or on-the-go with live and on-demand classes.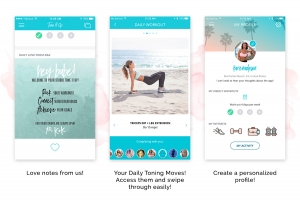 Whether you exercise at home, head to the gym or are just getting started with a workout routine, Tone It Up is the fitness app for you. As, Tone It Up offers daily workout and customized workout programs built by top personal trainers for incredible results.
Running

Charge hosts LIVE running classes from the comfort of your own neighborhood or treadmill. While, each live run brings runners from all over the world together in one class where you can run, chat, and compete on our Live Leaderboard for the #1 spot!
Yoga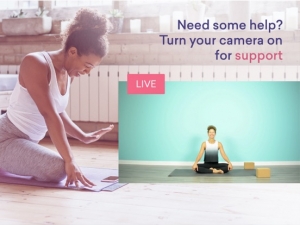 Furthermore, download the Yogaia app and experience yoga, meditation, cardio workouts, and strength training right in the convenience of your own home. So why not reach your wellbeing goals with our international team of stellar yoga teachers, mindfulness instructors, and personal trainers.
So, keep up to date with everything How To Kill An Hour by signing up to our newsletter by clicking here!
Also, let us know what you think of the show by clicking here!
Furthermore, Click here to subscribe to our YouTube Channel to see more amazing ways to kill time!
While you're there, follow us on Twitch by clicking here!
http://wp.freedomofcreation.co.uk/howtokillanhour/wp-content/uploads/sites/65/2020/03/Fitness.jpg
675
1200
billywright
http://wp.freedomofcreation.co.uk/howtokillanhour/wp-content/uploads/sites/65/2017/09/htkah-web-logo-2017.png
billywright
2020-03-27 16:40:53
2020-03-28 16:42:52
21 Apps for Fitness While In Lockdown