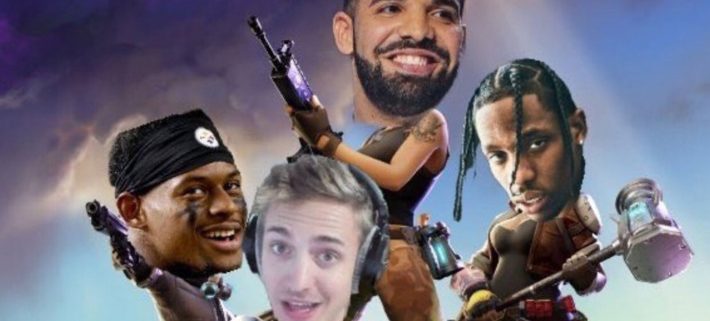 Drake Breaks Twitch Records with Ninja
Drake recently broke some more records. This time it wasn't for a hit track streamed on Spotify. Nor was it for spending x amount of weeks on the Billboard 100. This time it was for concurrent live viewers on Twitch with Twitch superstar, Ninja.
Yes you heard correctly. Twitch. The game streaming platform.
Drake recently hit up massive superstar streamer Tyler "Ninja" Blevins to play Fortnite. According to Blevins, Drake followed Ninja on Instagram, only for a few days later to slide into Ninja's DM's to ask about the possibility to join forces on Fortnite.
At first Drake joined Ninja for a few rounds of duos, with the unlikely pair winning two rounds. Then Drake called on Travis Scott and NFL Superstar Juju Smith to get in on the action of Squad mode. At it's peak Ninja's gaming session with Drake, Travis Scott and Juju Smith hit 628,000 concurrent viewers. The most for any stream on the platform. (Personal stream, not including huge e-sports events or branded content) We were even treated to drop ins from KimDotCom, Logic even wanted to get in on the action, as did Lil Yachty.
@ninja @drake I'm online let's go

— king of the youth (@lilyachty) March 15, 2018
https://twitter.com/Logic301/status/974160337195868165
Logics call out even got a shout out from Drake mid stream:
Drake told Logic to pull up on fortnite on @Ninja stream. pic.twitter.com/IhRjWIlgaz

— Bobby Tarantino (@LogicsFanpage) March 16, 2018
Here are some gems from the stream:
So what did we learn? Drake's a vegan and likes pineapple on pizza, Drake heals people by reciting his own Lyrics and Travis Scott likes to trash talk online.
The aftermath: Ninja
In all seriousness, Drake hoping in on Ninja's stream set Twitter on fire and brought A LOT of attention to the gaming space. Ninja was raking in a lot of money during that stream, he is said to have earned $25,000 from Twitch subscriptions that night A LONE. (You can sub to your favourite creator on Twitch for $5 a month, like Netflix) This is not counting the donations that Ninja got that night. One of them being $5k dollars.
Therefore what's the fallout from this? Everyone now knows what Twitch is about. Twitch has got a HUGE boost in it's competition with YouTube. (Though they are two separate platforms, based on two different ways of sharing content)
So, what does Ninja get out of streaming with Drake? Well, it's said that he is now earning $500K a MONTH in Twitch subscriptions. At the rate he's going, he's said to earn $1M a MONTH. In just Twitch Subscriptions. Not including sponsorships, merch or Twitch Donations.
To download Twitch please click here Apple / Android
To listen to the guys chatting about this please click here!
Keep up with all things How To Kill An Hour by signing up to our newsletter  by clicking here!
http://wp.freedomofcreation.co.uk/howtokillanhour/wp-content/uploads/sites/65/2018/03/Ninja.jpg
473
710
billywright
http://wp.freedomofcreation.co.uk/howtokillanhour/wp-content/uploads/sites/65/2017/09/htkah-web-logo-2017.png
billywright
2018-03-21 00:00:18
2018-03-21 00:28:03
Drake Breaks Twitch Records with Ninja