Posts
http://wp.freedomofcreation.co.uk/howtokillanhour/wp-content/uploads/sites/65/2018/03/pred.png
1400
1400
billywright
http://wp.freedomofcreation.co.uk/howtokillanhour/wp-content/uploads/sites/65/2017/09/htkah-web-logo-2017.png
billywright
2018-03-28 00:00:44
2018-04-05 11:08:36
Episode 272 Supercharged Jet Sub!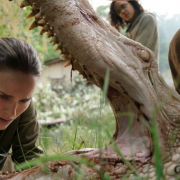 Annihilation is another Netflix great. This time, it's a movie rather than a tv show, yet Netflix are proving once again, that streaming has a huge and profitable future.
Annihilation is a female led sci-fi film that is based on a book by Jeff VanderMeers best selling Southern Reach Trilogy. It's written and directed by Alex Garland, who's film credits include Ex Machina and 28 Days Later. The film stars Natalie Portman, Jennifer Jason Leigh, Gina Rodriguez, Tessa Thompson, and Oscar Issac.
The film follows a group of military scientists who venture out into a mysterious quarantine zone. However, what they find there isn't exactly what they expected and soon find themselves in a world full of mutilating landscapes and creatures.
Reception
The movie has no theatrical release and was released internationally through Netflix on March 12th 2018 However it still hit the cinemas in the US and Canada for a short theatrical release on February 23rd 2018. The rest of the world though saw the film on Netflix after Paramount sold the rights in December.  However that is not an indication of what the movie is like. Twitter are absolutely loving it:
Make no mistake, #Annihilation is a new sci-fi classic. Brilliant, thrilling, and provocative, it has as much metaphoric depth as it does narrative tension. I'm floored. pic.twitter.com/o2taDg2Z7L

— Drew Taylor (@DrewTailored) February 8, 2018
Just saw #Annihilation, and damn, it's gorgeous. Beautifully done, riveting and smart. Going to need to process this one for a while, and I want to see it again! pic.twitter.com/rFl5cnacon

— Jenna Busch (@JennaBusch) February 8, 2018
#ANNIHILATION: This is the type of sci-if we always say we want to see. Bold, challenging, singular, visually dazzling. Would not be the least bit surprised to see it hailed as a masterpiece (and it might actually be one).

— Ben Pearson (@benpears) February 8, 2018
The film has also registered a high score with film critics. Hitting a 87% on the tomatometer on famous film critic website RottenTomatoes. With the websites critiques consensus giving Annihilation tonnes of praise for its visuals and ambitious yet impressive themes. However one thing of note was that this movie stays with you long after the end credits roll!
To watch Annihilation download Netflix by clicking here Apple / Android
To listen to the guys chatting about this please click here!
Keep up to date with everything How To Kill An Hour, by simply signing up to our newsletter. So, enter your email by clicking here! As this way you'll receive a weekly dose of How To Kill An Hour goodness!
http://wp.freedomofcreation.co.uk/howtokillanhour/wp-content/uploads/sites/65/2018/03/Screen-Shot-2018-03-20-at-02.00.03.png
666
1646
billywright
http://wp.freedomofcreation.co.uk/howtokillanhour/wp-content/uploads/sites/65/2017/09/htkah-web-logo-2017.png
billywright
2018-03-28 00:00:11
2018-03-28 12:39:45
Annihilation Movie