It's that time of year again! Here are some of the best pieces of tech that we think will be perfect as Christmas Gadget stocking fillers! Furthermore, once you've finished, let us know any that you think we missed!
Sky Soundbox
The Sky Soundbox is the piece of audio hardware to revolutionise your tv viewing experience! It's the perfect piece of tech to compliment your Sky Q package.
Sky partnered with Devialet, who are one of the most innovative names in audio to bring you the Sky Soundbox. Combining the power of Sky Tv intelligence with Devialet's incredible, groundbreaking acoustic technology. Together with Sky Q the Soundbox delivers crisp, crystal clear bespoke sound across all of the content you love. Sports, Music, Cinema, it can handle it and produce the very best audio experience to compliment the very best visual experience with Sky Q. (Read More) (Purchase)
Red Dead Redemption 2
Rockstar games always knock it out of the park when it comes to games, Grand Theft Auto is what they are most known for, however when Red Dead Redemption came out in 2010, it changed the game! Everyone has always wanted to be a cow-boy and Rockstar made everyone's dream come true! Now, 8 years later, Rockstar are revisiting the Red Dead universe in Red Dead Redemption 2. With over $725 million in worldwide retail sell-through during its first three days, Red Dead Redemption 2 is the second-highest grossing entertainment launch of all time next to Rockstar Games' previously released title, Grand Theft Auto V, which achieved over $1 billion in retail sell-through in three daysNo one would be disappointed with this in their stocking! (Read More) (Purchase)
Marvel's Spiderman
Marvel's Spiderman, is an incredible game and one for the stocking this year. We loved it at E3 and we fell in love with it when we played it ourselves upon release. Definitely will not disappoint a PS4 owning loved one! Spiderman is an action and adventure open world game exclusive to PS4. The gameplay trailer that was shown off this year did not disappoint. It looks just like a movie and the devs over at Insomniac have done a wonderful job of seamlessly transitioning between gameplay and cutscenes. (Read More) (Purchase)
Strange Brigade
Another incredible game that would be perfect for stockings this year is Strange Brigade. This game is fun, fun, fuuuuun!! It's very enjoyable by yourself defeating hordes of the undead. However, get a crew together and this levels of excitement and enjoyment go through the roof!
From the very start Strange Brigade is very charming with it's friendly narrator (with his over the top British upper class dialect) and it's 1930's setting. The graphics draw you in to a world that is full of might magic and mystery. Yet at the same time having an underlying notion of danger when the undead appear. You know you're in danger! Yet the locations are so pretty!
What makes Strange Brigade different to many other co-op games available today is that the levels and the game will change slightly depending on the numbers in your team. More enemies, lots of twists and turns with the levels and even the puzzles take it up a notch if you have a friend with you. (Read More) (Purchase)
Nintendo Labo
The Nintendo Labo is great for all the creatives in your life that love video games! The Labo is a cardboard video game! Sound crazy?! Well, it is designed to help you get creative with the Switch. Create all different kinds of gaming add ons with the variety kits that are available. Such as fishing kits, play piano or even the most impressive one that we have seen an AR Robot kit!
Nintendo are calling the cardboard kits, 'Toy-Cons' and are designed to be solely used with the Nintendo Switch. Just by following the onscreen instructions that are displayed on the Switches touchscreen.
The Toy-Cons are so versatile that you can either use the Toy-Cons independently of the screen itself and you watch what's occuring on screen. I.e: Fishing. Where all the computing is done inside the joy-con controller, or by using the whole console itself to find new ways to play! An example of this would be the use of a motorbike, whereby the switch is placed in the center of the 'Toy-Cons' and 'Joy-Cons' are placed either side and the accelerometer acts as a steering mechanism.
The most impressive of the lot was the use of a HUGE contraption, with the Robot 'Toy-Con'. This cardboard accessory is HUGE and is placed on a users back and utilises cables to detect a users movement. (Read More) (Purchase)
Turtle Beach Elite Pro 2 + SuperAmp
After all that gaming, you're going to need a great piece of tech to talk to all those people online! The Turtle Beach Elite Pro 2 + SuperAmp, is THE gaming headphones for you this Christmas. Are you ready to get an advantage over your gaming competitors? Turtle Beach have announced something that may just help you do that. The Turtle Beach Elite Pro 2 + Super Amp gives users powerful amplified professional grade sound, unmatched comfort and app based controls to their audio.  The Turtle Beach Elite Pro 2 headset has top level audio and is driven by their own E-Sports tuned 50mm Nanoclear speakers. The microphone on the Turtle Beach Elite Pro 2 is highly sensitive and is noise cancelling for crystal clear communication. The SuperAmp adds a brand new way for players to control audio. The one dialled design brings powerful amplified Windows Sonic for Headphones surround sound. It even adds DTS Headphone:X 7.1 surround sound capabilities! (Read More) (Purchase)
Seagate Game Drive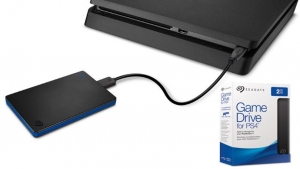 Over Christmas you're going to probably get a couple more games in your stockings! You're going to need more storage space, as no one likes to delete stuff! We have the solution for you!
Well there's a plethora of choices available for external hard drives and we've found an incredible one! The Seagate Game Drive for PS4, it comes with a whopping 4TB of storage which allows for 100games! Installation is pain free and super quick. Simply plug in the Seagate Game Drive directly into any USB port on the PS4 and boom, you're good to go. The PS4 will recognise the drive and walk you through a simple set up. The Seagate Game Drive will be ready to have games installed on it within 3 minutes! (Read More) (Purchase)
DJI Mavic 2
The Mavic Pro 2 is an incredible piece of tech and is a perfect gift for the filmmakers in your life.  It even comes in two configurations! Firstly the Mavic 2 Pro: Made in Sweden, Hasselblad cameras are renowned for their iconic ergonomic design, uncompromising image quality, and Swedish craftsmanship. Since 1941, Hasselblad cameras have captured some of the world's most iconic images – including the first moon landing.
Co-engineered in partnership with Hasselblad after two years of tireless research, the Mavic 2 Pro comes equipped with the all-new Hasselblad L1D-20c camera. The L1D-20c possesses Hasselblad's unique Hasselblad Natural Colour Solution (HNCS) technology,  helping users to capture gorgeous 20-megapixel aerial shots in stunning color detail.
Also the DJI Mavic 2 comes in a different configuration: The Mavic 2 Zoom. Powered by a 1/2.3-inch 12-megapixel sensor with up to 4x zoom, including a 2x optical zoom (24–48 mm), the Mavic 2 Zoom is all about dynamic perspectives. Capture everything from wide angle to mid-range shots for even more creative options. (Read More) (Purchase)
Mikme
The Mikme Microphone, is a perfect stocking filler for all the content creators and audio geeks out there! A supremely powerful microphone that  boasts studio quality sound. From experience, we can tell you first hand that this microphone, really does produce some amazing sound quality! Consequently, in a tiny package too, we were seriously impressed when we reviewed this awesome little device! It's touted as the world's first wireless mircrophone and audio recorder in one. Simply press the button and voila, you're recording. While you'll need a smartphone to connect it to, to monitor what you're recording, but other than that, you're set! However, that's no stress either! Simply connect your headphones to the Mikme to the reverse of the device to listen to the crispy clear audio! (Read More) (Purchase)
Philips One Blade Body Edition
This piece of tech is perfect for all those wanting to look crisp and clean this holiday season. The Philips OneBlade does everything that the original OneBlade did previously. You can trim your beard with one of the three stubble comes, which come in a variety of lengths. There's 1mm, 3mm and 5mm. However, the OneBlade now comes with a body comb, which is 3mm, which you can use in any direction.
As the OneBlade does not shave like a regular shaver, i.e. getting really close. You're able to use this to your advantage and go against the grain and easily shave off any length of any hair from any part of your body! Remember to change the blade though! There's one for the body and one for the face! (Read More) (Purchase)
Astro Bot: Rescue Mission
We recently played this on How To Kill An Hour's Twitch Stream and it was incredibly fun! It's a pick up and play game that is perfect for the family and definitely makes use of the VR in a wonderful way. It's perfect for all the family on Christmas Day and will keep everyone entertained for hours!
Astro Bot: Rescue Mission VR is an incredible virtual reality platformer that's exclusively created for the Playstation VR. In the game you take control of a character called Astro, the captain of a spaceship traveling search for his lost crew.
Astro Bot: Rescue Mission VR takes gamers across 26 levels that take the platforming genre to brand new heights? Well, the game is across a 360 degree landscape. There are huge towering bosses but be careful as there are precise controls whilst you are Astro. Some of the levels are very challenging so make sure that you use all 360 degree's of vision otherwise you'll miss things! Therefore it is vital that you use your entire body to "look" around corners as there may be things that you miss. Consequently there may be paths that you are able to create for Astro to climb. (Read More) (Purchase) (Purchase Playstation VR)
Anvio VR
VR has been HUGE this year, so why not fill up the stockings of loved ones with tickets to Anvio VR in London!? Unlike a lot of VR games or events this is an experience in which you're allowed to play! Hence why they're describing it as a playground! What we mean by play is that you're free to move around. As you're not confined to a small play area. So you get to run around a HUGE room and experience, quite literally, a whole new world!
In the worlds that Anvio VR have created you can run, jump and even wave to your partners whilst in the game, all that and much much more! Their play area is also fully wirless so there's no worry about running into a wall or falling over wires. Thus creating a much more realistic and immersive experience. Also, there's guides in the room, who are there to help prevent you from crashing into any walls, if you do manage to find your way to a wall that is! (Read More) (Purchase)
So, keep up to date with everything How To Kill An Hour by signing up to our newsletter by clicking here!
Let us know what you think of the show by clicking here!
Also, click here to subscribe to our YouTube Channel to see more amazing ways to kill time!
http://wp.freedomofcreation.co.uk/howtokillanhour/wp-content/uploads/sites/65/2018/11/Christmas-Gift-Guide.jpg
440
660
billywright
http://wp.freedomofcreation.co.uk/howtokillanhour/wp-content/uploads/sites/65/2017/09/htkah-web-logo-2017.png
billywright
2018-11-08 18:46:15
2018-12-12 19:19:52
12 Days of Christmas Gadgets Gift Guide