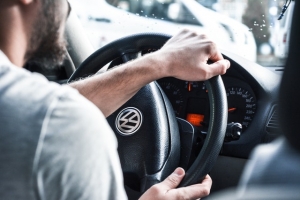 New cars get released all the time, so it's hard to get really excited about new offerings. However, with the electric car market experiencing a boom, we're seeing a few new cars that sort of break the mold and make a huge impact on the market. The Volkswagen ID.3 is one of those releases, causing a massive wave in not just the electric vehicle scene, but the small hatchback scene as well. 
About the ID.3
The ID.3 is VW's first electric car based on a bespoke electric platform. They have released electric cars in the past – the eGolf being one – but this is the first one that's had a brand new electric platform made for it. It has also replaced the eGolf as the brand's family hatchback option for people that want a green vehicle. 
Perhaps most interestingly, the ID.3 is named as such because VW sees it as one of the most iconic and important releases the company has ever produced. The 3 in the name basically means that is the third biggest launch the company has ever had – the first two being the original VW Beetle and the first Golf. Already, it's a car to get excited about, but when you take a deeper look at it, you soon realize that it more than lives up to the hype. 
ID.3 battery
One of the most impressive things about this car is its electric motor and battery. Firstly, the motor itself sits at the back of the car and powers the rear two wheels. The battery is under the floor, improving the center of the car of gravity – which works wonders for the handling and cornering. 
In terms of battery power, you have three different sizes to choose from:
45kWh battery: 148 bhp, 217 miles max

58kWh battery (Pro Version): 143bhp, 263 miles max

58kWh battery (Pro Performance Version): 201bhp, 263 miles max

77kWh battery: 201bhp, 336 miles max
As you can see, you have some fantastic options with excellent ranges. For a car this size, to get 336 miles on one charge is absolutely ridiculous. At the same time, you still have a powerful car that doesn't feel slow to drive and can easily handle motorway journeys and overtakes. 
ID.3 handling
We have to mention the handling as it is one of the best we have seen in any car. A mere 10.2m turning circle, combined with light steering, means it is super easy for you to move this car around. It can fit through tight spots and park in the weirdest of places without causing you any trouble. You don't get a thrilling driving experience, but that's not really the point of this car! It's supposed to be easy to drive as you use it every single day. 
ID.3 safety
Volkswagen has been keen to make this car as safe as it possibly can be. They've done an excellent job, so much so that it was named the safest car of the year earlier in the year. This is thanks to its incredible performance in standard safety testing, partially down to the structural design and technology inside. 
The ID.3 boasts automatic emergency braking, meaning the car will stop itself if it feels like you won't react quick enough. This prevents accidents from happening, meaning there's less chance of someone getting hurt or the car getting damaged. It also has a driver fatigue alert system, which detects if you are tiring and plays a loud alert to jolt you back to reality. If you talk to any trustworthy car accident lawyers, they'll tell you that most car accidents are caused by negligent drivers. Many cases involve tired drivers, which is why this feature can be so handy in waking you up and telling you that it's time to pull over and have a rest. 
Another key safety feature is the swerve support function, which provides you with better steering inputs if you are swerving out of the way of something. It's designed to help you swerve quicker and wider, avoiding collisions or things in the middle of the road. 
In summary, the Volkswagen ID.3 is sure to be a car that we look back on as the start of something special. It is a significant moment for the brand, stating its commitment to electric vehicles and being the first of many in this range. The car more than competes with its rivals in the electric family hatchback category, and it is one of the safest cars money can buy right now. We love, you'll love it, and the environment will love it too. 
http://wp.freedomofcreation.co.uk/howtokillanhour/wp-content/uploads/sites/65/2021/07/pexels-emre-kalyoncu-6165395.jpg
426
640
billywright
http://wp.freedomofcreation.co.uk/howtokillanhour/wp-content/uploads/sites/65/2017/09/htkah-web-logo-2017.png
billywright
2021-07-21 16:26:03
2021-07-21 16:26:03
Volkswagen ID.3: VW Goes Full Electric