This week Marcus Bronzy and Producer Bill Butcher Kill Time With the new Apple September 2018 Keynote!
Firstly they kicked off they keynote telling us that they've sold 2Billion IOS devices! Incredible!
Apple September 2018 Keynote
Watch.
Design & Performance
So, Apple upgraded their Apple Watch lineup this year and introduced the Apple Watch Series 4. The display is now 30% larger, the case is slimmer while providing more information on the device than ever before. Allowing for up to 8 complications to be shown on screen at once.
Redesign
The Apple Watch is completely redesigned and offered in 2 sizes, 40mm and 44mm. Speaker is now 50% louder and optimised for features such as phone calls, siri and Walkie-Talkie. The microphone has too seen an upgrade, it's been relocated to reduce echo for better sound quality. The S4 chip within the Apple Watch delivers twice the speed of previous generations whilst maintaining the same battery life!
The back of Apple Watch is an amazing black ceramic and sapphire crystal. This allows an easier method for radio waves to pass through the front and back of the Watch. While, the Digital Crown now includes haptic feedback as well! Presenting a responsive feel through the sensation of incremental clicks.
Health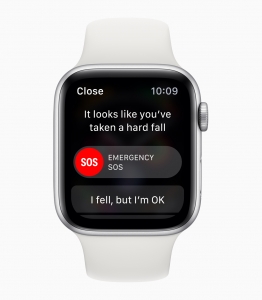 With the complementation of Watch OS5, Apple Watch uses a brand newaccelerometer and gyroscope which are designed to help detect hard falls. The watch will measure up to 32 g-forces alongside custom algorithms to identrify when hard falls occur. The watch detects wrist trajectory and impact acceleration. Apple Watch will send a user an alert after they have fallen, this can be dismissed or used to call emergency services. However, what is especially impressive is if a user is immobile for 60seconds after the notification. The watch will automatically call the emergency services and a message with location data to emergency contacts.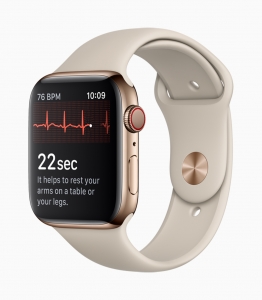 ECG
Furthermore an FDA (De Novo Classified) ECG is a feature on the Watch with the electrical hear rate sensor.  Using the ECG app users can take an ECG, it will take advantage of the electrodes built into the digital crown and the electronic heart rate sensor in the back crystal. Touch the digital crown and after 30 seconds receive a heart rhythm classification. The watch will then display to the user detailed information about their heart rate. For example it can show if there are signs of Atrial Fibrillation (AFib), a heart condition that could lead to major health complications. What's very impressive from Apple is that the readings can be stored in the Health app and downloaded as a PDF which can then be shared with physicians! Furthermore a user will be notified if their heartbeat is too low as well as beating too fast.
Availability
Apple Watch is available to pre-order from September 14th and purchase on 21st September. Starting at £399 for GPS version and £499 for the GPS + Cellular version. The previous generation Series 3 will remain to be available at £279.
iPhone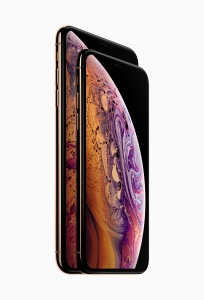 Apple announced two new iterations of it's flagship iPhones the iPhone Xs and iPhone Xs Mac. The iPhone Xs is a 5.8inch screened device and the iPhone Xs Max is a 6.5inch screened device. Both feature Super Retina displays, have a faster and improved dual camera system, faster Face ID, wider stereo sound and Dual Sim, amongst many other new features!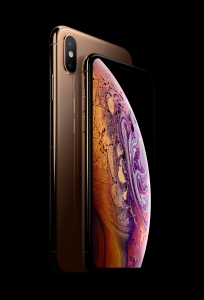 Screens
The screens on the two flagship phones ares Super Re
tina Displays and have a custom OLED design which supper Dolby Vision and HDR10. Furthermore the iPhone Xs and iPhone Xs Max have a
Million to One contrast ration, this will produce incredible brightness, true blacks and 60% greater dynamic range in HDR photos. Additionally the iPhone Xs Max's screen offers the largest display ev
er seen in an iPhone in a size that is similar to that of an iPhone 8 Plus.
Design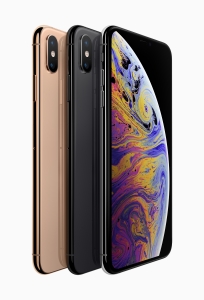 Both devices come in silver and space grey, as well as a brand new gold finish. The front and back glass design is touted as the most durable glass ever in a smartphone by Apple. This allows for better scratch resistance and even faster wireless charging. The devices are now IP68 splash and water resistance, allowing for up to 2meters and 30minutes of protection against everyday spills.
Camera upgrades
iPhone Xs brings with it an improvement to the camera system which have not yet been seen in an iPhone. Advanced depth segmentation, Smart HDR create photos with high dynamic range and advanced bokeh quality in Portrait mode are some of the features Apple announced.
The 12MP dual camera system features dual optical image stabilisation wit 2x zoom. With a brand new sensor that is twice as fast. Additionally the Smart HDR features create photos with more highlight and shadow detail. Furthermore the low light performance of the cameras have been improved.
Bokeh
Advanced depth segmentation in Portrait mode allows for better looking portrait photos. Coupled with the New Depth Control feature, which allows users to adjust the blur when when taking photos as well as post production within the photos app. Allowing for incredible background blur photos, the way that the user wants it.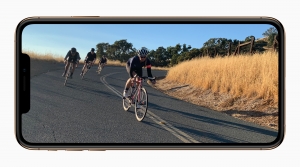 Video
iPhone Xs and iPhone Xs Max have also improved video quality capture. Larger pixels and larger, faster sensors improves low light performance and video stabilisation. Dynamic Range has also been improved as has highlights and shadow detail. Futhermore using the four built in mic's users can now record stereo sound!
Availability
iPhone Xs and iPhone Xs Max will be available for pre-order beginning Friday, September 14 and in stores beginning Friday, September 21.
iPhone Xr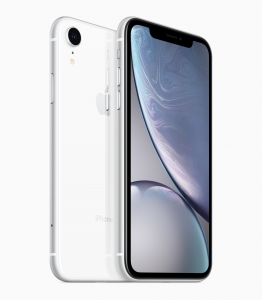 iPhone Xr was announced today as well. The lower end of the Apple iPhone lineup but still as incredibly powered as it's more flagship devices. The iPhone Xr is all screen, glass, allowing for wireless charging and aluminium design. With an LCD screen that's the mosr advanced LCD in a smartphone, Liquid Retina, standing a 6.1 inches. iPhone Xr featues Face ID, True Depth camera system, the same camera system as the iPhone Xs which creates dynamic portraits in a single camera lens. The iPhone Xr is also IP67 rated, protecting it from every day splashes.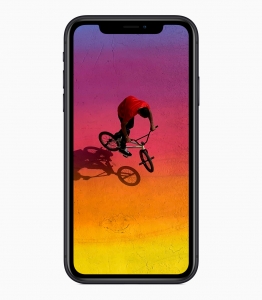 The Liquid Retina display is the most colour accurate LCD display in the industry, bringing with it wide
colour support and True Tone.
Furthermore, iPhone XR supports fluid gestures that iPhone X users are used to, such as tap to wake, swipe up from the homescreen and swipe down to access the Control Centre and many more.
Camera
The iPhone XR features a 12MP f/1.8 aperture wide angle lens with a brand new sensor. This will deliver faster auto-focus, larger and deeper pixels allow for better low light performance of both images and videos. Software algorithms also enable portrait photos with the beautiful bokeh effect that many users are used to.  Smart HDR is also apparent in iPhone Xr, allowing for better highlight and shadow detail across photos.
Much like the iPhone Xs and iPhone Xs Max, iPhone Xr users are also able to adjust the bokeh effect, both during and after taking Portrait images.
Availability
However, iPhone X
R is different to the rest. It
 will be available to pre-order beginning Friday, October 19 and in stores beginning Friday, October 26. Coming in 6 available finishes: White, Black, Blue, Yellow, Coral and (PRODUCT) RED.
HomePod
Furthermore, HomePod, Apple's Wireless speaker, is adding a bunch of brand new features that will let users do more than they currently can with their incredible speaker. On September 17th users will be able to seatch by lyrics, set multiple timers and even make and receive phone calls using their HomePods. Lost your iPhone? Easily find it by using your HomePod to 'Ping' it to locate it's whereabouts, an audible sound will emit from it until you locate your device.
Features
Make and receive phone calls: Conveniently use HomePod to make and receive phone calls for crisp and clear audio quality. To make a call, simply ask Siri to call someone from Contacts or say the number to call. Incoming calls are automatically directed from iPhone to HomePod — just ask Siri to answer the phone — and for missed calls, it's as easy as asking, "Hey Siri, who just called?" Using the audio picker on iPhone, calls can be moved from HomePod to iPhone at any time.
Siri Shortcuts: Shortcuts opens up a world of apps to work on HomePod. As Siri learns routines and suggests 'shortcuts' on iPhone and iPad, these same shortcuts are now accessible on HomePod. Personalizing shortcuts for HomePod with a series of tasks is easy with a new Shortcuts app. For example, "Hey Siri, good morning" could run a morning routine and order coffee from a coffee shop's app, turn on the kitchen lights from the Home app and share the first few calendar appointments for the day — all with one simple, customizable command.
Search by lyrics: In addition to asking Siri to play a particular song, artist or genre, now it's easy to ask Siri to "play the song that goes like this…" or ask Siri to "play the song that goes 'I'm a rebel just for kicks now.'"1
(Apple)
Apple September 2018 Keynote Extra Information
Also Apple let us know that Apple Tv will be getting a Dolby Atmos upgrade on September 17th, so all compatible Dolby Atmos home speaker systems will now be able to make use of it with Apple Tv.
Furthermore Mac OS Mojave complete with Dark Mode will be available on September 24th!
What you think of the show? Let us know by Clicking Here!