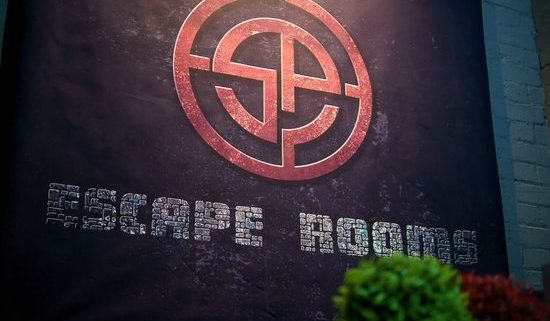 We went to Escape Rooms in London!!
We got the chance to head down to Escape Rooms near London Bridge to check out their crazy puzzle filled escape room, and we had a blast!
Located off the beaten path down Tooley Street, Escape Rooms is a small location that's home to two different escape rooms, each with their own unique theme and puzzles!
Out of the love of the game, we won't be spoiling anything from the room. So fear not loyal reader, you may continue reading spoiler free!
The game started when we entered the room in pitch black, and after being given a brief story as to why we were in this location, we were set off with a time limit of 60 minutes and the goal of finding a way to escape the room.
Marcus, Milo and Billy had to set aside their differences and combine their clever noggins to find a way to overcome the trials that awaited them. There was a lot of talking, a lot of laughing, and a whole lot of stressfully rubbing their foreheads.
The boys had to find a way to crack a wide range of puzzles to find a way to escape. Challenges such as number puzzles, riddles, pattern recognition, and literal picture puzzles all stood in the way of reaching salvation.
Along the way, the boys found many secrets to the room, including some wonderful clothing attire that boosted their knowledge stats tenfold!
With their wits about them, and some trendy threads, the boys managed to escape the room on exactly 60 minutes! Living to fight another day.
The boys were rewarded with their picture on the wall of Escape Rooms, making sure everyone that comes in will already remember the day that Marcus, Milo and Billy bested the Escape Rooms!!
Overall, Escape Rooms was an absolute blast. We were absolutely blown away with just how much fun we had. If you're looking for a good time with a few mates, be sure to check out Escape Rooms. You're sure to have a brilliant puzzling time.
To hear more about Escape Rooms, be sure to check out the latest episode of How To Kill An Hour, where we go slightly more spoilery into what it's all about.
http://wp.freedomhost.uk/howtokillanhour/wp-content/uploads/sites/65/2016/06/escape-rooms.jpg
365
550
Milo Fisher
http://wp.freedomofcreation.co.uk/howtokillanhour/wp-content/uploads/sites/65/2017/09/htkah-web-logo-2017.png
Milo Fisher
2016-06-08 15:35:03
2017-09-06 19:20:00
We went to Escape Rooms in London!!